Real Estate News
See how empty-nesters transformed this Georgian-style house
Buying an 11-acre lot with a 6,000-square-foot house in need of work isn't what most people would consider downsizing.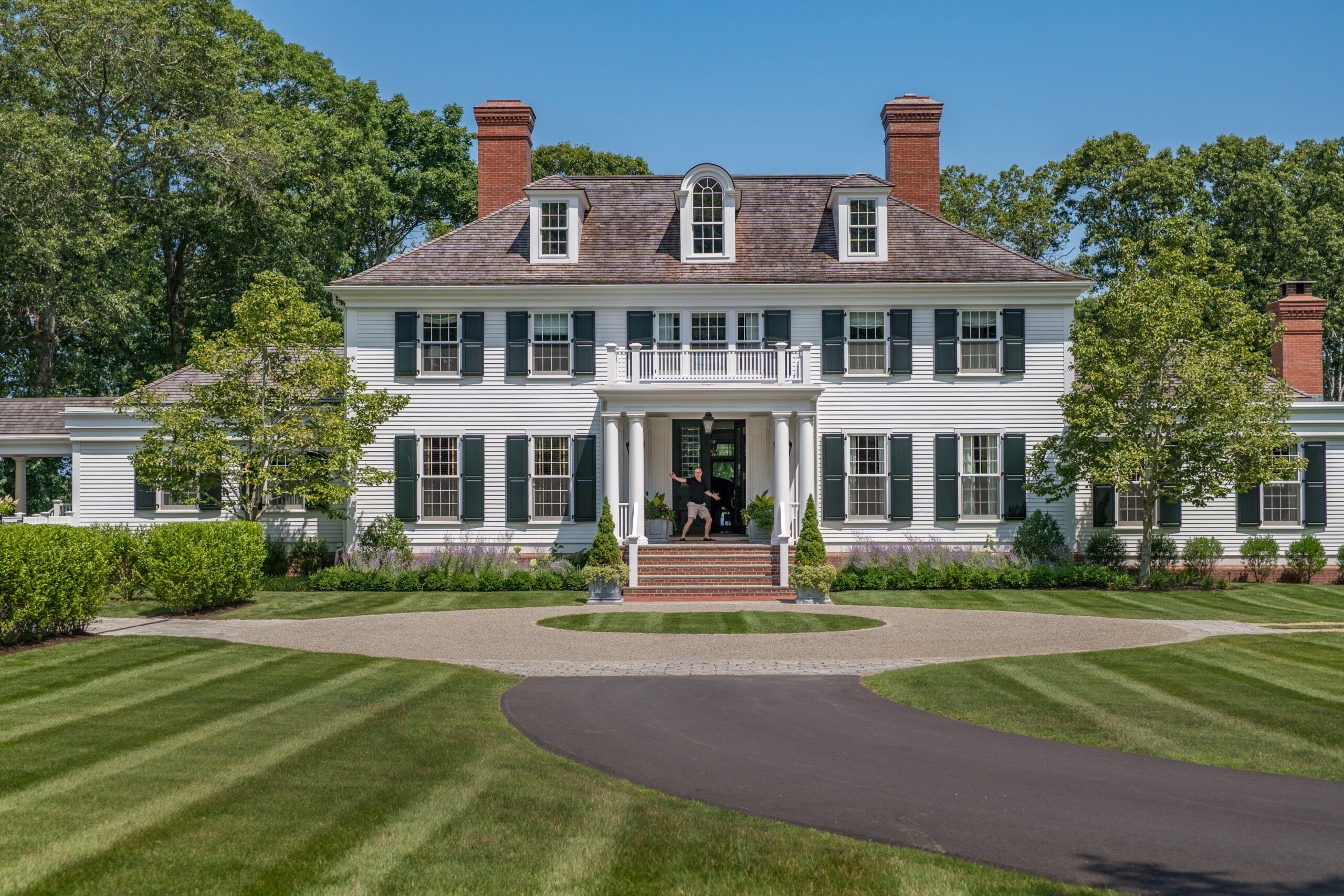 Buying an 11-acre lot with a 6,000-square-foot house in need of work isn't what most people would consider the move of empty nesters or the definition of downsizing. Reed and Paula Dickinson, however, thought it might be fun. They bought the Georgian-style house in 2014 and embarked on a two-year renovation that interior designer Michael Carter of Carter & Company in Boston concurs was done with spirit. "They prepared for each design meeting as though they were throwing a party, providing food and drinks, and I soon found myself thinking, 'I have been included on Reed and Paula's adventure.' It was great," says Carter.
For Reed and Paula, the house, built in the 1990s, was indeed a new direction. "We lived in our previous house for 25 years and raised our family there," says Paula. "We were ready for something different." The setting on Massachusetts's South Shore, where the lot overlooks a river that runs into Cape Cod Bay and has a winding approach through marshland and trees, intrigued them. Inside, well-proportioned rooms and 10-foot-high ceilings added up to good bones, but outdated surfaces and materials and missed opportunities to play up the view meant that there was much work to be done.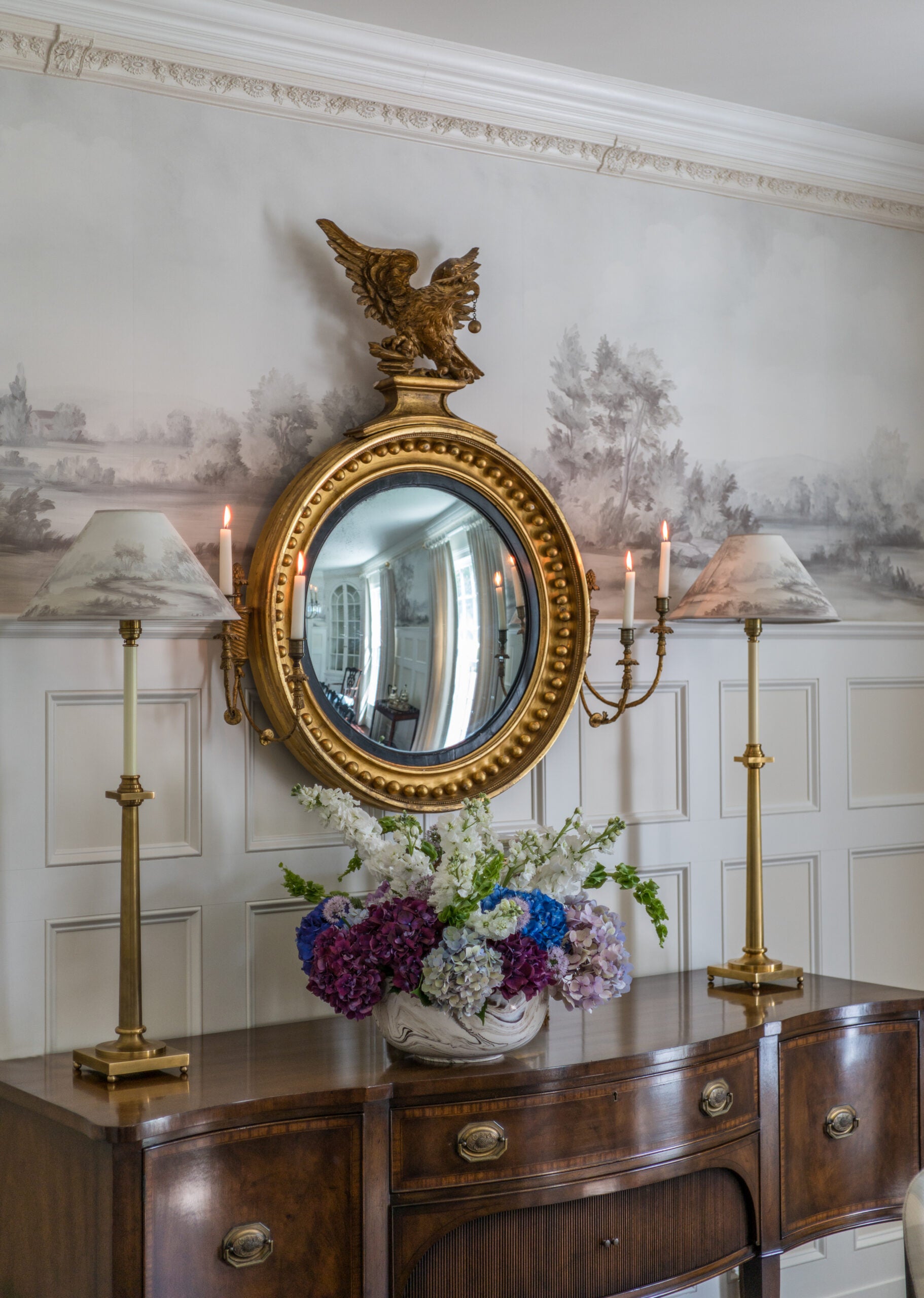 The Dickinsons turned to architect Sally Weston of Sally Weston Associates in Hingham, Massachusetts, who enhanced the basic structure, adding a front portico and a carriage house-garage connected to the main house by a colonnade. "Inside, we added windows to play up the view, and many new details," says Weston. For example, she turned a hallway into a butler's pantry by lining it with quarter-sawn oak cabinets complete with leaded-glass cabinet doors, designed three-quarter paneling for the dining room walls, added V-groove panels in hallways, and redesigned the family room hearth with fieldstone.
"We wanted character and to play up the feeling of a turn-of-the-century early 1900s house," says Reed. "We also wanted a house that was big enough and fun enough for family." The Dickinsons' two children are grown and pursuing continued schooling and professions of their own, and there is extended family in the area.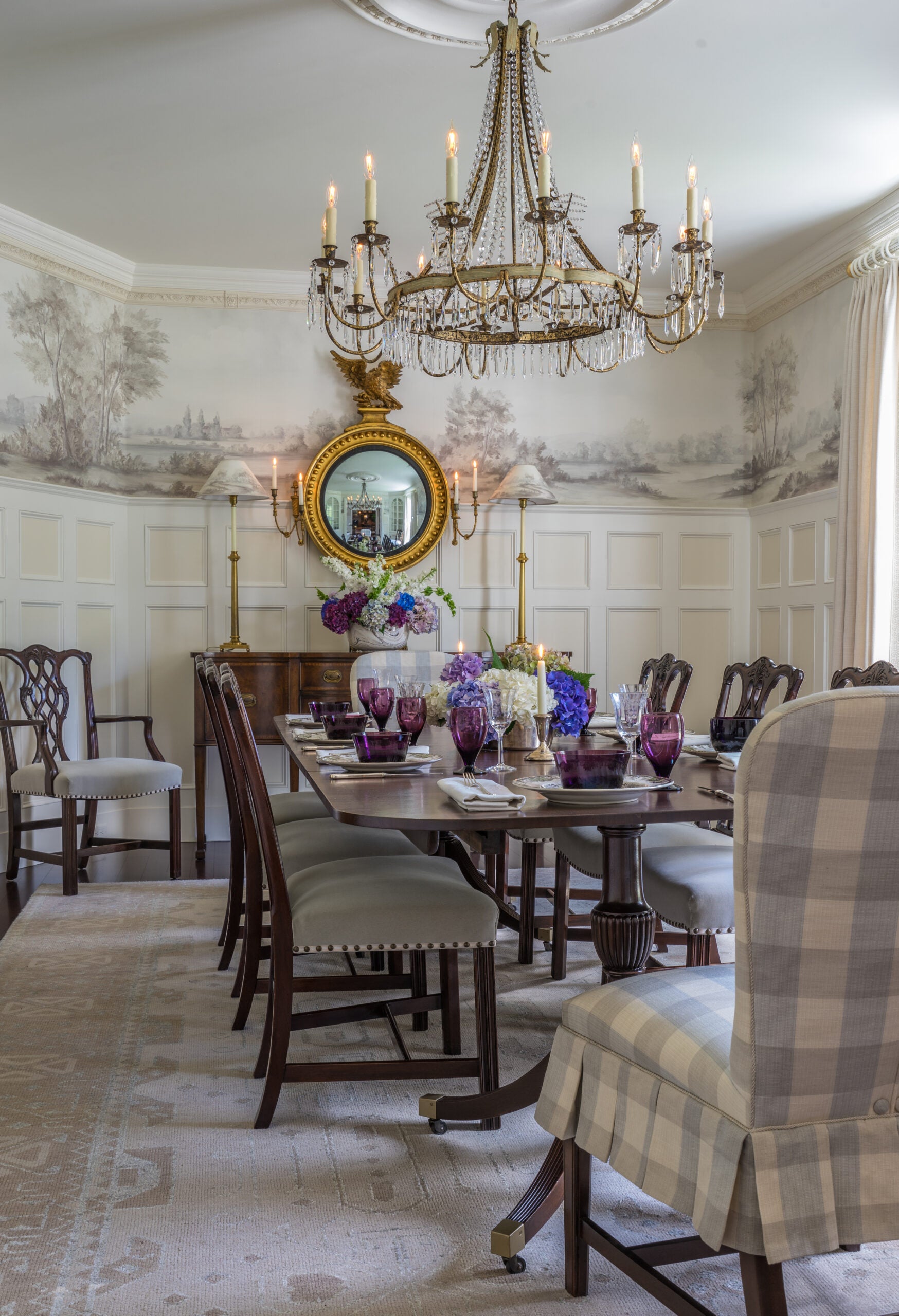 Working with Steve Colclough of Colclough Construction in Rockland, Massachusetts, the Dickinsons brought Carter into the project early in the building phase. One of the first things he and project manager Bill Schroeder did was create a whole-house plan for paint selections. "The color scheme of the house is all about subtlety, mostly pale grays and greens," says Schroeder, who recently left Carter & Company to form his own design firm, W.R. Schroeder Interiors in Boston. The baseboard and crown molding in nearly every room is the same off-white, an equally subtle element playing to what Schroeder calls the house's "formal informality."
Since the Dickinsons brought very few furnishings from their previous house — most of it was too worn or too small — Carter set out to find antiques that would be important elements in his design. "I love using antiques," says Carter, who was an antiques dealer early in his career. "It gives a sense of age to the house." An 1890s tall case clock in the foyer, English Regency mirror in the dining room, antique dining table and chairs, and antique twin beds in the guest room are just a few of the pieces that lend a gracious air to the house.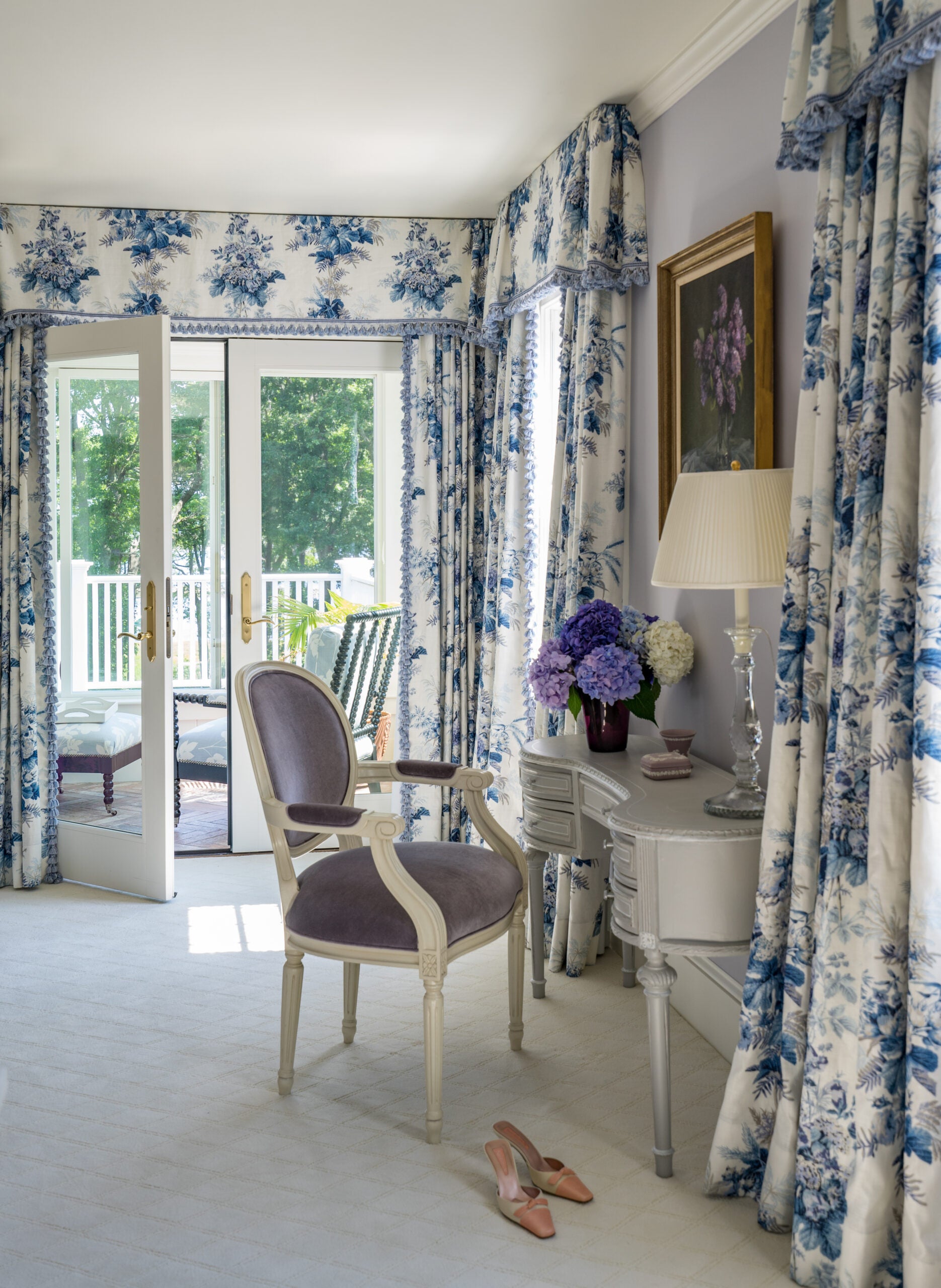 Artwork provides a particularly personal touch, all of it painted by Reed's father, Donald Reed Dickinson, a local artist renowned for landscapes and portraits. "As a designer, I've never had all one painter to work with for an entire house," says Carter. "Every painting has prominence and really belongs in this house." To celebrate their importance, they are enhanced with museum-quality gold-leaf frames.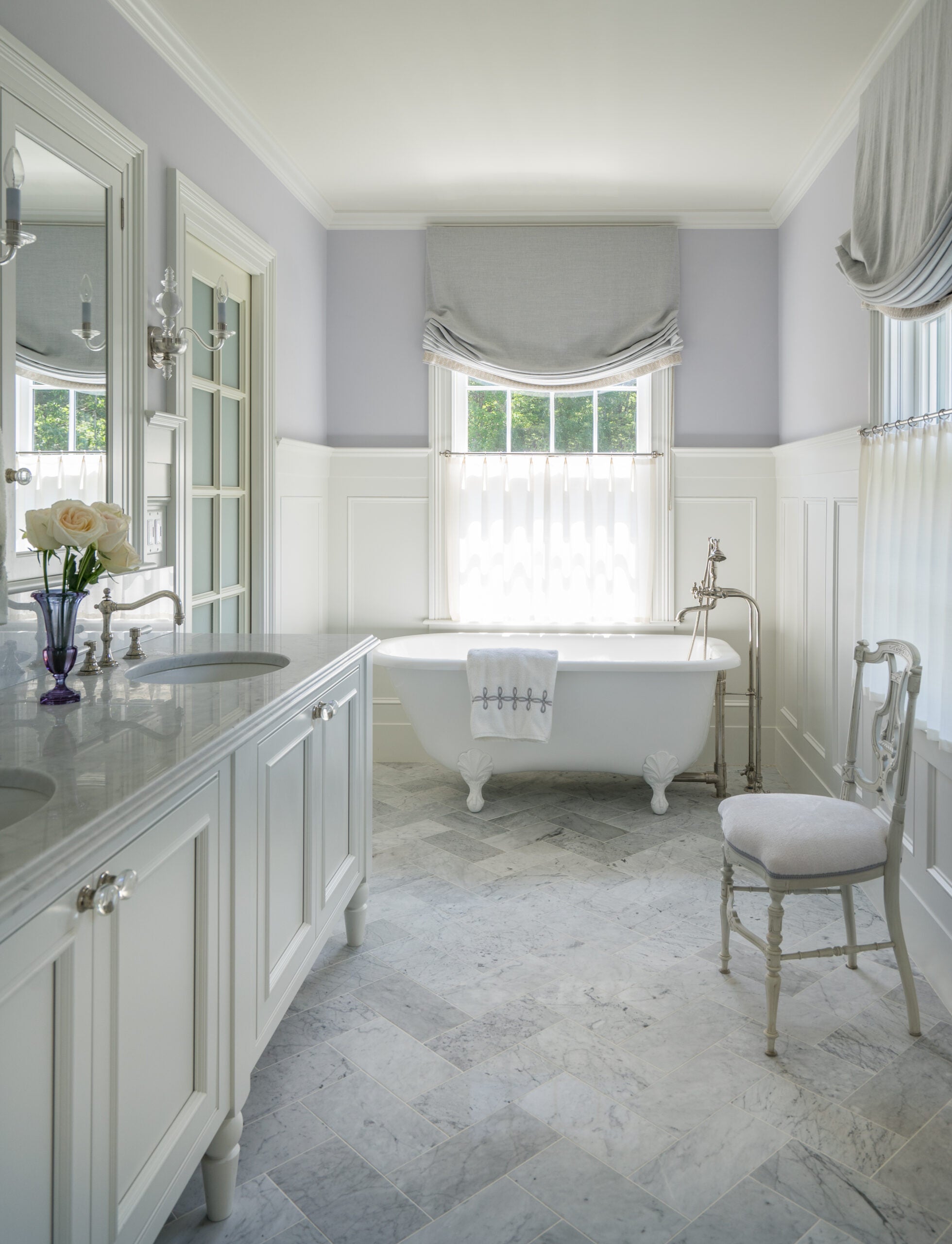 From the start, the Dickinsons were drawn to the layout of the house, where the first-floor rooms promote an easy traffic flow for entertaining — from the dining room and library off the entry foyer to the piano area and living room on the southern side of the house, facing the river view. They are particularly smitten with the great room/kitchen and deep porch that Weston designed to play up the those views, strategically replacing some solid walls with windowed expanses. "In summertime, we basically live on this porch," says Paula.
Year-round, the kitchen is the gathering place, complete with a fireplace adorned with Delft tile, a breakfast area, and a sitting zone near the windows. The buttercream walls and cabinets get a French twist from furnishings and fabrics in white and bright blues. "It feels like Provence colors worked into a New England scene," says Carter.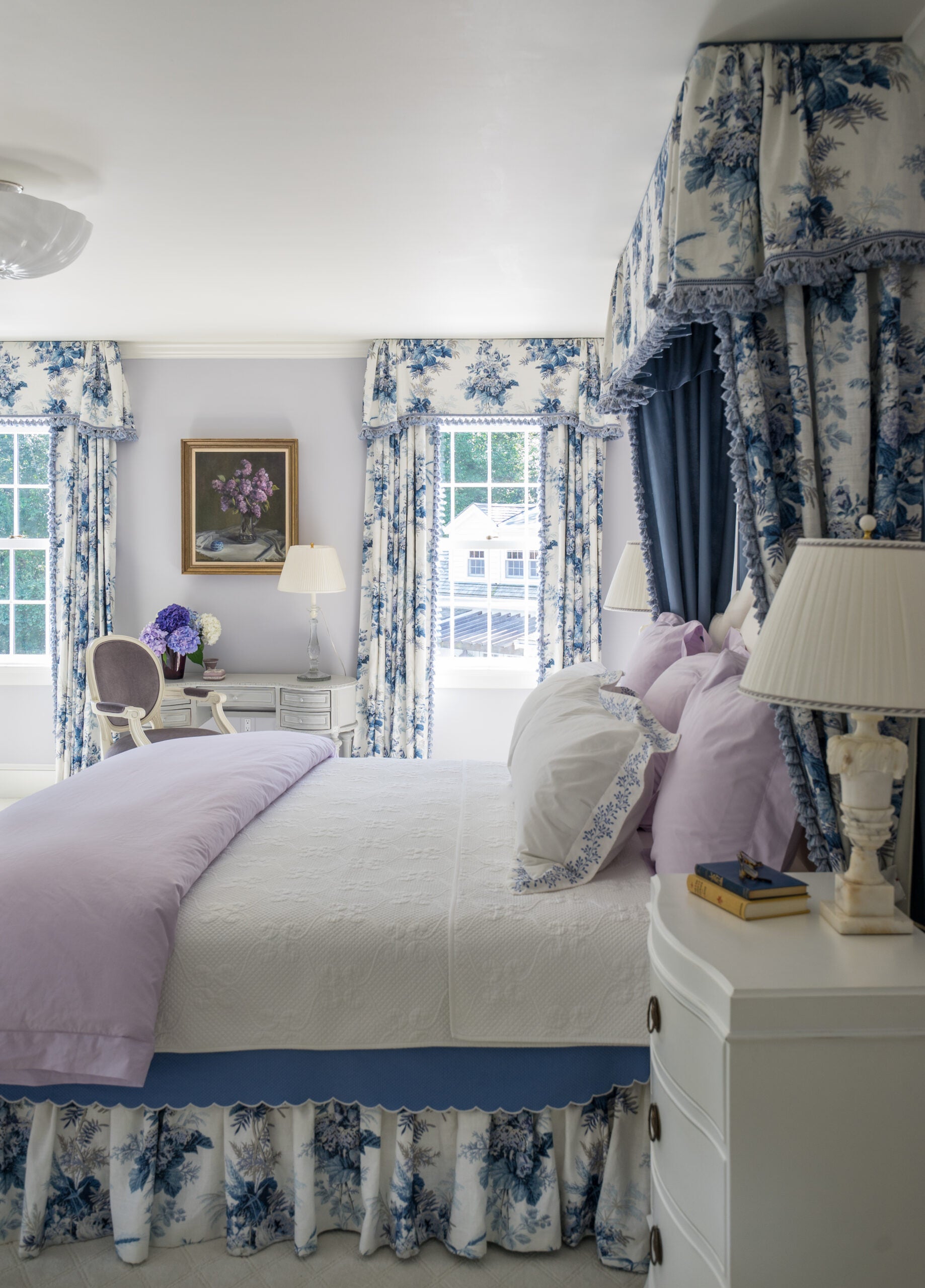 New England scene indeed: From the kitchen, a sweeping view of the marsh and river hints at the sea beyond. Through one set of French doors is the pool, through another set, the porch. A dock provides easy access to water, should someone want to go for a sail. It's a country house, New England style, with traditional details inside and plenty of natural attractions outdoors. For Paula and Reed, there are projects to consider, from transforming an old house on the property into a guesthouse to possibly adding a greenhouse. More than anything, this is a fun gathering spot that means Paula and Reed's adventure continues.
See more photos of the home:
DNE042308