Real Estate News
In handful of communities, lucky commuters happily take to the waves
As you stuff yourself into the underground armpit stew of a rush-hour subway car, some of your fellow commuters are peacefully gazing out at the ocean.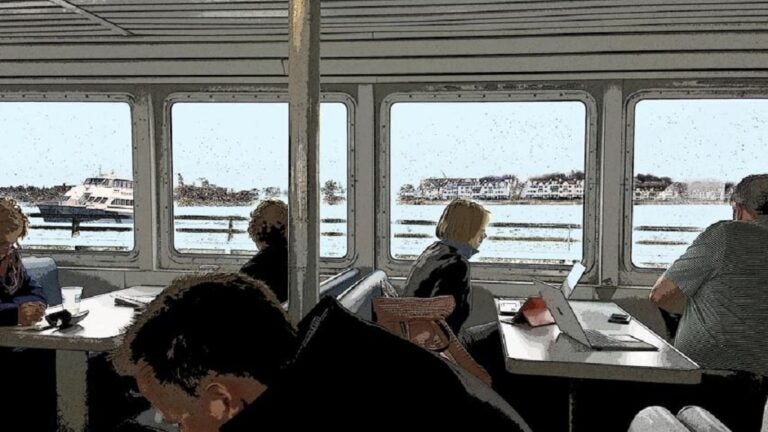 Commuting in and out of Boston can be a form of ritualistic torture. Traffic, already unbearable 10 years ago, has gotten demonstrably worse since. Meanwhile, the MBTA's subway and commuter rail systems both led the nation in major mechanical failures in 2016, according to a Federal Transit Administration report.
But as you stuff yourself into the underground armpit stew of a rush-hour subway car or endure a horn blast for not tailgating close enough in 2-miles-per-hour gridlock, some of your fellow commuters are peacefully gazing out at the ocean, a sea breeze in their faces, maybe even a drink in hand.
They're not on vacation. They're riding the MBTA.
"You can't get a better commute,'' said Sue Morash, who's been taking the MBTA ferry from Charlestown to her job in the Financial District for 18 years. In the summer, she said, she goes out on deck, where she can see the cars at a standstill on the Tobin Bridge. "I just feel so lucky.''
Glenn Williamson takes the ferry from Hull, and he agreed that it's by far the best commute he's ever had. "There's no comparison. I can't imagine driving,'' he said. "It's more expensive, and that part hurts every month when they take it out of my paycheck, but there's no stress; it's just not stressful at all.''
The promise of a headache-free commute is definitely a draw for many Hingham home buyers, said Midge Durgin, a realtor with Coldwell Banker Residential Brokerage. Regardless of where in town her buyers are looking, she said, clients always ask, "How far to the commuter boat?'' And while median single-family sales prices in Hingham and Charlestown are out of reach for many buyers (at $708,000 and $1,082,500, respectively, this year as of March, according to the Massachusetts Association of Realtors,) Hull remains more affordable at $337,000, as does nearby Weymouth ($382,500).
Alice Brown, director of water transportation at the nonprofit organization Boston Harbor Now, said boat commuters are willing to pay a premium for a pleasant experience. "People who take the ferry on a regular basis love their commutes in a way that few people living in the Boston area do,'' she said.
Lou Sostilio of Quincy is a good example. The recruiting manager said that while he could drive into the city or hop on the bus to the Red Line with an $84.50 Monthly Link pass, he takes the ferry from Hingham — where, in addition to a $308 monthly ferry pass, he pays $4 a day to park. "It's more expensive, but it's worth it,'' he said, relaxing on the top deck as we pulled out of Long Wharf one weekday afternoon. "You can enjoy nice weather and pretty views on your way home and not concentrate on driving.''
Instead of endless brake lights or the city's grimy underbelly, ferry riders are treated to views of the harbor islands, passing freighters and sailboats, the sun reflecting off Boston's glass towers — and sometimes a lot more. Williamson recalled seeing Air Force One fly overhead and getting up-close views of the Tall Ships when they were in town. "You're seeing sights out on the harbor most people don't get to see. It makes for an interesting day,'' he said.
Plus, Williamson added: "You can get coffee in the morning and buy drinks at night — you can't do that on the train. You tell people that, and they don't even believe you. Friday nights in the summer are a lot of fun.''
It's true: There's a bar on board serving coffee, snacks, and the fixings for a booze cruise. "The boats out of Rowes Wharf, with all the finance guys, they really rip it up, especially on that Friday 5 p.m. boat,'' Sostilio said. "This one's a little more sedate.''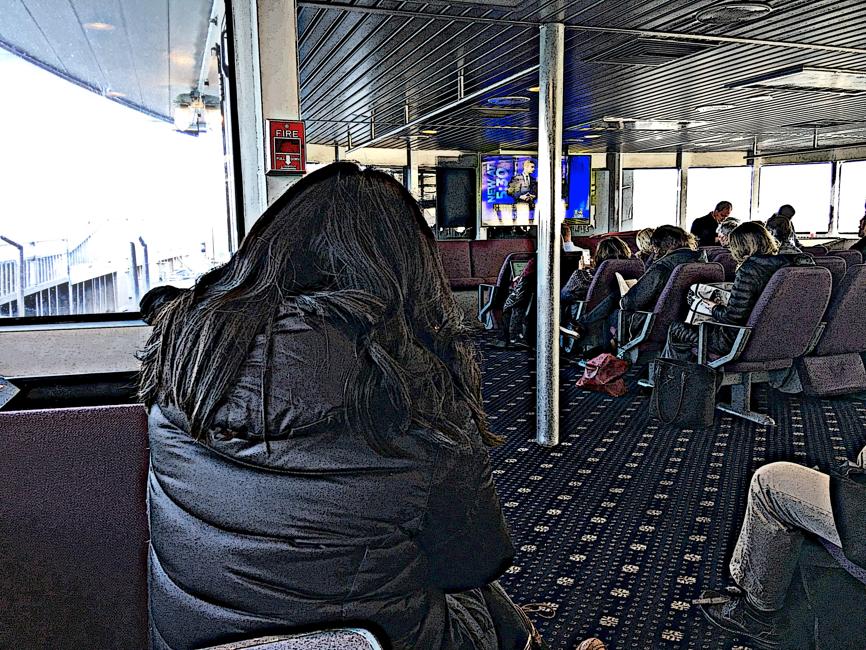 The three (soon to be four) vessels serving Hull and Hingham are large catamarans, whose twin hulls add stability, and the harbor is calmer than the open ocean; on my trips I experienced no more than a gentle rocking at times. Still, I asked deckhand Emily Maynard whether anyone ever gets seasick, since that wouldn't be a pleasant way to start your workday. "The only time I've seen someone get sick was coming back from Boston on a night ferry after they'd been out drinking,'' she said with a laugh. (In other words: It's not much different from the Green Line's B branch.)
Compared with the solitary confines of your car or the catatonic stupor of a subway ride (punctuated by the occasional free spirit), the atmosphere on board the ferry was positively chatty. And that can have real benefits: One study by the University of Chicago found that people who socialized with other commuters reported a more positive experience, despite expectations of the opposite.
Harbor views and happy hours aside, there's another big reason everyone seems to love taking the ferry. "It's always on time,'' Williamson said. "In 20 years, I can think of maybe three times it stopped running.''
That's also true: While ferry service is sometimes canceled during a nor'easter, "the existing MBTA ferries have the best on-time performance in the system,'' said Brown. "It also doesn't take long to clear the snow off of a dock, and the Hull and Hingham ferries were operating smoothly long before the trains in the multi-blizzard winter of 2015,'' she added.
"I'm signed up for MBTA alerts for the Red Line, the commuter rail, and the ferry,'' said Michele O'Leary, a nurse from Hull. "And there's almost always some delay on the Red Line or the train, but there's never a boat delay. The boat's always on time; you can rely on it.''
While the expensive monthly pass needed to ride from Hingham is also valid for subway, bus, and commuter rail service to Zone 5, the riders I spoke with take the ferry in good weather and bad. "I take it all winter long,'' Sostilio said.
In fact, summer tourists can wreak as much havoc on the schedule as winter storms. "The only time it sometimes runs late is actually in the summer because of the crowds,'' Morash said of the Charlestown ferry. O'Leary said the same of the Hull route. "If you don't get to the dock early in summer, there are a lot of tourists, so you may not get on board, and you'll have to wait for the next one,'' she said. Average weekday daily ridership across the year-round MBTA ferry routes swells from a little over 4,000 in the winter months to more than 7,000 in July.
Even in summertime, those numbers represent just a tiny fraction — less than 1 percent — of all MBTA riders. But Boston's loyal seafaring commuters help make the year-round ferries the MBTA's most cost-neutral service, with the highest farebox recovery ratio in the T's system, according to a report by the Pioneer Institute, a public-policy research group. And once snack and drink revenues are factored in, the Long Wharf-Logan-Hingham-Hull ferry recovers 82 percent of its operating costs, according to a study by Boston Harbor Now; the Rowes Wharf-Hingham route sits at 89 percent.
That's one reason Boston Harbor Now has been surveying riders and studying existing ferry service with an eye toward expansion. "For a long time, there wasn't enough development near the water's edge for a lot of potential services, but we've seen so much growth in the Seaport and other waterfront neighborhoods and communities over the past decade that we believe there is an opportunity to connect these places by water,'' Brown said. This year, she added, they expect to propose feasible business plans for two new routes: an inner harbor circulator and a new, permanent Quincy route.
Quincy is among a handful of coastal communities that have offered seasonal non-MBTA ferry service to Boston, along with Salem, Lynn, and Winthrop. But Brown said some of those routes depend too heavily on tourists to be economically sustainable year-round.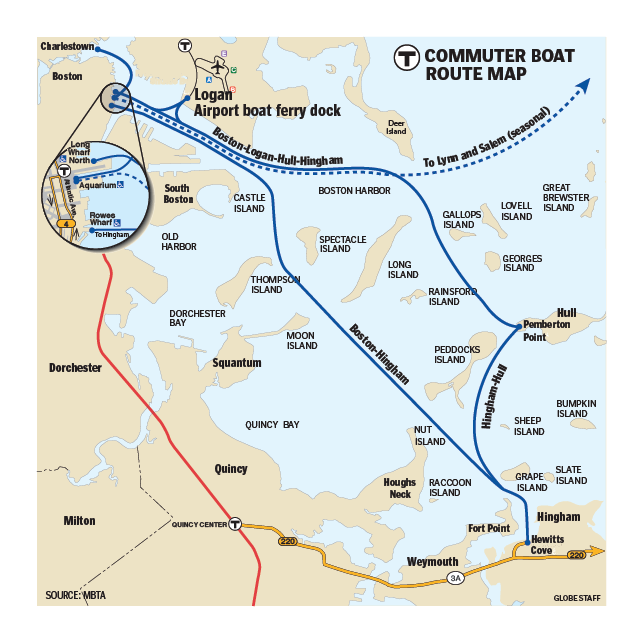 "For as much as people like the idea of riding ferries . . . there needs to be demonstrated evidence of demand,'' Brown said. While it can be easier and less expensive to expand ferry service than other transit — there's no need for costly and time-consuming construction of bridges or tunnels, for example — ridership levels nonetheless need to justify fuel and staffing expenses, she said, not to mention the purchase of the vessels themselves.
So if ferry service is available already in your community and you'd like to see it keep running or even expand, hop on board. Just beware: Once you get a taste of Boston's best commute, you may never want to go back to your old routine.
"It's the only way I'll go into the city,'' said Lynn Eaton of Scituate, who was relaxing over a newspaper after taking a quick nap on board the Hingham ferry. "I wouldn't go into Boston if it weren't for the boat.''
Jon Gorey blogs about homes at HouseandHammer.com. Send comments to [email protected]. Follow him on Twitter at @jongorey. Subscribe to our free real estate newsletter — our weekly digest on buying, selling, and design — at pages.email.bostonglobe.com/AddressSignUp.