Real Estate News
Want your home to sell? Don't paint it yellow, study says
And which front door colors offer more curb appeal?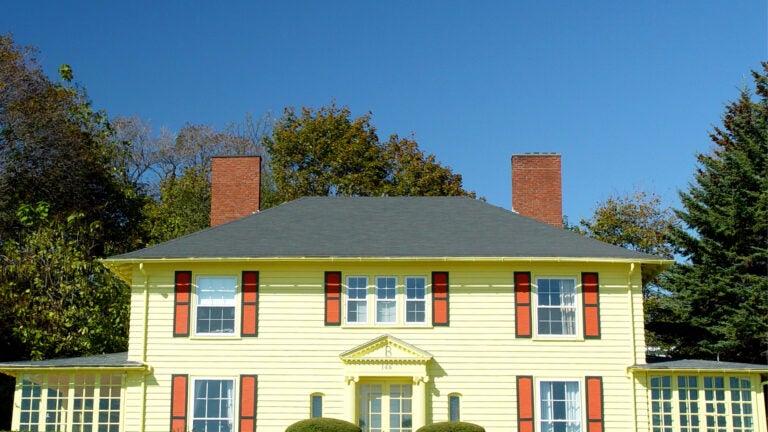 Zillow sees a red door, and it wants to paint it black — to give the home more curb appeal.
The real estate website released its 2018 Paint Color Analysis on Wednesday, which found that homes with black or charcoal gray front doors sold for $6,271 more than expected.
The analysis looked at more than 135,000 photos from homes sold via Zillow, from January 2010 to May 2018, to see how paint colors may have affected sale prices on average, when compared to the company's Zestimate. The analysis compared these homes with similar ones with white walls, according to a press release, and it controlled for other wall colors within each room type, square footage, home age, and ZIP code.
"For a seller, painting a front door is one the least expensive home prep projects, but also one that can have a powerful impact on a home's sale price," Kerrie Kelly, the website's home design expert, said in a statement.
The analysis took more than the front door into account. It also found that" tuxedo kitchens," those in which the upper and lower cabinets are painted different colors, sold for $1,547 more, especially when a dark navy blue or black island stands in contrast to white cabinetry.
Homes with cool, neutral wall colors also sold for more than expected. A home with a periwinkle blue bathroom? It got $2,786 more, while a light taupe living room garnered $2,793.
"While cool, neutral wall colors like tan and light blue are still popular, we're seeing a notable shift in home design where pops of color — particularly in darker hues of blue and gray to even black — are becoming increasingly popular," Kelly said. "Contrasting colors, especially in kitchens and home exteriors, add interest and dimension to a room that plays very well in listing photos and videos."
There are some colors that can deter buyers, however. Homes with kitchens painted red (from brick and barn to raspberry) sold for $2,310 less than expected, and dining rooms with oat brown or sandy brown walls went for $1,684 less. Surprisingly, homes with yellow exteriors sold for $3,408 less.
Neutral colors appeal to a greater demographic, the study suggested, but paint colors are just one of many factors that can influence a home's sale price. So don't linger in the paint chip aisle too long when you put your home on the market; you've got other work to do.
Subscribe to our free real estate newsletter — our weekly digest on buying, selling, and design — at pages.email.bostonglobe.com/AddressSignUp.
Due to incorrect information given to realestate.boston.com, a previous version of this story listed an incorrect time frame in which data were collected.