Real Estate News
A beachfront R.I. barn becomes a gathering place for a growing family
Clad in Alaskan yellow cedar, the 3,200-square-foot house features a screened porch, a large deck, four bedrooms, and a walkout lower level.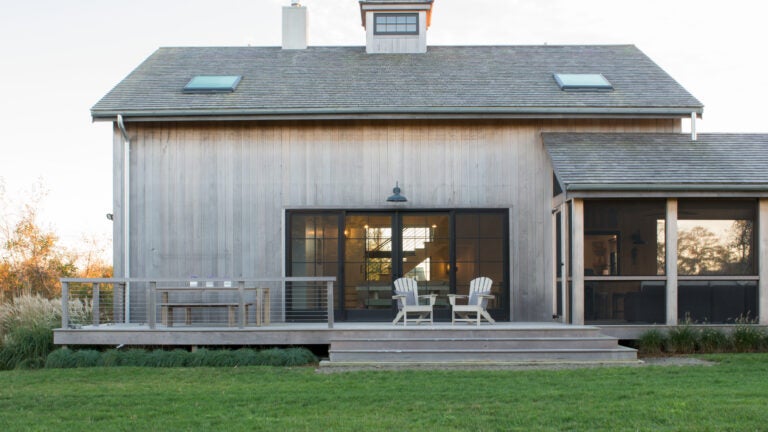 It's a somewhat familiar story. A summer home, which the parents excitedly bought when the family was just the two of them and the kids, was beginning to feel small.
"My husband and I started to go out there and explore," says Mary Ann O'Leary about Block Island, which they "fell in love with" during those early trips to the 9.7-square-mile haven 13 miles off the coast of Rhode Island.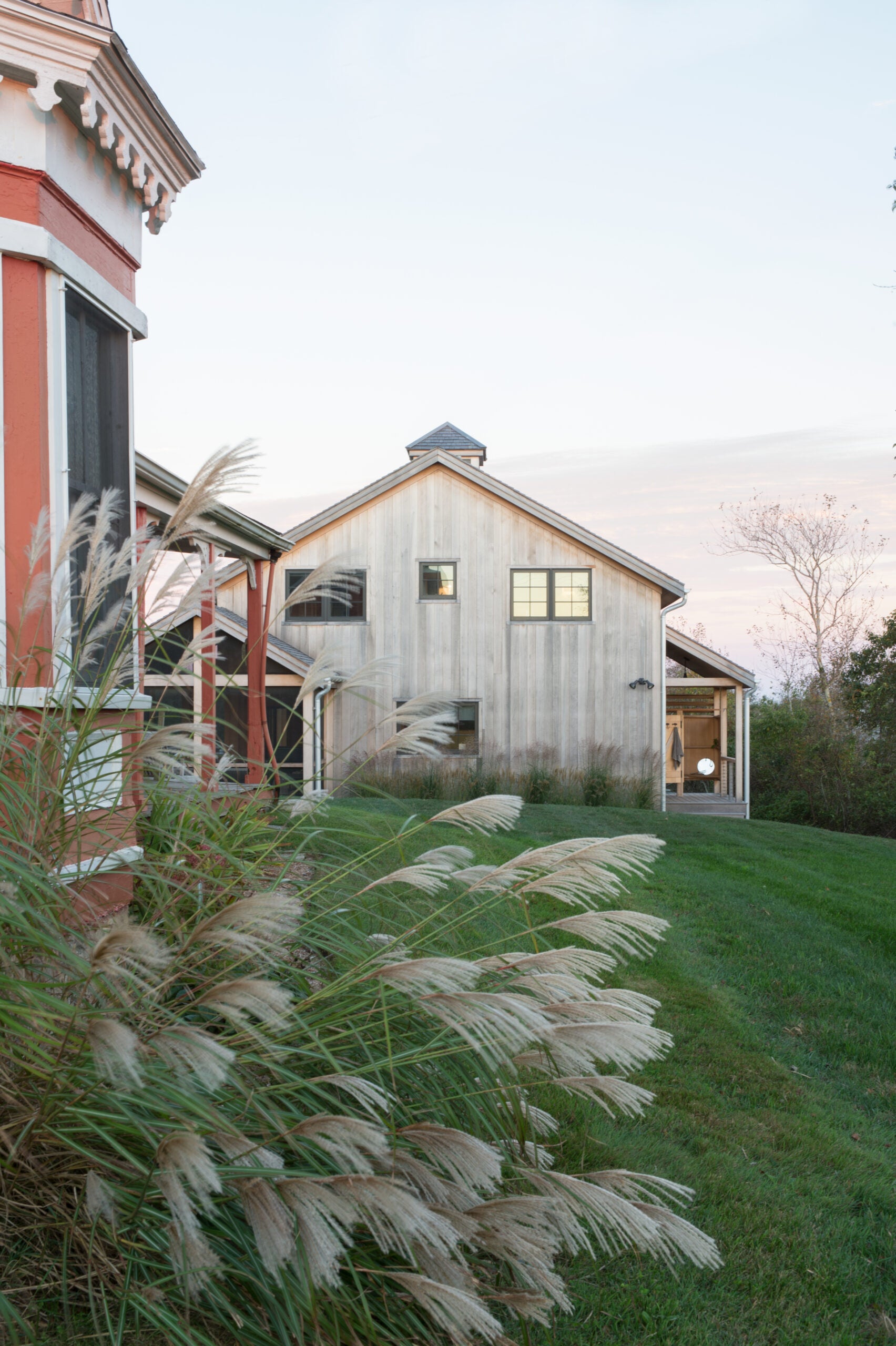 In 2006, they bought a 1,200-square-foot house built in 1884 for Captain Benjamin F. Gardner. Painted a charming red, it was close to the beach and next to conservation land. Ever since, the little red house has been a place for their growing family — which in 12 years has more than doubled with the addition of the kids' spouses and children — to come together. More space was definitely needed.
O'Leary could either find a larger house, add on to the red house, or build something separate on the 2-plus-acre property. Because her family loved the red house as it was, she decided on the third option and contacted on-island builder Mark Kildea of Stix Man Construction, who helped her get a variance from the town of New Shoreham for a new four-bedroom structure, with the proviso that "we converted the red house into an accessory residential structure," says Kildea, which essentially meant its kitchen had to go.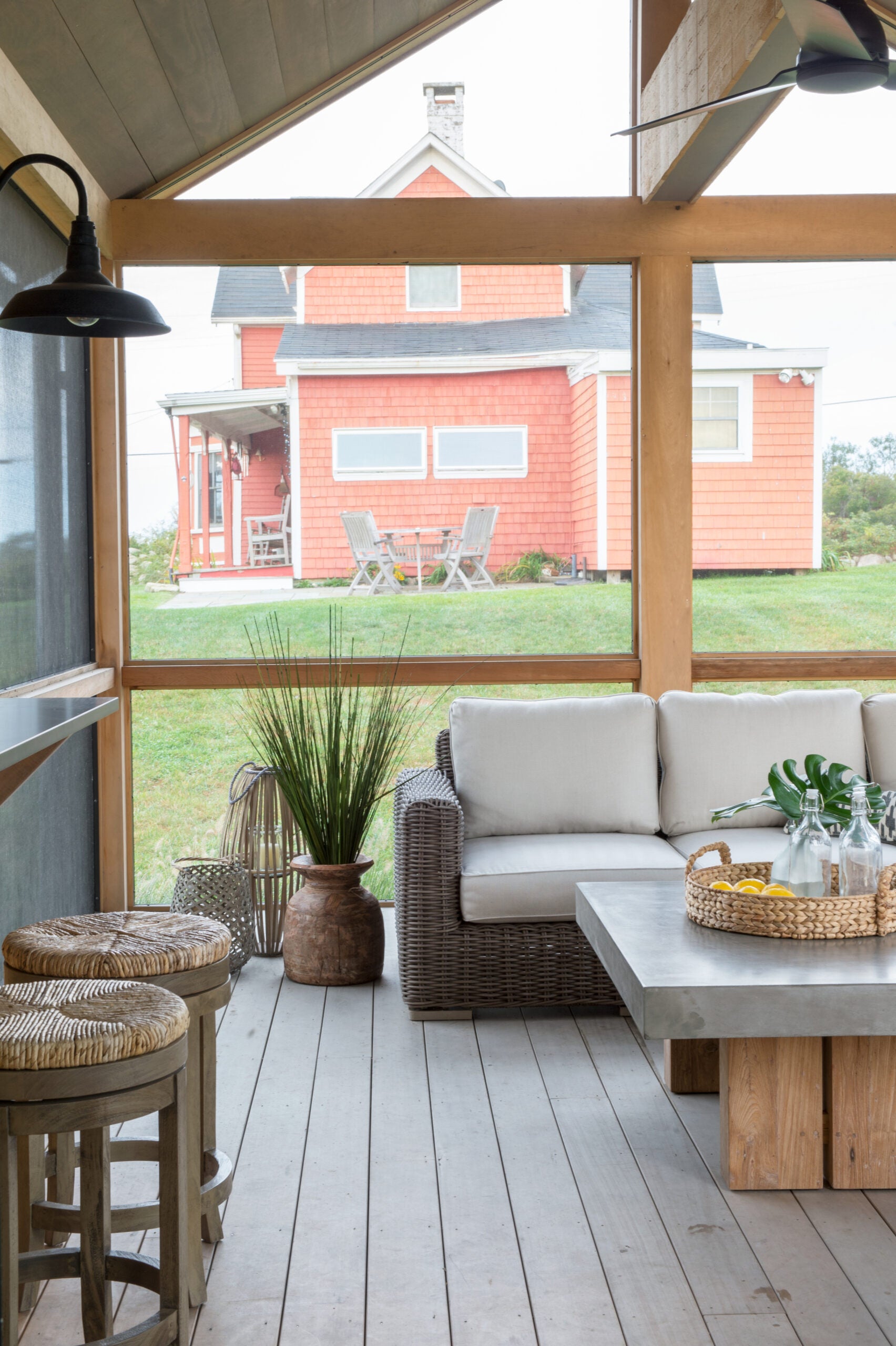 O'Leary also contacted interior designer Jill O'Shea of Jill O'Shea Home Design in Westport, Connecticut, who had helped her refresh her apartment in New York City.
"I told her I was talking to a builder [on Block Island], and she had a whole vision in her head," says O'Leary. "She has a head full of brilliant ideas."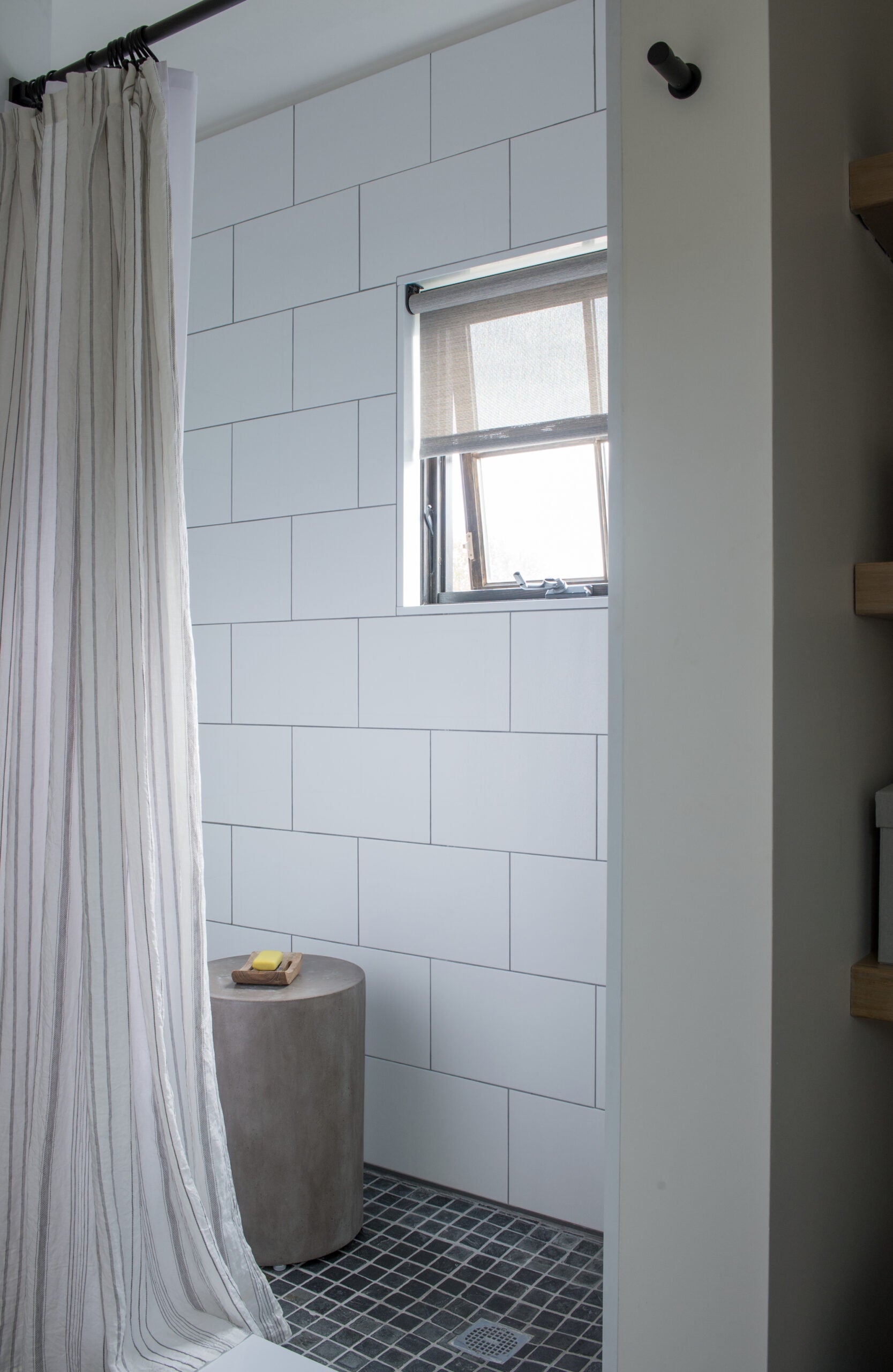 Designer O'Shea suggested a structure that looked like a barn, so it wouldn't compete with the existing gingerbread-style home. Clad in Alaskan yellow cedar, the 3,200-square-foot house, begun in fall 2015 and finished in spring 2017, features a screened porch, a large deck, four bedrooms, and a walkout lower level.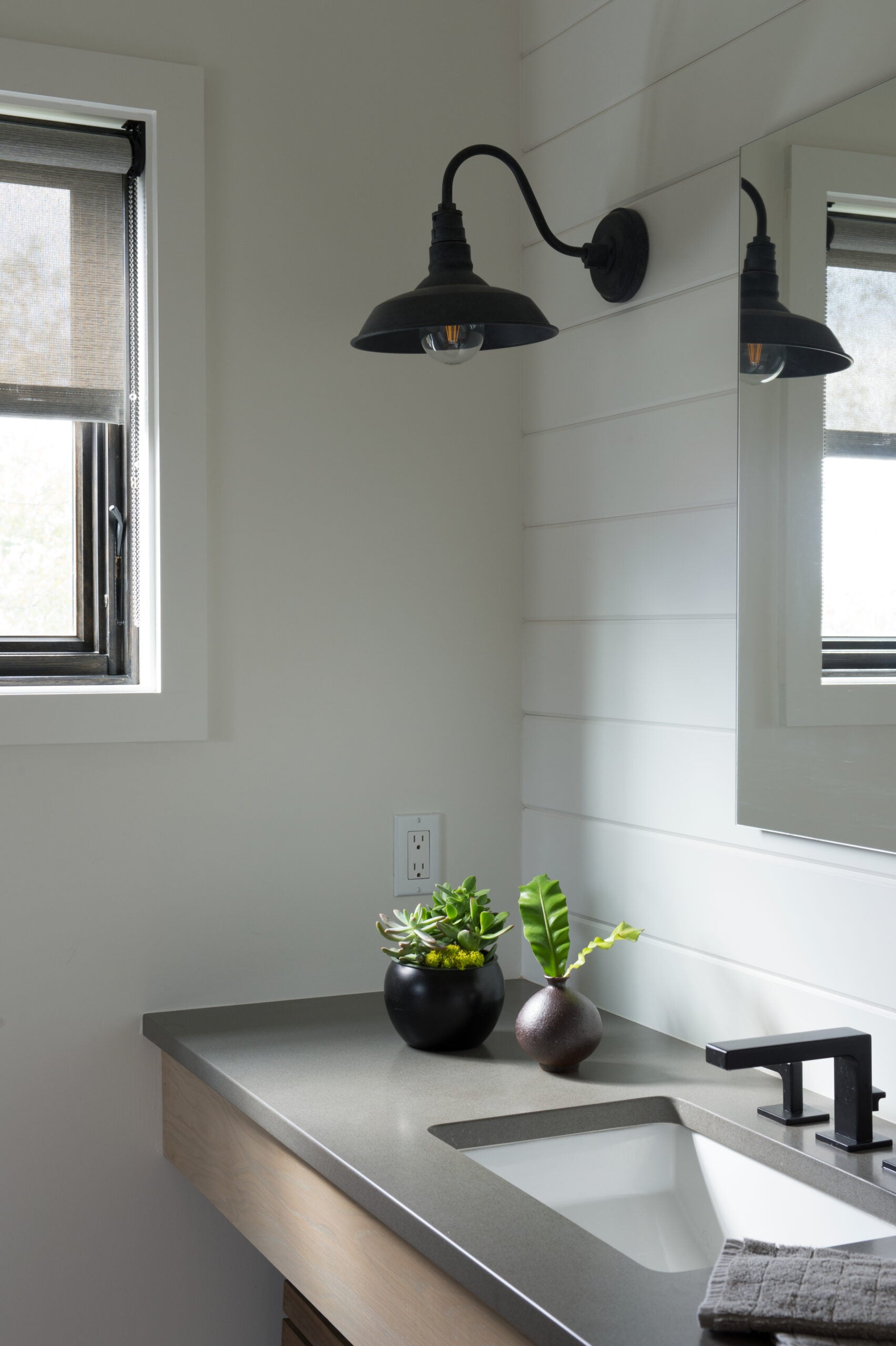 O'Leary credits O'Shea with drawing the plans, furnishing the interior, and taking care of details, including specifying plants for the landscape.
"This is really for my children and my grandchildren," says O'Leary, who consulted with family members on the design. "One of them said, 'Please, let's have a screened porch.' Another said a fireplace, then an outdoor shower. The deck was another thing. Everyone wanted a deck."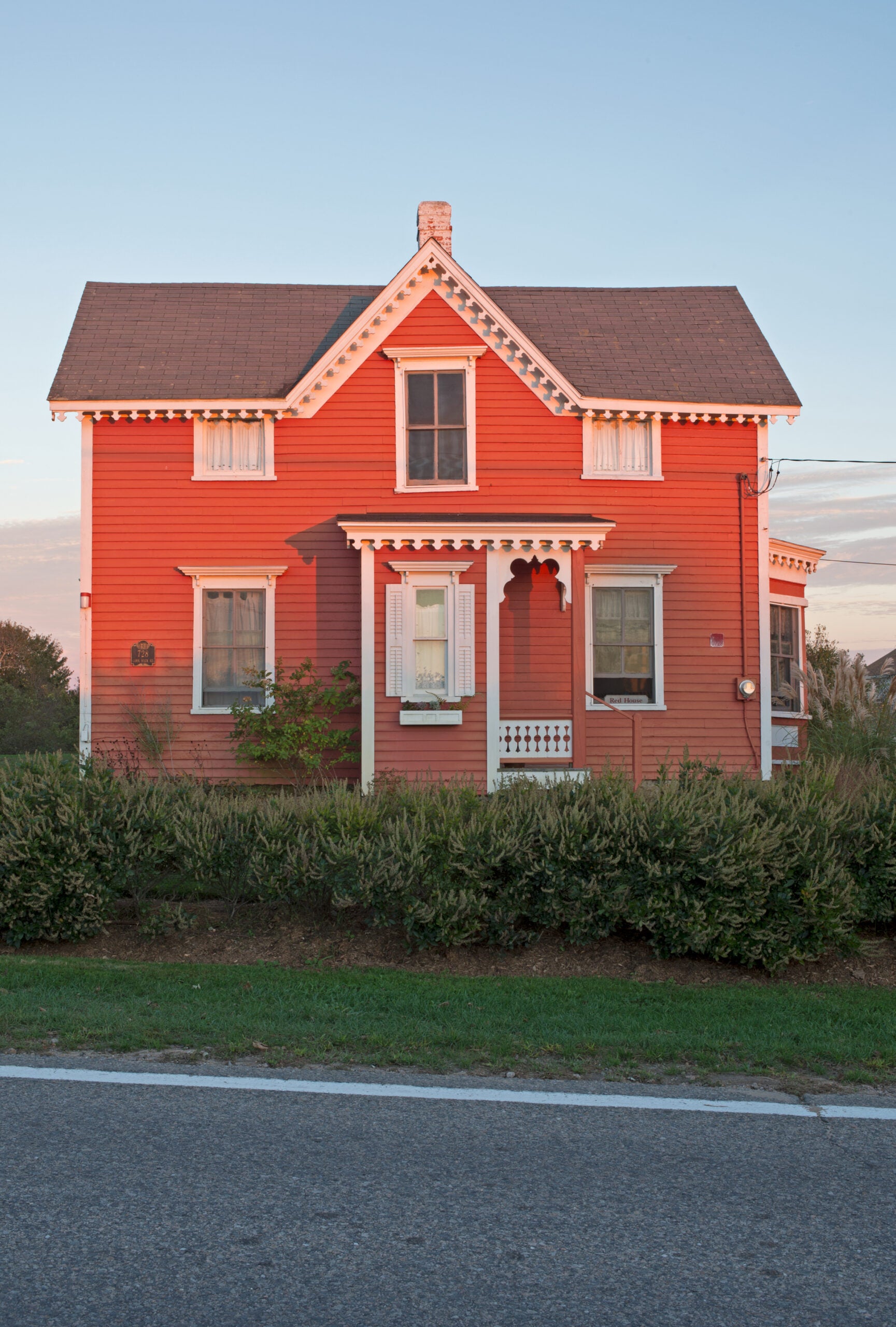 "From looking at the outside, you wouldn't guess what's going on inside," says O'Shea. "The exterior character has the functional simplicity of a barn, but when you go inside, you're surprised by the volume of open space and natural light."
The north side of the home, which faces conservation land and connects in greater degree to the red house, hosts the screened porch and deck. The orientation means that on hot summer days, the deck stays cool.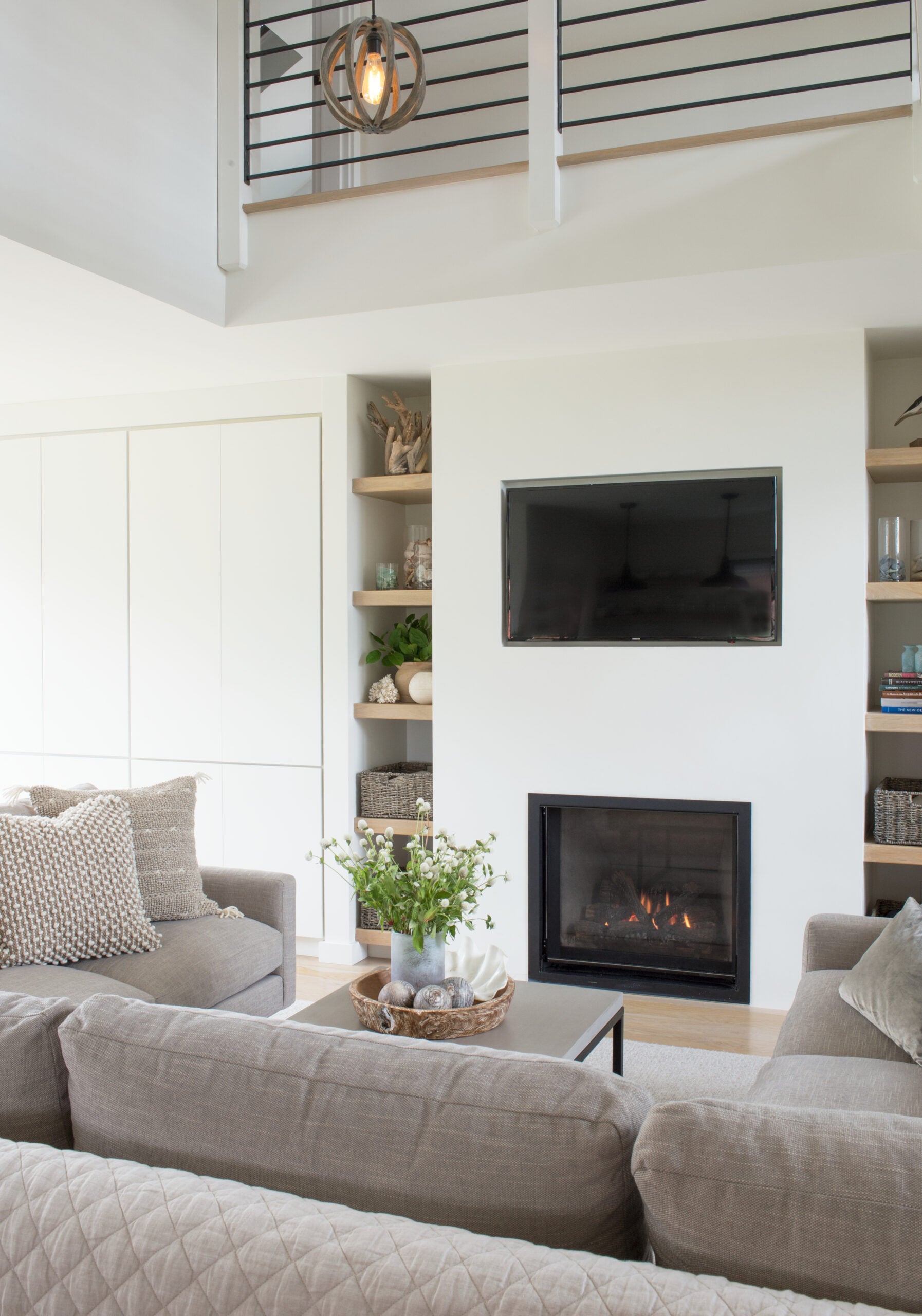 Because a beach-access road lies on an easement to the property, O'Shea placed an interior stairway in front of the south-side windows to obstruct views into the house. The first floor is an open plan, with glass doors by the dining area leading to the deck.
The primary purpose of the house was to create a place to bring the whole family together," says O'Shea. "So we created a series of open, flowing living spaces with lots of cozy group seating areas, both indoor and outdoor."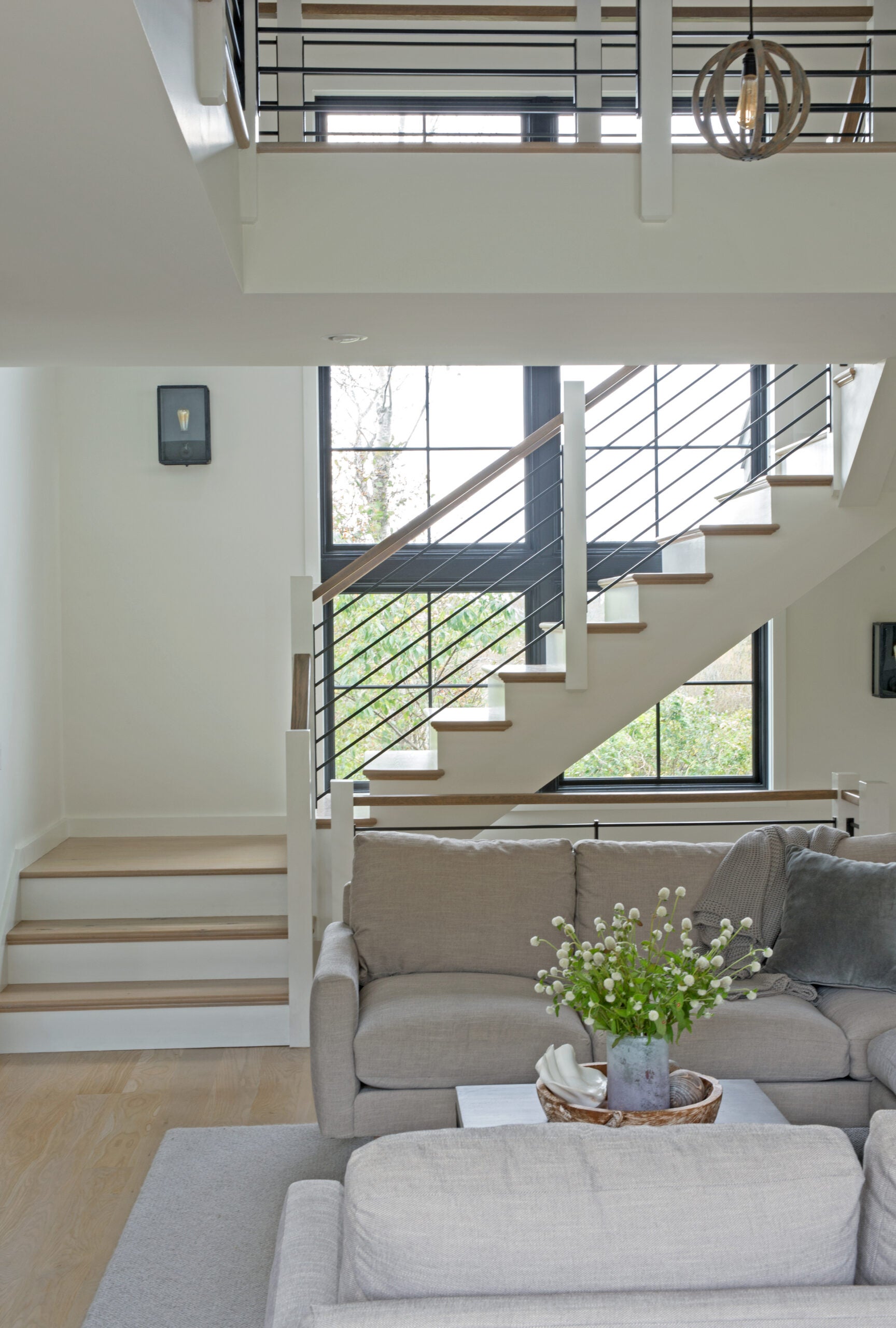 A large U-shaped sofa faces a sleek fireplace inside, "a theme we repeated outside with a group of Adirondack chairs to gather around the firepit," she says.
The first floor also boasts a multipurpose room and a full bath, which together O'Leary currently uses as a master suite. In the kitchen, open shelving enhances white walls, and gray quartz tops a peninsula. A door on the left leads to an outdoor shower, and a custom window on the right opens accordion-style to the screened porch.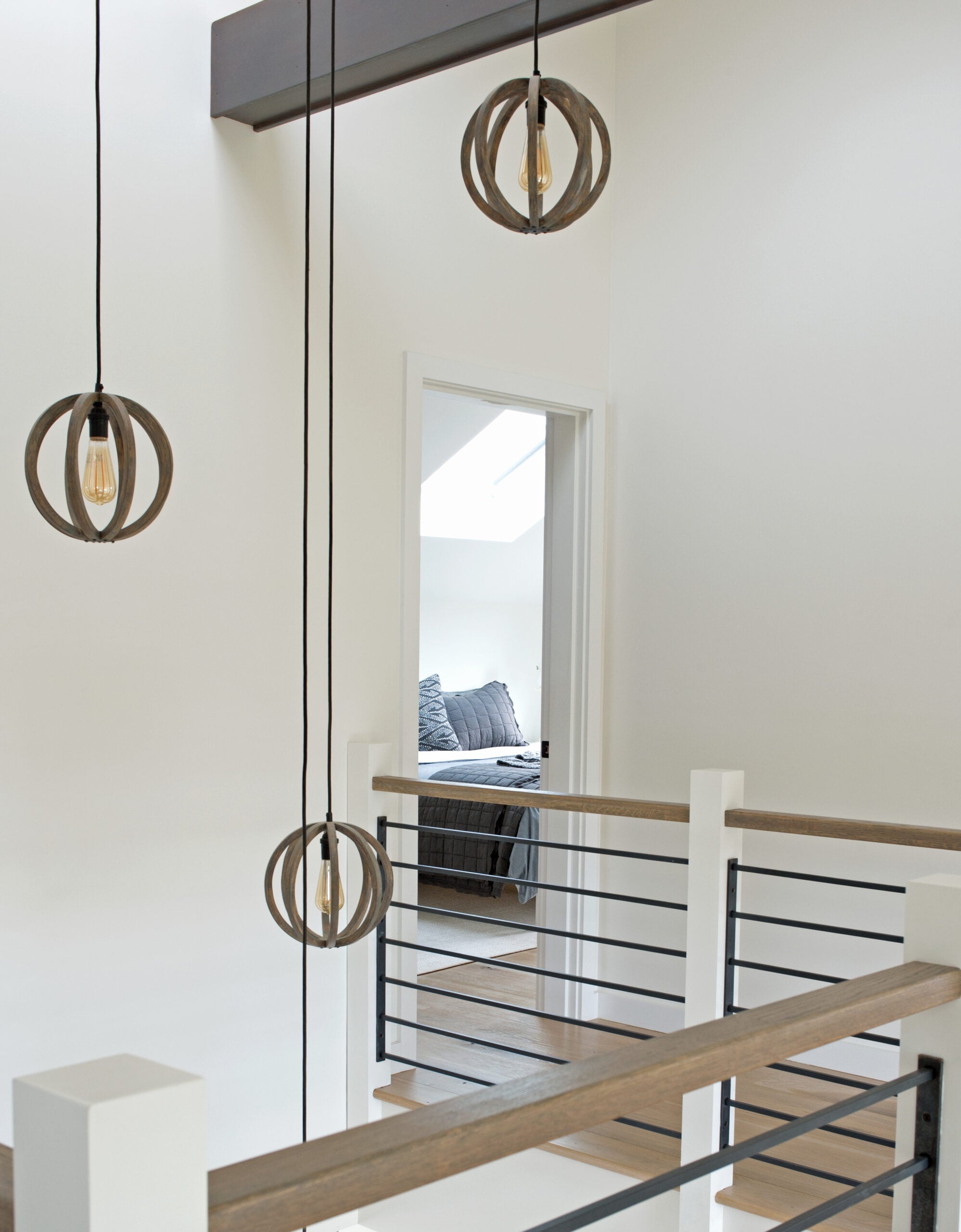 Upstairs, guest rooms mirror one another and are "meant to be interchangeable," says O'Shea. On each side, there is a family suite that includes a parents' room and a kids' bunk room with a Jack-and-Jill bath, "so the parents can have privacy while also managing their own kids," says O'Shea.
A windowed cupola on the second floor allows additional natural light to reach the living space below. Five wooden orb pendant lights strung from the ceiling with different lengths of black cord create a focal point.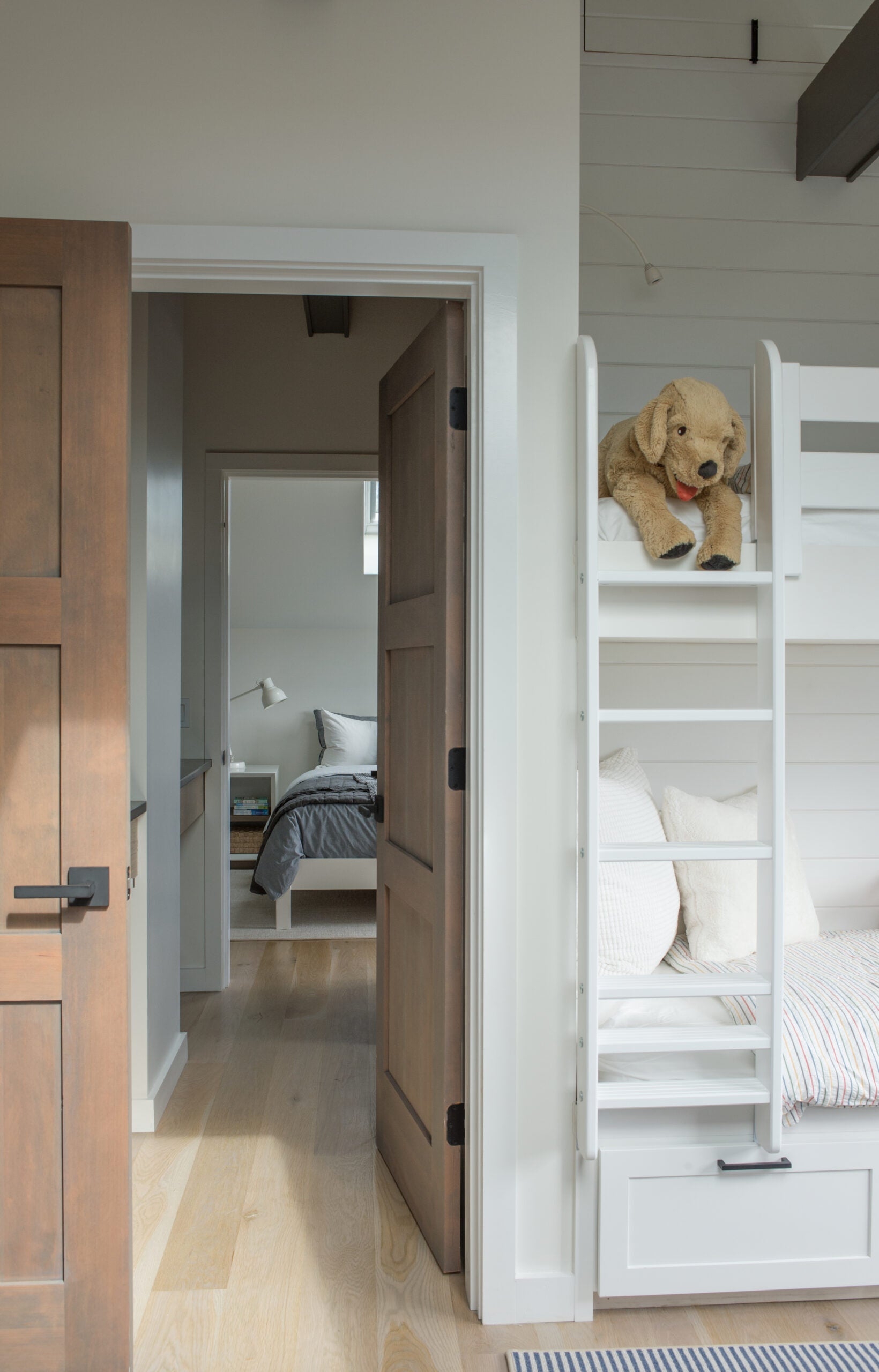 The home's palette is monochromatic, but, says O'Shea, "it's fairly rich," with lots of textures. For example, the raw linen sofa contrasts with velvety benches that flank a dining table made from a wood slab "reminiscent of a big block of driftwood," says O'Shea.
Railings by Steve's Custom Iron Works of Norwalk, Connecticut, and black-framed windows from Andersen Windows & Doors tie light and dark elements together.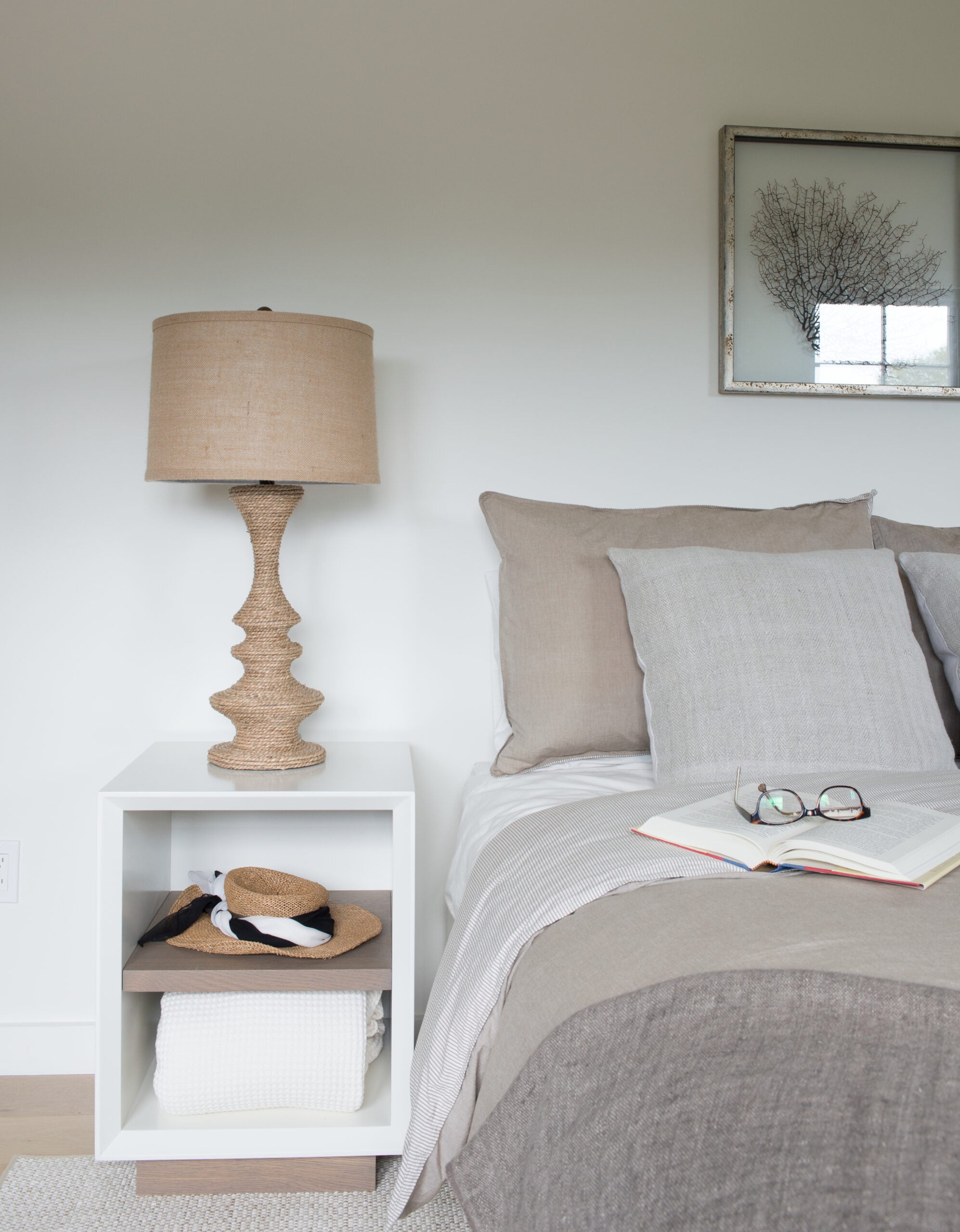 The Alaskan yellow cedar exterior is a calming element next to the red house. The material is longer lasting and harder to find than white or red cedar, and the 7-inch-wide boards were also cut as long as possible to minimize seams, which are points of vulnerability to weather.
"It wasn't done piecemeal," says O'Leary about the barn house her family loves. (And though it's an ongoing effort to maintain the red house, she is now turning her attention to its larger repairs.)
"The end result is just so wonderful. I feel really good that we kept the property and hope that it will remain in my family for many generations to come."
See more photos of the home:
DNEBlock