Real Estate News
Those historic colors we love so much? They are only dull versions of the real deal
"It was a terrible shock to people. I almost got fired.''
Richard C. Nylander still chuckles when he talks about the response to the groundbreaking paint analysis he and the late Morgan Phillips completed at Boston's Harrison Gray Otis House in 1974.
"It was a terrible shock to people,'' said Nylander, curator emeritus at Historic New England, the museum organization that owns the 1796 Otis House in Boston's West End. "I almost got fired.''
He recalls how he went to work for what was then called the Society of the Preservation of New England Antiquities in 1968.
"I was right out of grad school, and in 1968 or '69, there had been water damage at the Otis House. Abbott Cummings, the assistant director of the society, was forward-thinking, a very creative guy who saw this as an opportunity. Together with Morgan Phillips, the supervisor of properties, I was put to work analyzing the layers of paint and wallpaper to determine what the rooms had looked like originally.''
The work of Nylander and Phillips was part of a larger desire to learn about this country's early life. With the start of the Colonial Revival at the US centennial in 1876, everything Early American became chic and desirable, a heritage to be claimed even if your forebears did not come here on the Mayflower.
Paint scrapings taken at Colonial Williamsburg in the 1920s led to the "Williamsburg Colors.'' Muted and dusty, they were a grayed and browned palette of mostly blues, greens, and reds. For many decades, they drove the notion that our Colonial and Early American forebears decorated with, well, dull, muddy colors.
What Phillips and Nylander found under the overlapping seams of 175 years' worth of wallpaper that had been removed in the 1920s and preserved and under paint told a different story. Those muted colors were, in part, literally years' worth of dust and decay.
"Morgan noticed that the places that had been scraped several years earlier were lighter — oils in the paint had turned brown,'' Nylander said. "He bleached bits to reverse the process. He also looked at flakes of original paint through a microscope and found some were thicker than others. We were looking at the same old thing with fresh eyes.''
They started work upstairs in the Withdrawing Room, where the Otis family had received guests. The pair wanted to determine what it had looked like in its original state, and then make it look like that again.
"Then there was a recession in 1970, and all work came to a halt,'' Nylander recalled, "but eventually we finished that room, including the carpet.''
The Withdrawing Room they revealed has Pepto-Bismol pink molding on the ceiling. A lively floral green, red, and yellow wallpaper border runs around doors, windows, wainscot, ceiling, and fireplace. The woodwork, including the wainscot and the fireplace surround, wears a pretty shade of light yellow paint, and the walls are covered with floral-patterned light gold wallpaper with a reflective background. On the floor lies a wall-to-wall carpet with enormous medallions composed of bands of pink, mustard yellow, green, and blue.
There is nothing dusty about these colors: They are clear, bright, and assertive.
"It was NOT tasteful — that was the phrase people used,'' Nylander said with a smile. "And actually, it is the calmest room in the house.''
The restored dining room, for example, has walls covered with unpatterned wallpaper that is a strong chrome yellow, as well as a blue and red swagged border. There are red curtains with gold fringe and a carpet of pink, green, and brown. The woodwork of the wainscot, fireplace, and around the doors is painted Wedgwood blue and white.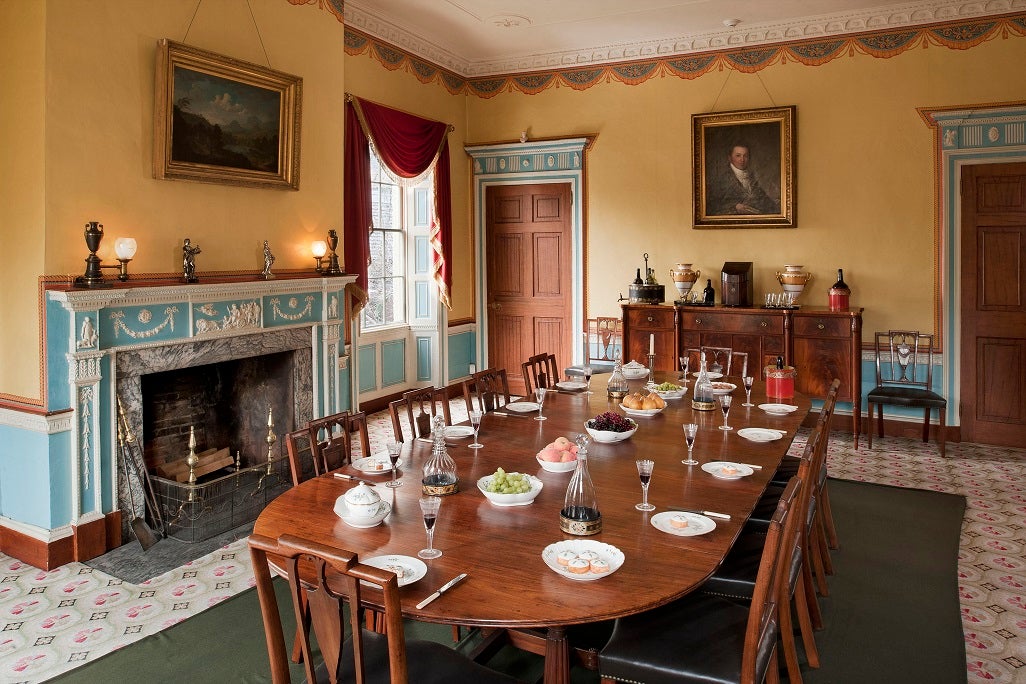 No one could pretend that these colors and patterns were a late-18th century anomaly — the house designed by Charles Bulfinch and the family portraits painted by Gilbert Stuart tell the truth. Harry and Sally Otis were the cream of Boston society, and their interior décor represented the height of chic in 1796.
Further research has shown that bright colors and patterns appealed to the spectrum of 18th-century society, not just to the Otises and their wealthy friends. Those who could not afford wallpaper or carpets nonetheless decorated with a love of strong statements. A recent paint analysis in the 1795 Barnard Tavern ballroom at Historic Deerfield revealed faux-marble doors and trim in a bright Prussian blue. The pattern is wild and crazy, even psychedelic. Similarly, in the Washington bedchamber in the 1752 Joseph Webb House of the Webb-Deane-Stevens Museum in Wethersfield, Conn., the paneled walls were treated to extravagantly patterned red graining, possibly referring to cedar.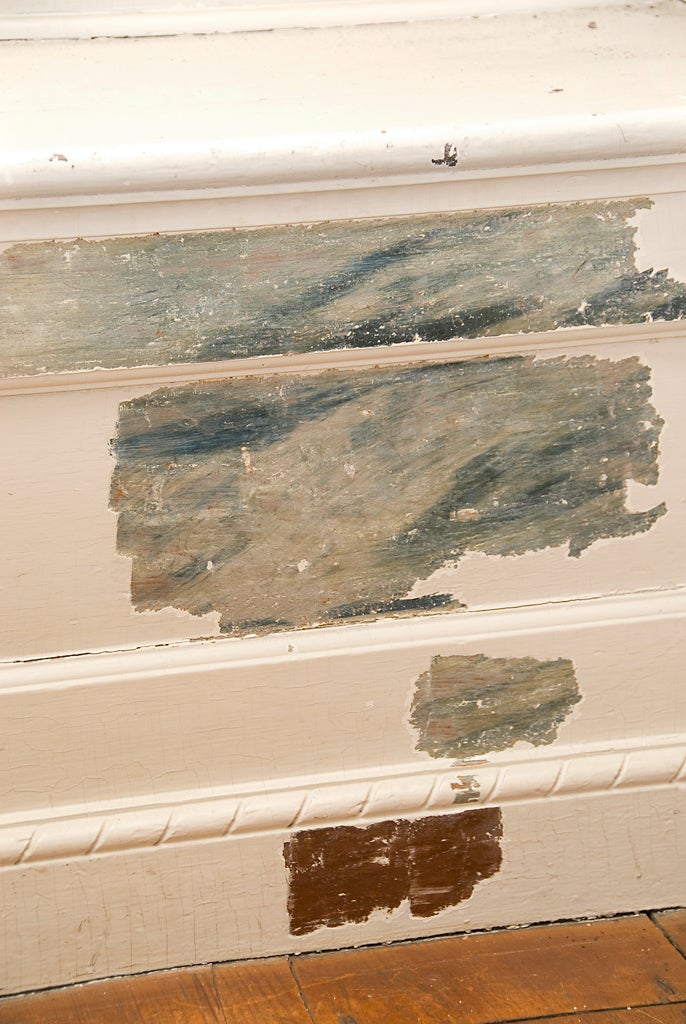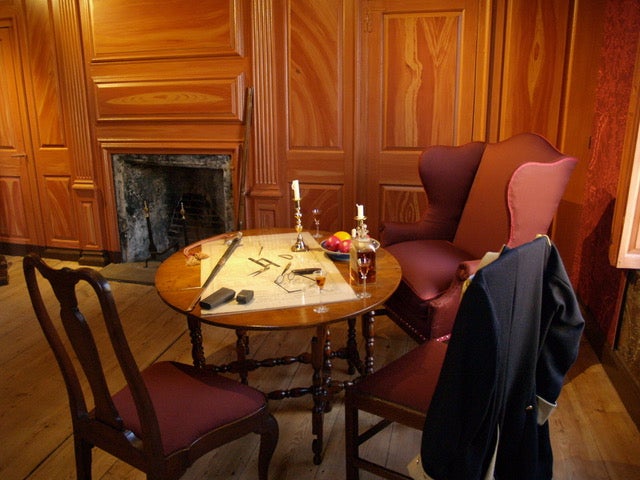 "Our ideas of what early Americana liked in terms of color, pattern, and décor were based on lack of scientific evidence, but also on the influence of the Colonial Revival,'' said Kristen Weiss, site manager at Cogswell's Grant. Another Historic New England property, the house on the Essex marshes was built as a saltwater farm in 1728 and, like other 18th-century homes, has strong colors and patterns in surprising places. In an upstairs bedchamber, for example, an early 20th-century paint analyst named Esther Stevens Brazier uncovered and then replicated green marbleizing and red cedar-patterned graining on the woodwork around the fireplace.
The late 19th and much of the 20th century was a time of massive immigration to this country, historic-home experts said, and adopting and celebrating America's Colonial past was a way to assimilate.
But in England, "the colors of the Adam period, when the Otis House was built, were too bright for Edwardian eyes,'' Nylander explained. "There were a lot of country houses with gorgeous painting and wallpapering that got muted and covered over around the turn of the 20th century.''
The advent of electric lights also played a role, he said. Before then, bright wallpaper backgrounds were used to reflect light. Also, the development of early chemical dyes made those hues hotly desirable. "When chrome yellow was first developed, it really took off!'' Nylander said, noting that the dining room at Monticello has been reinterpreted to reflect its appearance when Thomas Jefferson lived there. "It is now chrome yellow. It was formerly painted blue.''
By 1810, he said, tastes changed toward fewer patterns and light woodwork. "But 1760 might have been even brighter than we think.''
This information is especially important for house museums that attempt to present an accurate picture of the past, but as we look back, we can see that we have consistently applied our own aesthetics to history.
"For example, Victorian houses were very colorful on the outside,'' Nylander said, "but, in the 1950s, the Bauhaus effect had us painting everything white, inside and out.''
Weiss and Nylander agree that the tastes of the past need not govern the design decisions of today's homeowners, but that knowledge gives us a better basis for our choices.
"A lot of people who own old houses want to know,'' Nylander said. "They may not want to replicate what they liked in the past, but then, again, they may like it.''
Regina Cole writes about architecture and design. Send comments to [email protected]. Subscribe to our free real estate newsletter — our weekly digest on buying, selling, and design — at pages.email.bostonglobe.com/AddressSignUp. Follow us on Facebook and Twitter @globehomes.