Real Estate News
Ask the Gardener: Flower, bulb shows will put spring in your step
From Boston to the Berkshires, these programs will make you long to trade your snow shovel for a trowel.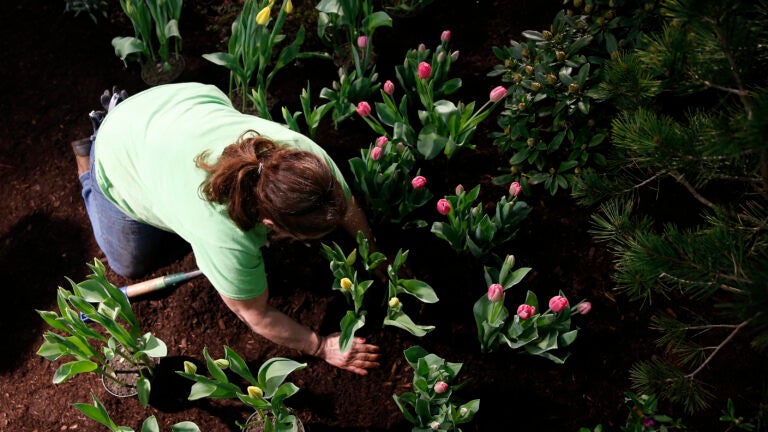 Come on, spring! We are starting this garden column up again in hopes that spring will soon follow our lead. You can join in by e-mailing your questions to me at [email protected]. Those of general interest may be published in this twice monthly column, so be sure to include your initials and the name of your community.
Meanwhile, here are some events that can help get you in the mood:
The Boston Flower & Garden Show opens at 10 a.m. daily from March 13 through 17 at the Seaport World Trade Center. Boston's oldest garden tradition began in 1829. The Massachusetts Horticultural Society runs the wonderful competitions, including floral design, photography, and ikebana, the Japanese art of flower arrangement. Be sure to look behind the curtains in the rear of the hall. This is my favorite part of the show, but some people miss it.
"The Beauty of Balance'' is this year's theme because "balance is a key factor in design decisions,'' said show director Carolyn Weston. Trends in gardening reflected by the show include incorporating attractive edibles (like grape vines) into the landscape and creating outdoor entertaining spaces. Paragon Group Exhibitions & Services oversees the big display gardens on the main floor and the lectures and demonstrations, which give me a chance to sit down while I learn about selecting new peony hybrids, cold weather roses, and offbeat perennials. I also shop the commercial booths. Every year I buy a new flexible plastic garden tub trug to haul the hand tools, dahlia bulbs, and books I buy back home, where its also handy for dumping compost. Admission to the show is $20 for adults, $17 for seniors, and $15 after 5 p.m. on weekdays and Saturday. Children under 6 are free. For more information and e-tickets, visit bostonflowershow.com or call 800-258-8912.
Another fantastic local resource is Arnold Arboretum. Visit my.arboretum.harvard.edu for a cornucopia of courses. My choice is "Cultivating Legacies: New England Women in Horticulture and Design,'' a lecture on five 20th-century enthusiasts who created estate gardens. They are Mary "Polly'' Wakefield of the Wakefield Estate in Milton, Eleanor Cabot Bradley of the Bradley Estate in Canton, Marian Roby Case of the Case Estates in Weston, Marjorie Russell Sedgwick of the gardens at Long Hill in Beverly, and Martha Brookes Hutcheson, who designed what became Maudslay State Park in Newburyport, the grounds of the Vassall-Craigie-Longfellow House in Cambridge, and her home in New Jersey, now called Bamboo Brook Outdoor Education Center. Advance registration is required for the March 9 presentation, which runs from 9 a.m. to 1:30 p.m. and costs $50. Call 617-384-5277 for more information.
The Spring Bulb Show at Smith College in Northampton is in bloom now through March 17. Thousands of flowers have been coaxed into early flowering in the antique greenhouse, which is open from 10 a.m. to 4 p.m. daily. Hours are extended to 8 p.m. Friday through Sunday during the show. Call 413-585-2740 or visit garden.smith.edu/events. There is no admission charge, but a $5 donation is suggested.
Berkshire Botanical Garden's Fitzpatrick Greenhouse in Stockbridge is holding it's annual exhibition of flowering bulbs from March 4 through March 29 on weekdays from 9 a.m. to 4 p.m. and weekends from 9 a.m. to 3 p.m. Admission is free. A sequence of diverse South African bulbs bloom alongside more familiar spring bulbs and a large collection of succulents that is housed year-round in the lovely period curved-glass greenhouse. Visit berkshirebotanical.org for more information.
Send questions and comments, along with your name/initials and community to [email protected]. Subscribe to our newsletter at pages.email.bostonglobe.com/AddressSignUp. Follow us on Facebook and Twitter @globehomes.