Real Estate News
A new indoor track is coming to Boston, and some say it could be the fastest in the world
The track will have "hydraulic banks that flatten" to a surface for lacrosse, soccer, volleyball, and basketball games.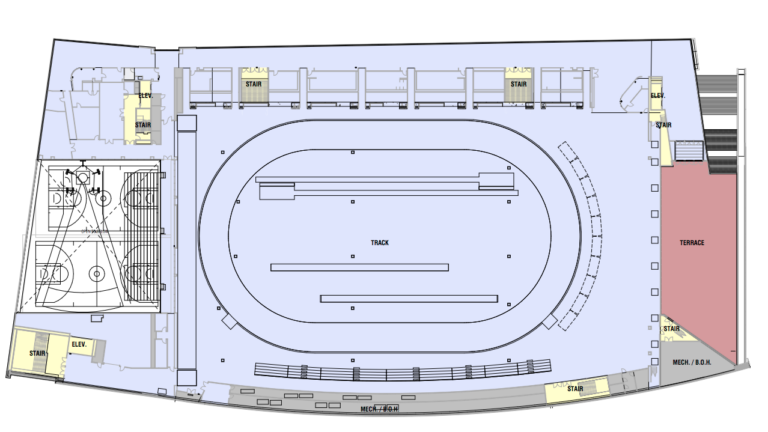 The track to be built within the new sports complex at Boston Landing is being touted as potentially one of "the fastest and most technical tracks in the world," according to Jim Davis, chairman of New Balance Athletics.
Davis, along with Boston Mayor Marty Walsh, Gov. Charlie Baker, and others, broke ground for the new Track at New Balance facility on Monday.
Slated for completion mid-2021, according to Davis, the new 250,000-square-foot complex at 67-71 Guest St. will be the latest addition to Boston Landing, which includes the New Balance headquarters, multiple office buildings, plus shopping and restaurants, according to the Boston Planning and Development Agency website. There's also a hotel in the works, and the Boston Celtics and Bruins each have practice facilities there.
https://www.facebook.com/bostonlanding1/photos/a.270077636729079/559529124450594/?type=3&__xts__%5B0%5D=68.ARD1oUynFN_m5RqIKiBf0MgGjjj9PLUN2qdN-uYW4f1CAOAD5nWyUwlvKbOqtbwi-Gn0Kaem0faugZx55_BgTEHvI7uVFPfnCX9mo1HUqxVinjfzJt38tDnPqx6n7Hx2cO3uwfCdqiwV_i2aNkGooIfUdjhPm3tjmThPFQTMTmhp_ZFxbf0PKXJnAbkCdF2-rHObl_yG5eCgLU9AuDKR5vaOYKAM09240R1DmhijXhDTp_piCUt91HEDQgZsOPWCst7AetHc3L9_YlID2jYOwHEqAn1aIgAueYx5SpjswUzHh0YaMz2jfnrV_EJmHZnByT36F5vA3-1WbU-WRXF5I6w&__tn__=-R
Davis said the new track — planned for the third floor of the new complex with two levels overlooking it, according to plans filed with the city — will be 200 meters and include "hydraulic banks that flatten" to a surface that can accommodate lacrosse, soccer, volleyball, and basketball games. There will also be room for 5,000 people to watch.
"The Track at New Balance will be among the fastest and most technical tracks in the world, if not the fastest, attracting athletes from all over the world aspiring to break world records and ever personal best times," Davis said, adding that the complex will host not just "world-class events," but college and high school matches, as well.
There will also be a new live music and entertainment venue, planned to have a capacity of 3,500 and to be operated by The Bowery Presents, which owns and books shows for other venues in the city.
A new sports lab is also planned for the project.
Walsh called the facility an "incredible resource."
"It's going to provide things we really want to see here in Boston," he said.
Subscribe to the Globe's free real estate newsletter — our weekly digest on buying, selling, and design — at pages.email.bostonglobe.com/AddressSignUp. Follow us on Facebook and Twitter @globehomes.