Real Estate News
Ask the Gardener: Fertilize lilacs organically and protect tulips
This is the busiest time in the garden for cleaning up and planting. Ask the Gardener offers tips on caring for lilacs, protecting tulip bulbs, and more.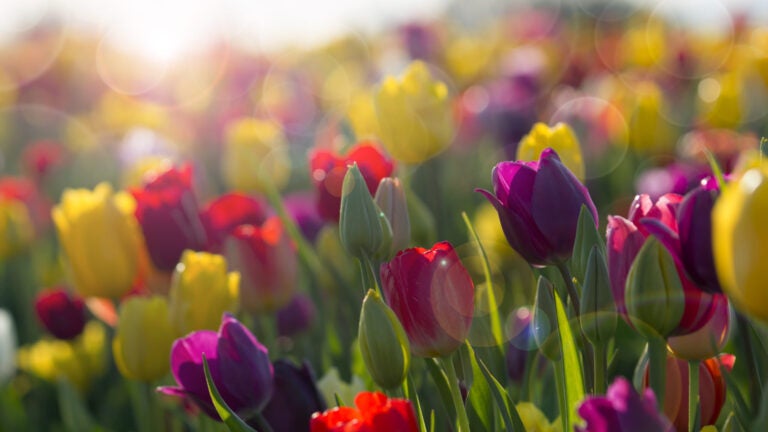 What to do this week: This is the busiest time in the garden for cleaning up and planting. Apply organic fertilizer to established plants sparingly. Direct sow seeds of carrots, beets, parsnips, brassica, Swiss chard, spinach, kale, dill, and fennel, preferably on a cloudy day when the soil is not damp and soggy. Water new plantings daily at first, then twice a week when it doesn't rain. Last call to plant grass seed, but consider reducing the size of your lawns. They are ecological deserts with a large ongoing carbon footprint for maintenance. Those gasoline-powered mowers and blowers pollute and are loud, too. Instead, now is a good time to plant native trees like dogwood and redbud, native shrubs like blueberry and fothergilla, and native hardy perennials like milkweed, rudbeckia, and monarda that support birds and butterflies so your garden becomes a living ecosystem. Forsythia is a nonnative that contributes little to the environment, but it's beautiful and easy and we all have it. Unfortunately, neglected stems whose ends touch the ground can "tip root'' and create a tangled thicket, so cut these back before June, when next year's embryonic flowers start to form. Treat yourself to a pot of pansies, but wait until mid- to late May to plant other annual flowers.
Q. Last summer, after reading about them in your column, I planted a "Bloomerang'' lilac bush. In late October, I covered it with a heavy cheesecloth bush cover, tying it securely so it lasted all winter. When should I remove the cover? What type of fertilizer should I use on it? And when should I fertilize?
F.F., Cambridge
A. Remove the cover now and don't use it again on your lilac. Designed to protect evergreens from windburn through the winter (while admitting light), such wrappings are not needed by deciduous plants that lose their leaves each fall. This is a good time to fertilize. Use an organic fertilizer for shrubs rather than a chemical fertilizer, as they generally release their nutrients more gradually and won't burn roots. My favorite is fish fertilizer, including Gloucester-based Neptune's Harvest, which is incredibly effective and ships free to home gardeners. Be warned: The aquatic scent may linger. Lilacs also appreciate a very light sprinkling of lime.
Q. I have a flower bed that contained approximately 100 tulip bulbs, but only five came up. I dug into the soil, and there was no trace of them. I also harvested less than 5 pounds of carrots (compared with my usual 50). The rest of the crop had been eaten from the bottom up, leaving an inch or so of root below the crown. My beets suffered the same fate. What ate my bulbs and veggies? How can I prevent it from happening again?
K.K., Gardner
A. How frustrating! Every burrowing herbivore under the sun dines on tulip bulbs, which I believe are safe only when planted on downtown traffic islands. Your problem could be squirrels, voles, mice, woodchucks, or chipmunks. (Don't blame moles or skunks; they eat insect grubs.) Laying plastic netting on top of the ground can help prevent digging. I plant daffodil, fritillaria, and allium — they repulse critters — around tulip bulbs as floral security guards. Another thing that has worked for me is planting Darwin Hybrid tulips 2 feet deep. I did it only once, when I was preparing the soil deeply for peony roots. These bulbs were too deep to eat, and the Darwin Hybrids came up for 15 years. Deeper tulip bulbs live longer, but it's easier just to plant shallow and replace them annually. Or skip tulips altogether.
Vegetable weevils are among the insects that eat carrots and beets underground, so rotate your crops. You can also try covering them with floating row covers to prevent insect egg laying or drenching the soil with beneficial nematodes.
Send questions and comments, along with your name/initials and community to [email protected] for possible publication. Subscribe to our newsletter at pages.email.bostonglobe.com/AddressSignUp. Follow us on Facebook and Twitter @globehomes.