Real Estate News
There's never been a better time to be a dog owner in Boston. Here's why
No matter where you look these days — sidewalks, brunch spots, your office — you're likely to find yourself surrounded by K-9s.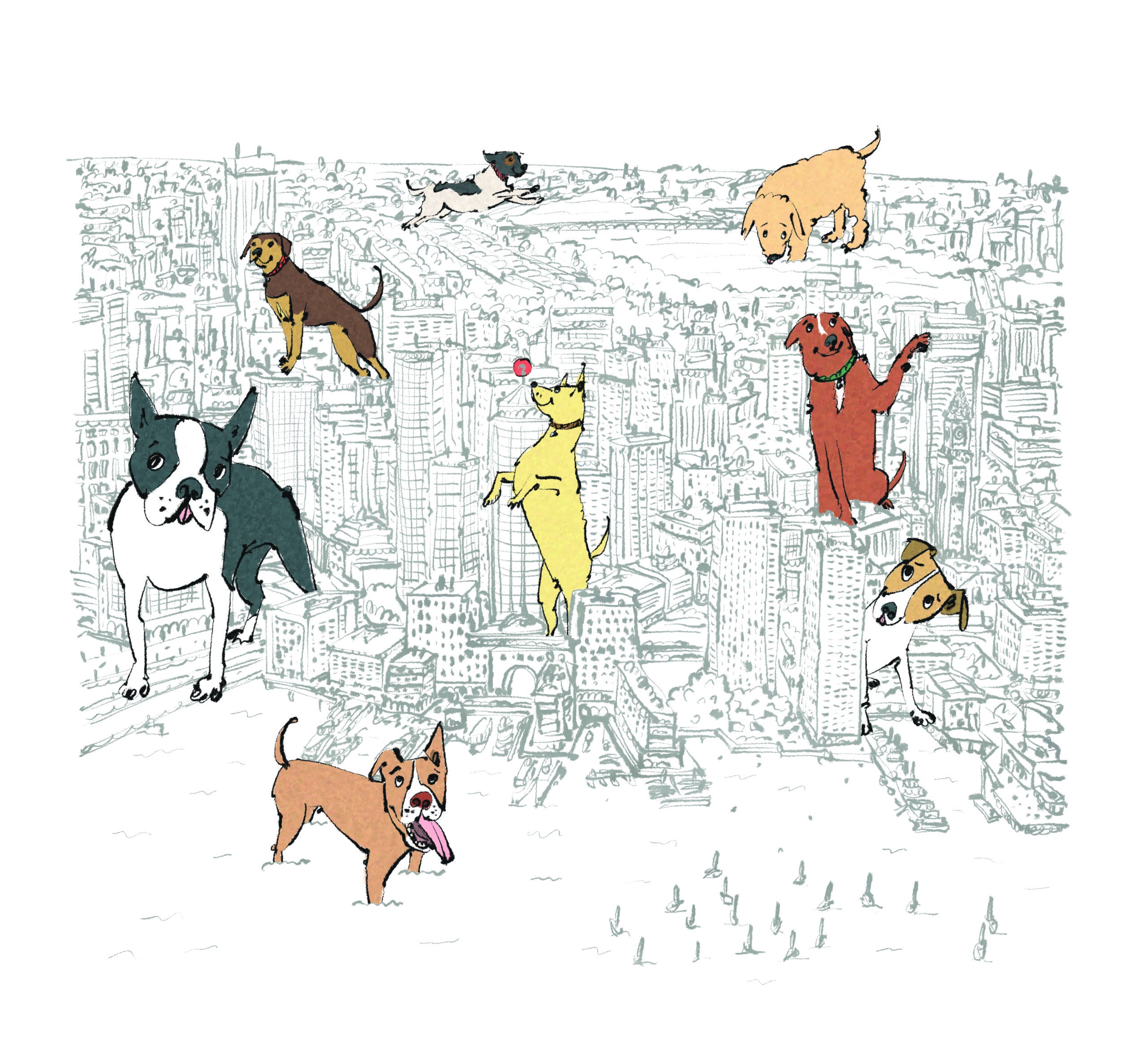 More and more, it seems, Boston is going to the dogs.
No matter where you look these days — sidewalks, brunch spots, the hallways of your office — you're likely to find yourself surrounded by K-9s.
"It's a pretty different landscape,'' said Mike Valencius, a realtor in Boston and Brookline. "You get out of work 5, 6 o'clock, and everyone is out walking their dog.''
Dog ownership has jumped nationally — with nearly 40 percent of households owning one, based on one report — but the bump has been particularly stark in Boston. According to city data, the number of registered dogs has more than doubled in the past few years, from around 2,700 in 2012 to more than 7,000 this year. (What's the most popular dog name in Boston?)
The reason?
There's never been a better time, perhaps, to be a dog owner in the city.
"As a dog owner, for sure it's easier, because your dog is welcome so many more places,'' said Jenifer Vickery, longtime owner of The Pawsitive Dog, a Boston-based training center. "We can take dogs with us on the subway, out to brunch, on the sidewalks. They've become much more accepted in the community.''
Indeed, from yappy hours to traveling veterinarians to dog-friendly offices, here are five reasons that dog ownership in Boston has never been easier.
1. Buildings are becoming increasingly pet-friendly
In some Boston neighborhoods these days, it can be harder to find an apartment that doesn't allow dogs than one that does.
As the Globe outlined last month, the city's apartment and condo buildings are no longer targeting just two-legged residents. As dog ownership has climbed across the country, many new buildings — particularly in the Seaport and South End — are doing everything they can to welcome dogs with open arms, engaging in a kind of amenities race aimed at winning over pet lovers.
Locally, on-site offerings range from doggy spas to pet photo shoots to dog runs, and condo-dwelling dogs have become so prevalent that trainers across the city are now offering instruction in such urbane areas as elevator etiquette.
"It can take a lot of the stress out of owning a dog,'' Valencius said.
2. No longer does dog ownership mean a depleted social life
The days of skipping after-work drinks with colleagues in order to let your four-legged friend out to relieve itself are quickly becoming a thing of the past.
More and more, dogs are being welcomed into the same arenas as their human counterparts.
The Liberty Hotel hosts a twice-weekly "Yappier Hour'' from May to October, with an annual canine costume contest on Halloween.
At The Patios, a seasonal beer garden at City Hall Plaza, pets are welcome as long as they remain leashed and their owners clean up after them. The Patios has also launched an event it dubs "Wag Wednesdays,'' during which rescue pups are brought to the site to interact with patrons — and possibly find a new home.
3. Suddenly, pet services are everywhere
Back in the late 1990s, when she was looking for a dog training business in the city, Vickery remembers flipping open the yellow pages to find a grand total of two options.
Today?
"I could easily rattle off a dozen just off the top of my head,'' she said. "And if you're in the city itself, you have 20, 30, 40 services to choose from.''
It's not just trainers. Boarding a dog has become easier, too, with old-fashioned kennels being joined by high-end doggy hotels, some of which offer the kind of pampering that would make many humans jealous.
What's more, most of the timeless annoyances of dog ownership can now be outsourced. You can summon a dog walker to your apartment with the tap of a smartphone button, through apps like Wag! And businesses like Chewy, an online pet supply company, will deliver everything from dog biscuits to crates to your front door — meaning the days of lugging a 30-pound bag of kibble on your shoulder through the city are a thing of the past.
4. Even workplaces have become dog-friendly
Remember when the coolest thing you could hope to find in your company's office was a kegerator?
In yet another blurring of the lines between workplace and playplace, various local employers have begun allowing workers to bring their dogs to the office as a way to boost morale and alleviate stress.
Harpoon Brewery, HubSpot, and Life is Good are among the local companies that have been named among the country's most pet-friendly. Meanwhile, WeWork — a shared office space provider based in New York — currently operates nine locations in Boston, three of which are dog-friendly.
According to Casey Barrett, community director for WeWork in Boston, the arrangement helps make things a little easier for employees in a pinch — Barrett herself once brought her dog to work on a day she was having her house painted — while also helping to foster a sense of community that might not otherwise exist.
Who, after all, can resist a midday pup-snug?
"It's just like seeing a baby,'' Barrett said. "How old's your baby? What's your baby's name? Dogs function in a lot of the same way for people.''
5. Getting to the vet is no longer an issue, even without a car
There was a time when being car-less in Boston might've been a barrier to dog ownership.
Now, the hardest part of transporting a dog through the city might be ferreting through all the different options. The ride-share service Lyft allows riders to bring a dog along, as long as the driver gives it the OK. Uber has a similar policy, though the company suggests those riding with pets bring a crate or blanket as a courtesy.
Even the MBTA allows dogs to catch a train during off-peak hours, so long as the animal is leashed and doesn't take up a seat.
Then again, it can be just as easy to bring an upcoming appointment to you. Mobile dog groomers have becoming increasingly popular, for instance, while some pet doctors — like Animal House Calls — will even send a vet to your home.
For owners, in other words, Boston's dog days have become a real treat.
Dugan Arnett can be reached at [email protected]. Follow him on Twitter @duganarnett. Subscribe to the Globe's free real estate newsletter — our weekly digest on buying, selling, and design — at pages.email.bostonglobe.com/AddressSignUp. Follow us on Facebook, Instagram, and Twitter @globehomes.