Real Estate News
Could rent control help cool Boston's housing crisis? Here's what to know.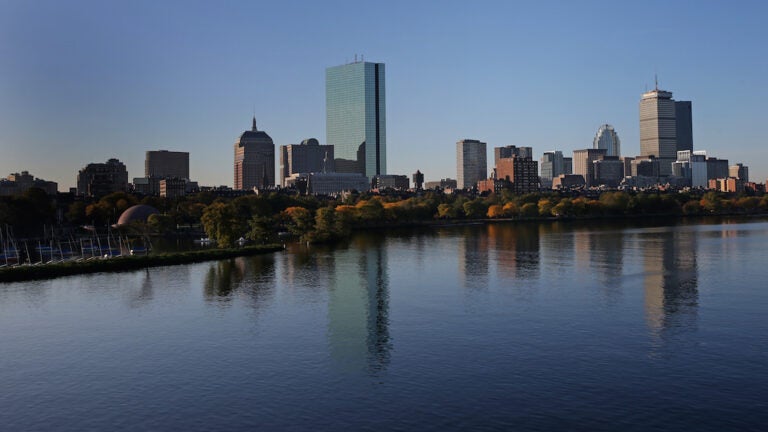 Twenty-five years ago, Massachusetts voters narrowly shot down the rent control laws regulating the Boston, Cambridge, and Brookline rental markets.
Now, as the region's building boom vaults rent prices to new heights, advocates and some lawmakers say that prohibiting the measure should be considered far from a settled matter.
"There's definitely a newfound fervor, and (it's) completely warranted, you know?" said Steve Meacham, organizing coordinator for City Life/Vida Urbana, a community organization focused on preventing housing displacement.
Boiled-over frustrations from tenants fearing whether they'll be the next to have to pack up and head out of Boston have reignited the contentious debate, sparking a renewed discussion over its merits and the search for an answer to the inevitable question: Could rent control return to the Bay State?
"We're facing an ongoing housing emergency, and the solution as I see it is a comprehensive program to deal with that housing emergency and that means pursuing a number of strategies simultaneously including regional production (of housing) … (and) strong tenant protections," state Rep. Mike Connolly said in an interview.
The Cambridge Democrat is a co-sponsor of the pending bill, "An Act Enabling Local Options for Tenant Protections," which would allow cities and towns to enact rent control policies on their own through establishing local laws.
Still, other lawmakers have long held that the solution to the region's heated housing crisis remains in building new housing stock, the idea being that more development will soothe demand.
Landlords contend that rent control strips away incentive and can tie their hands when it comes to improving properties, thereby ushering in less-than-ideal property conditions and other problems.
"Economists have said time and again, any time you impose price controls you create shortages," Douglas Quattrochi, executive director of MassLandlords, a nonprofit association representing over 1,4000 property owner businesses, told Boston.com. "San Francisco's had rent control for a long time … and it just doesn't help. It hasn't helped them."
Here's what to know about rent control in the Commonwealth:
The 1994 ballot question passed by a close margin
Heading into November 1994, three communities in the state had some form of rent control, all varying in structure: Boston, Cambridge, and Brookline, which had already begun to phase out the practice.
Question 9 was driven by landlords, including the Small Property Owners Association, a Cambridge-based coalition of landlords, whose "Get Government Out" campaign prominently featured cases in which they said rent control had been taken advantage of by prominent and well-off tenants.
"In Cambridge, tenants outnumber landlords by three to one," Denise Jillson, president of the Massachusetts Homeowners Coalition, which sponsored the question, told The New York Times not long after Election Day. "It was like three wolves and a chicken deciding what's going to be for dinner. The chicken never wins."
Voters agreed it was time to take the regulations out of play, voting 51 to 49 percent.
Cambridge was home to roughly 16,100 rent-controlled apartments at the time, while Boston contained 85,000 and Brookline housed 4,100.
And each of the three communities were the only ones that voted to keep rent control intact while the rest of the state decided to push it out, starting the following January.
Current state law allows cities and towns to adopt rent control, but, six months after the adoption, compliance with the law becomes voluntary for landlords.
Municipalities must also compensate landlords for any difference between the fair market rate and the prices set under rent control.
A pending bill would place rent control authority in the hands of cities and towns, if passed
"This thing called 'rent control' is actually kind of a vast array of regulatory possibilities," Meacham said. "So there is no one rent control. There's all kinds of different forms of rent control."
Indeed, even prior to 1994, the three Bay State communities where tenants could count on rent control each used a different system.
That variety would be allowed to return to Massachusetts under the bill co-sponsored by Connolly and state Rep. Nika Elugardo, a Boston Democrat.
The proposal would let municipalities decide whether to open the door for rent control through creating local ordinances and by-laws. The intent is to allow officials on the local level to foster custom solutions for their communities, particularly by getting landlords, developers, and renters all at the same table, lawmakers say.
"Rent control is a misnomer as far as I'm concerned, and it's been politicized by all sides," Elugardo told Boston.com. "We need to have a conversation about our values and our strategy, and that has to happen at the local level, which is the level where housing happens."
The bill would specifically give cities and towns the authority to "regulate the rent and eviction of tenants in multi-family housing and provide for reasonable exemptions," according to the filing.
Local officials could also regulate designated "anti-displacement zones," areas where "it has been determined that residential households of low, moderate or middle income are at risk of displacement," the bill says.
"They need to know that they're going to have the support of the state in terms of a comprehensive set of values and a commitment," Elugardo said. "One of the things I've learned from House counsel is that there are districts that will not try something unless it's been explicitly laid out as a tool by the state. … So it's important for us to provide that support."
One caveat, officials say, is that owner-occupied properties with three or less units — triple-deckers, for example — would be exempt from regulation. Connolly said the laws would manly impact larger and absentee landlords.
The multi-faceted bill would additionally create regulations for mobile housing communities and the conversion of rental properties into condominiums, while also bolstering eviction protections for tenants.
"This is really all about creating a menu of different options, that if we can pass this bill on Beacon Hill, (it) would then empower municipal officials to consider implementing a variety of different options," Connolly said.
Meacham, pointing to how Connolly and Elugardo's bill would provide for crafting tailored policy at the local level, said the proposal is "on the mark."
"The real estate industry has a lot to gain in just saying, 'We're against rent control,' as though it's all the same thing, because if they start discussing the nuances of rent control, then people are much more open when they start seeing what exactly it's going to do," he said.
According to Connolly, lawmakers are hoping to have a public committee hearing on the bill either sometime this month or in January.
House Speaker Robert DeLeo said a rent control amendment will likely be filed when the Legislature looks at a housing bill with a wider scope, the Associated Press reports.
Gov. Charlie Baker has maintained, however, that officials should seek to remedy the crisis by increasing housing stock.
"I think the best way to deal with all issues around pricing is to increase supply. In Massachusetts we're decades behind where we should be with respect to building housing," Baker said in October. "We've added 600,000 people to our population in the last 20 years. We've added a fraction of the housing that would be required to support that significant increase in our population."
Landlords say rent control can lead to shortages, among other issues
In April, Boston City Councilor Althea Garrison proposed a home rule petition to reinstitute rent control, offering flat-out a cap on annual increases at 7 percent based upon annual changes determined by the Bureau of Labor Statistics.
Garrison, who made the topic a main focus of her unsuccessful reelection bid this fall, received swift pushback from other councilors — landlords themselves who said the proposal would have hurt small property owners.
When the petition was introduced, Councilor Tim McCarthy said the practice was "an ultimate failure."
"Homeowners who have a two-family like myself, or a three-family, have no incentive to put new coats of paint on or redo the hardwood floors if there's an artificial cap on," he said.
It's a concern echoed by MassLandlords.
And Quattrochi, the organization's executive director, says rent control could exacerbate housing shortages, too. Regulated units are quickly snagged on the market, and tenants, once they're there, often aren't eager to move.
Landlords can also become picky about prospective tenants to reduce perceived risk, which disproportionally impacts people of color, Quattrochi added.
He pointed to a 1998 report in The Economist highlighting a study showing that after rent control ended in Cambridge, the number of non-white tenants living in once-regulated apartments doubled.
"Think about it: If you don't have the same opportunity to build credit because you were redlined out of a mortgage or credit card … you're going to have a harder time finding housing because there's this systemic racism issue," Quattrochi said. "Under rent control, landlords just played the numbers much harder. They gave people fewer chances."
Another contributing factor? Landlords also didn't convert as many apartments into condominiums after the repeal, he said.
"Although it's counter-intuitive, in the long term it's bad policy in a lot of ways," Quattrochi said.
The pending bill is the same form of policy that governed rent control in Cambridge, Boston, and Brookline decades ago "that was really unfair and disastrous," he said.
But Quattrochi acknowledges there are major regional housing issues. Lawmakers need to focus on reforming zoning laws, he said, referencing how Minneapolis overhauled single-family-home zoning to spur more multi-unit housing development.
"There has to be huge expansion of rental subsidies," he added. "There has to be huge expansion of homelessness assistance for folks who aren't caught by the subsidy, and we don't do nearly enough of that."
Both Connolly and Elguardo said rent control is not the silver bullet solution to the crisis. In fact, their bill was filed in a larger "Housing for All" legislative package that includes tweaking zoning policy. Connolly has also proposed raising revenues to funnel investments directly into public and affordable housing and transportation improvements.
Elugardo said Massachusetts must increase its housing supply. It also must make sure it's affordable, which makes justice and equity major factors in handling the complexities of the issue.
"Without doing that stuff, tenant protections are going to be a perpetual problem even if we've got everything in the bill," she said, speaking about those additional, potential solutions.
But partnered with the other efforts, the protections "produce a healthy result" and it is easier to address legitimate concerns landlords and developers have, Elugardo said.
"When we address it as a system, there are other answers other than just ban it — and those are the kinds of answers we need to be seeking together because we don't have time to push more people into housing poverty," she said. "We need to move in the other direction."