Real Estate News
This Allston development, one of the neighborhood's largest ever, just won a key approval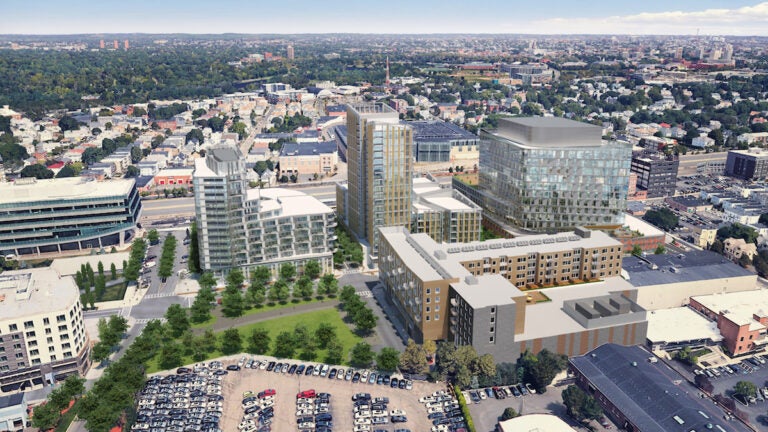 A massive, 868-unit mixed-use development dubbed "Allston Yards" won a key city approval Thursday, bringing an over two-year-long review process before a city board to a close.
The project, one of the neighborhood's largest ever, would transform the existing Stop & Shop plaza at 60 Everett St. into a "transit-oriented neighborhood," drawing on the adjacent Boston Landing MBTA Commuter Rail station and nearby New Balance headquarters complex.
The 1.2 million-square-foot, 10.6-acre site, just south of the Massachusetts Turnpike, would be home to a mix of rental and ownership units, a grocery store, offices, shops and restaurants, and 10,000 square feet of community art space, according to plans.
Its four buildings would be built in phases over the next eight to 10 years "as the market demands," filings say. One-hundred-forty-eight units would be income restricted.
Despite local concerns over affordable housing, the Boston Planning and Development Agency Board voted unanimously Thursday to approve the project, initially proposed in February 2017.
"It has been a long journey, but a good one that, I think, has made it better," John Twohig, executive vice president of New England Development, Stop & Shop's partner on the project, told board members.
Developers are to pay $2.5 million to the MBTA to subsidize the area's bus and commuter rail services; fund an additional neighborhood shuttle bus service; and contribute a higher, $4 million contribution to the Allston Brighton Homeowner Fund, according to a BPDA memo.
Local support for the development is mixed.
Proponents have pointed to the need for more affordable housing in the area, and have said the community benefits provided by the developers have strengthened the proposal.
John Cusack, a local resident and member of the Brighton Allston Improvement Association, said some of those are "milestone commitments" he hopes other developers will notice.
"This project has undergone substantial changes over the last 33 months through an extensive public process and it's all for the better," he said.
Others though, through letters to the BPDA over the past week, urged the board to put off its vote, citing how the public comment period ended Tuesday, just two days before the scheduled final vote.
The Brighton Allston Community Coalition highlighted that Mayor Marty Walsh's endorsement of the project came Wednesday, and called his support "a betrayal" of the area's "compelling need for more affordable rental and homeownership units."
"The Mayor's actions are ominous and set a deeply unfortunate precedent for future large-scale projects in Allston-Brighton, including Harvard University's expansive development plans," a letter from the coalition says.
Developers plan to set aside 17 percent of the units as income restricted — more than the 13 percent required under the city's Inclusionary Development Policy, according to a board memo.
But, critics say that figure should be higher, and have lamented that many of those units will not be built until later phases of construction.
In a Dec. 6 letter to the BPDA, City Councilor-elect Liz Breadon and state Reps. Michael Moran and Kevin Honan wrote that 20 percent should be the required mark in this case, given the "scale and density of this project," among other issues.
They wrote it would be premature to take the project to a vote in December.
"From the community perspective, more needs to be done to address resident concerns regarding affordability, homeownership, height, traffic mitigation and public transportation improvements," the letters says.
The project still requires approval from other city agencies.