Real Estate News
Doctors tell you how to avoid the emergency room this winter
'Obviously time is of the essence, but it's measured in hours, not minutes, even for amputated parts.' Get more expert advice at realestate.boston.com.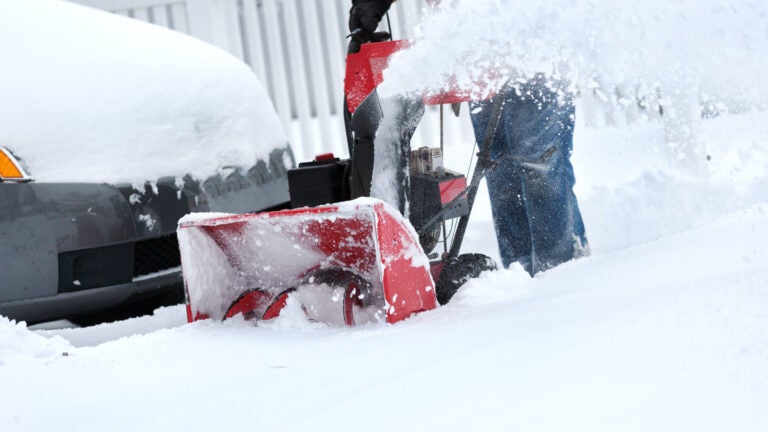 In New England, winter brings snow, and with big storms come injuries. Sore backs, hypothermia, and even gory snow blower injuries are often avoidable.
Remember the April Fool's Day storm of 1997? March 30 felt like spring, with a high temperature of 63 degrees. The next day brought rain, and as the temperature dropped, snow — then heavy snow. By the time the storm ended on April 1, 25.4 inches had fallen at Logan International Airport.
Dr. Robert Partridge of Emerson Hospital was working in the emergency department at Rhode Island Hospital in Providence that day. He and his coworkers had to dig themselves out of 19.5 inches of wet, heavy snow to get to work. They expected to see snow-removal injuries. They didn't expect an avalanche of them.
That day, 11 men between the ages of 26 and 59 landed in the emergency room with serious injuries after putting their hands in snow blower chutes. Seven did this while the machine was running, though they all said they knew better.
"When the snow is thick and has a heavy water content, it can jam the snow blower," Partridge said. "Many people don't realize that even after you turn the snow blower off, there's some torque that remains in the impeller. If it's off and you reach in and unblock it, it still has one last rotation to go."
In fact, the US Consumer Products Safety Commission reports that more than 5,000 people visit emergency rooms each year with snow blower injuries.
"Manufacturers will tell you never to put your hand in a snow blower, even when it's off," Partridge said. "If there's a blockage, people should shut the machine off and use a wooden stick to clear it. Some snow blowers even come with a stick for that purpose."
Partridge said anyone who gets their body caught in a snow blower should get to a trauma center as quickly as possible. If a body part is amputated, they should try to find it and bring it with them. "Obviously time is of the essence," Partridge said, "but it's measured in hours, not minutes, even for amputated parts."
Snow blowers are safe if people follow the manufacturer's instructions and use common sense.
"People shouldn't wear scarves or other loose clothing when operating a snow blower," he said. "Make sure young children are well out of the way. Make sure the walks and driveway are clear of newspapers and stones or anything else that can get caught in the snow blower. And never let a child operate a snow blower."
Of course, shoveling snow can be risky as well. Partridge said he routinely sees patients with related injuries.
"For people who don't get a lot of regular exercise, shoveling after a 30-inch storm is like trying to run a marathon without training," he said. "The best advice is: If you have underlying hypertension, heart disease, diabetes, high cholesterol, or any other cardiac risk factors, you should check with your doctor to make sure it's OK for you to shovel snow."
On average, a hundred Americans die each year from shoveling-related injuries, the National Safety Council reports.
Shoveling can also result in a wide range of injuries if not done correctly, according to Dr. Rachel Lampros, senior physical therapist at Massachusetts General Hospital. She said the most common shoveling-related injuries are to the neck, back, and shoulders. Most of these injuries will get better on their own, but if they last more than five days, Lampros said, seek medical attention.
"To avoid injury, try to lift smaller amounts of snow at a time," she said. "Heavier shovelfuls can put too much stress on your body. Also, when lifting the shovel from the ground, be sure to bend at your knees and not at your back. Try to keep your elbows bent and the weight of the shovel closer to your body. This will decrease the stress on your body. And take breaks when you need them."
Lampros said older folks and people with other medical conditions should be aware heart attack symptoms. They include pressure, tightness, pain, or aching in your chest, arms, neck or jaw; nausea, indigestion, or abdominal pain; shortness of breath; lightheadedness; sudden dizziness; and cold sweats. People who experience any of these symptoms while shoveling should immediately be taken to the nearest emergency room.
Being out in the wintry elements for long periods of time also carries the risk of hypothermia.
"There are several stages of hypothermia," she said. "The first of which is shivering and decreased circulation. Your fingertips and toes may have a blanched appearance. The individual will then progress to a slow, shallow breathing and a weak pulse. They may show signs of irritability, confusion, or lack of coordination. If not treated, the individual can lose consciousness."
To avoid hypothermia, Lampros said, people should wear a multiple layers, including a warm hat, stay dry, and avoid overexertion. Activities that make you sweat a lot can cause you to lose body heat more quickly.
A nice pair of thick gloves helps, too.
Subscribe to the Globe's free real estate newsletter — our weekly digest on buying, selling, and design — at pages.email.bostonglobe.com/AddressSignUp. Follow us on Facebook, Instagram, and Twitter @globehomes.