Real Estate News
Arlington native is building a home —  and a career in the NBA
Pat Connaughton learned the business from his father, who spent 30 years as a general contractor and developer in the Boston area.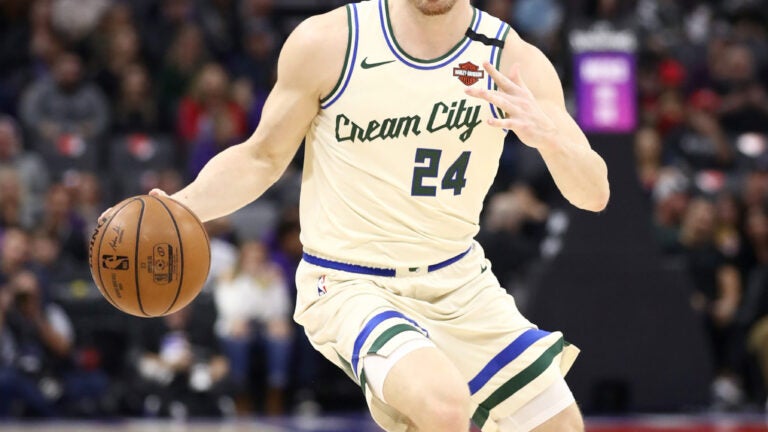 MILWAUKEE — Pat Connaughton has crammed enough high-flying acrobatics into his drives down the lane as a reserve guard for the Bucks that he was invited to compete in Saturday's slam dunk contest at NBA All-Star weekend. He loves playing for the Bucks.
He loves playing for them so much, in fact, that he is planting roots. But unlike several teammates who have purchased homes in the Milwaukee area, Connaughton has gone a step further: He is tearing down a dilapidated duplex so he can replace it with a four-story apartment building.
"I'll try to own this forever,'' Connaughton, 27, said on a recent morning as he stepped inside the husk of the old duplex at the corner of North Milwaukee and East Knapp streets, just a few blocks from Fiserv Forum, where the Bucks play their home games.
The structure was in an early phase of demolition. Workers were ripping down walls. The floor was covered with crushed plaster. But Connaughton could see the future: a three-unit building full of modern amenities topped by a 3,132-square-foot penthouse, which he plans to make his home. Want to be his neighbor? Connaughton is going to rent out the other two units. (Bucks employees can expect a discount.) He hopes to complete the project by midsummer. If the Bucks win a championship, the parade can launch from his new pad.
"I'll have a housewarming party to kick it off,'' Connaughton said.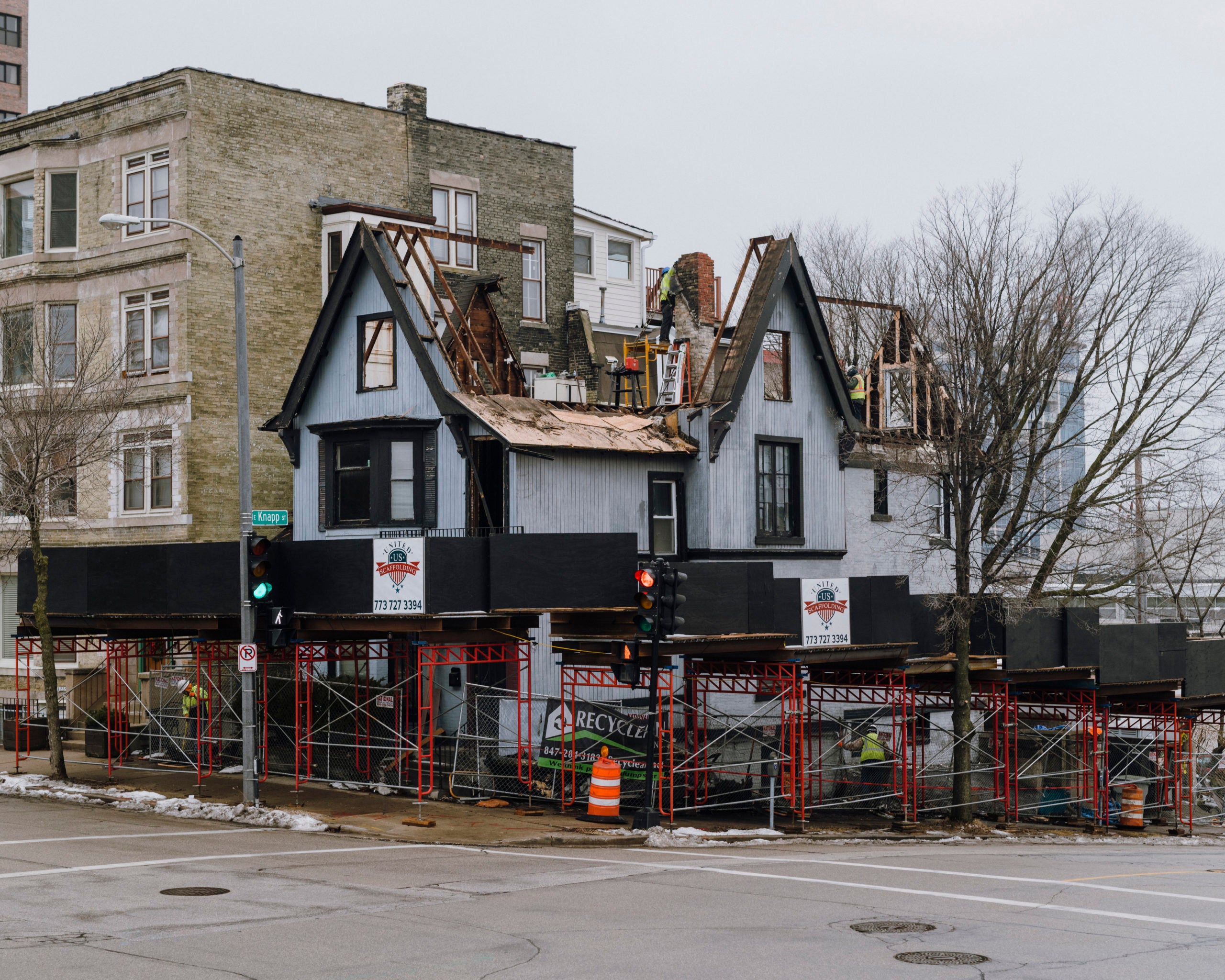 Some athletes moonlight as musicians. Others dabble in fashion or film or technology. Connaughton has been building a second career in real estate through his development company, Beach House LLC, which is a family affair. His father, Len, is the vice president, and Joe Stanton, a childhood friend, is the director of project management.
The company owns four properties and sold two others in Portland, Ore., where Connaughton spent three seasons playing for the Trail Blazers. Beach House also owns three properties and sold another in South Bend, Ind., where Connaughton was a two-sport star at Notre Dame. And in Milwaukee, he has two projects in the works, including the apartment building near the arena. Connaughton purchased the property, which had been vacant for months, for $325,000, and he expects the rebuild to cost an additional $800,000.
"I'll drop by three or four times a week,'' said Connaughton, who is currently renting a high-rise apartment near the Lake Michigan waterfront. "But Joe is my roommate, so I hear about it every single day.''
Connaughton is talking, too. He is spreading the gospel of real estate across the NBA by preaching the virtues of "brick and mortar, of tangible assets that won't disappear into thin air.'' More than a half-dozen players have come aboard as Beach House investors, he said, dating to when he began his career with the Blazers.
"I would have business meetings after practice, and guys in the locker room would be like, 'Where are you going?' '' Connaughton said. "A few of my close buddies on the team were wanting to know more about it: 'Why is this second-year guy trying to do stuff with his money when I've been in the league for five years and haven't done anything?' ''
Connaughton learned bits of the business from his father, who spent 30 years as a general contractor and developer in the Boston area. As a teenager, Connaughton would haul lumber and drywall on job sites. He did not exactly love the work, but while majoring in business management at Notre Dame, he began to see a future in the field.
He now considers it his long-term livelihood. Connaughton joined the Bucks last season on a two-year deal worth $3.4 million, which is a terrific living by any human measure but modest by NBA standards. Put it this way: For a self-described "second-round draft pick who's never had anything more than a minimum deal,'' real estate is more than a hobby. "This is what I do, and this is what I'll always do,'' he said. "But I think the coolest thing has been the interest from other guys in the NBA.''
When Connaughton was playing for the Blazers, he was a member of the "steam room mafia,'' as guard C.J. McCollum described it. And it's exactly what you think it is: dudes who would frequent the steam room. They had a lot of wide-ranging "steam room talks,'' McCollum said in a telephone interview.
One day, McCollum was telling Connaughton about his budding interest in real estate. It was like catnip for Connaughton, who started cluttering McCollum's e-mail in-box with information about everything from purchasing land to acquiring permits.
"As things heated up and we continued to learn more about it together, I essentially told him, 'I would love to partner up on something,' '' McCollum said. "And he was like, 'When I have something that I'm interested in, I'll send it your way.' ''
McCollum is now one of several investors in a multiuse building that Beach House purchased not far from Notre Dame's campus. McCollum did his homework.
"I must have talked to C.J.'s financial team four or five times,'' Connaughton said. "It's one of our biggest projects to date.''
Construction is scheduled to begin in a month. McCollum hopes to check on its progress when he joins Connaughton for a football game at Notre Dame this fall.
As McCollum has continued to expand his own real estate portfolio, he has gotten a sense of Connaughton's growing reach. McCollum recalled a recent meeting he had with the developer Don Peebles, whose company, The Peebles Corp., cites projects worth about $8 billion. At one point during their conversation, McCollum mentioned that he was involved in a project with Connaughton.
"Oh,'' Peebles told him, "I know Pat.''
Connaughton is still learning. Before construction could begin on his apartment building in Milwaukee, he had to make a pair of appearances before members of the city's historic preservation commission. A past president of the city's preservation alliance had sought to prevent the demolition of the existing building, a duplex from the late 1800s.
Connaughton's second trip to City Hall to speak before the commission was in December. He wanted to attach his face to the project to preempt the perception that he was just some high-profile out-of-towner looking to make a quick buck.
"The one thing that's kind of been a little bit frustrating on my end,'' he told the commission, "is that it seems to be assumed that the goal is to put as many units and as many moneymaking operations on the property as possible when, in fact, the goal is to put a very tasteful building that can help continue to grow the city of Milwaukee.''
Peter Feigin, the president of the Bucks, was among those who accompanied Connaughton to the hearing. He kept glancing at his watch. The Bucks had a game against the Orlando Magic that night.
The commission eventually allowed the project to move forward by unanimous vote.
"I was more worried than he was,'' Feigin said. "I was sitting next to Pat, like, 'You've got to get out of here.' But I also knew how important it was for him to be there.''
Subscribe to the Globe's free real estate newsletter — our weekly digest on buying, selling, and design — at pages.email.bostonglobe.com/AddressSignUp. Follow us on Facebook, Instagram, and Twitter @globehomes.