Real Estate News
Across U.S., agencies and officials put foreclosures and evictions on hold
The financial shock from the coronavirus pandemic threatens the housing security of millions of Americans. Read more on realestate.boston.com.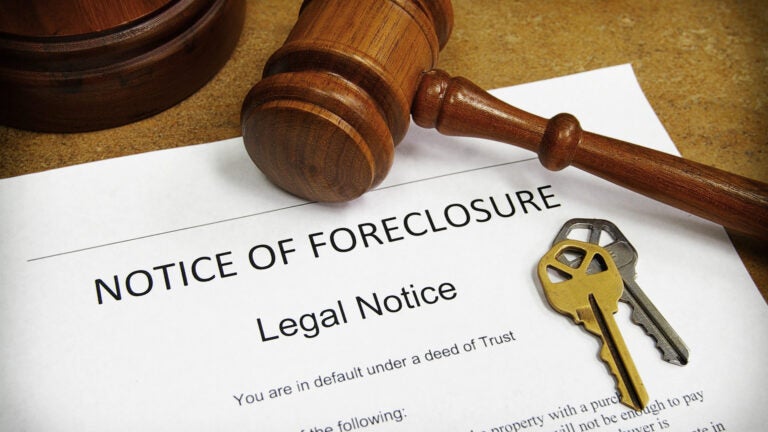 The financial shock from the coronavirus pandemic threatens the housing security of millions of Americans, prompting federal, state and local officials — and even judges and the police — to move quickly to ward off foreclosures and evictions.
On Wednesday, the federal agency overseeing Fannie Mae and Freddie Mac, the giant government-run finance firms that back the mortgages of 28 million homeowners, ordered a suspension of foreclosures and foreclosure-related evictions for at least two months. The move is meant to keep people in their homes and avoid a housing squeeze like the one that followed the mortgage-fueled financial crisis of 2008.
And over the past week, there has been a groundswell across the country to protect renters as well. The Miami-Dade Police in Florida said they wouldn't carry out evictions during the health crisis. A high-ranking New York state judge declared that the courts would consider no eviction cases until further notice. Governor Gavin Newsom of California issued an executive order allowing cities to impose eviction moratoriums.
There have been so many announcements that the National Low Income Housing Coalition, a nonprofit advocacy group in Washington, set up a website to track them.
"The very least policymakers can do during a national health emergency is ensure that more people are not pushed into homelessness through evictions or foreclosures, particularly when our collective protection against the spread of the illness depends on our ability to self-isolate at home,'' Diane Yentel, the group's chief executive, said in an interview.
"Now more than ever,'' she added, "housing is health care.''
The two main trade groups for the apartment industry, the National Multifamily Housing Council and the National Apartment Association, sent a letter to members of Congress calling for rental assistance for tenants and income support for property owners to be part of any coronavirus aid package.
"Hundreds of thousands of workers are being furloughed right now; we are all concerned about their ability to meet any kind of payment,'' said Douglas Bibby, president of the National Multifamily Housing Council, in an interview. "That's why we're working with lawmakers to get emergency assistance for renters.''
A reprieve for some renters may be in the works at the federal level. President Donald Trump suggested Wednesday that the Department of Housing and Urban Development would suspend evictions of those in public housing for 60 days, although Housing Secretary Ben Carson said later on Twitter that it was a goal being discussed with Congress.
About 44 million American households rent their homes, and many were struggling long before the coronavirus emerged. In 2018, close to half of renters spent more than a third of their income on rent, while a quarter spent more than half, according to a report released in January by Harvard's Joint Center for Housing Studies.
Anticipating a wave of late payments, Jason Hill, chief executive of R.G. Hill & Co., which owns and manages about 1,000 apartments in Northern California, said his company was already preparing to waive late fees and halt evictions for lack of payment. For now, he said, it's not clear what the extent of the damage will be because the most severe economic fallout happened last week, in the middle of the month, although he assumes it could be bad.
"The vast majority of people in society live paycheck to paycheck, regardless of socioeconomic class, and the economy has come to a complete halt,'' he said.
A pronounced slowdown in rent and mortgage payments will have a cascading effect on apartment companies, employees like building superintendents and janitors, and finally state and local government revenues: Money that renters pay landlords goes to mortgage payments and property taxes, along with utilities and other public services.
Members of the Mortgage Bankers Association, a trade group, and other housing-industry figures began telling White House officials this week that the home-lending system was on the verge of a crisis that the government needed to head off. They said many homeowners couldn't miss one or two paychecks before defaulting on their mortgages, according to two people familiar with the talks.
Action to shield those with federally backed mortgages came on two fronts Wednesday: from the Federal Housing Finance Agency — the main regulator for Fannie and Freddie, which effectively guarantee most mortgages given by banks and nonbank lenders — and from HUD, which acts as a guarantor for other mortgages under the Federal Housing Administration's home loan program.
Mark Calabria, director of the Federal Housing Finance Agency, said the foreclosure and eviction suspension would allow most homeowners "to stay in their homes during this national emergency.''
The agency's move will provide immediate relief to about 180,000 homeowners with Fannie- and Freddie-backed mortgages who are delinquent in payment and in danger of foreclosure.
For any mortgage backed by Fannie or Freddie, the agency is telling mortgage servicers — the banks and other companies that collect payments from borrowers and pass them on to whoever owns the mortgage — to give borrowers facing financial difficulty a break by allowing them to miss monthly payments.
Calabria said he hoped that servicers accepting payments from borrowers with home loans not backed by a government agency would also suspend foreclosure activities.
The mortgage industry sees Wednesday's action as the first of several that will be required to avoid overwhelming the home-lending system. Servicers will need cash. Banks will need flexibility from their regulators to make riskier loans to the servicers to keep them afloat.
"The immediate financing needs of advancing these missed mortgage payments to investors will likely be larger than the private sector alone can handle,'' Robert Broeksmit, the chief executive of the Mortgage Bankers Association, said in a statement on the group's website. "We will need public support to get us through the worst of the crisis.''
Subscribe to the Globe's free real estate newsletter — our weekly digest on buying, selling, and design — at pages.email.bostonglobe.com/AddressSignUp. Follow us on Facebook and Twitter @globehomes.