Real Estate News
Tiny apartment, big bicycle? Experts offer storage tips
The problem becomes more acute as the weather gets warmer and more people are forced to work and study remotely.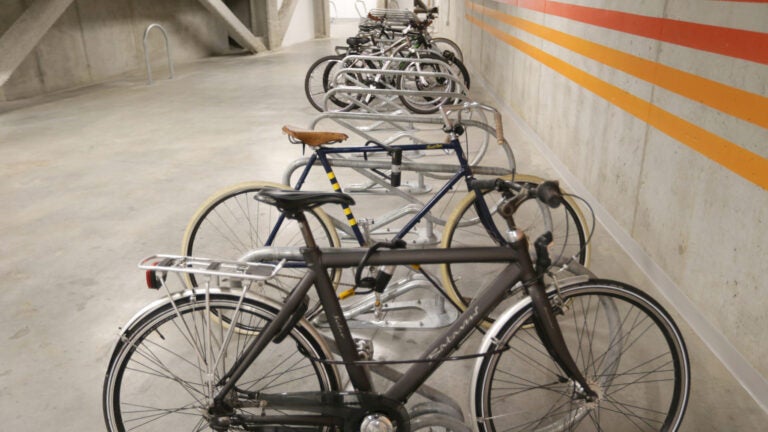 It's all well and good to own a bike in the Boston area now that the warmer weather is here — never mind the sharp drop in vehicular traffic with many people working and attending classes remotely and avoiding public transit.
But where do you store the thing, especially if you don't have a lot of space and there's not dedicated bike parking in your building? It's an especially pressing question when you are spending a lot of time at home.
Experts generally agree that it's a must to store a bike indoors to prevent theft. Beyond that, it's a matter of deciding how to use your existing space and whether to acquire special storage equipment.
Kathy Vines is the founder of Clever Girl Organizing, a company based in Melrose. Her husband has five bikes, so the storage question is personal.
The first thing she recommends before you start putting holes in the wall and surfing retailers is double-checking the availability of secure space beyond your apartment or condo: a shed, a hallway outside the front door, a basement, a garage, etc.
The Boston Cyclists Union, an advocacy group, echoed this sentiment.
"As long as you can secure the bike indoors — whether in a garage, living room, or elsewhere — you're covered," Jon Terbush, BCU's communications director, said via e-mail. "No matter how good your bike lock is, you should avoid leaving your bike outside overnight, especially in the same place overnight."
Suppose you don't have the ulterior space and you have to have the bike out of the way nonetheless. First, hunt for the obvious: behind a couch or a bed or inside a closet perhaps.
No luck? That's where the extra kit comes in, including horizontal and vertical mounts and freestanding racks.
The mounts can go into the wall or the ceiling — check with the landlord before drilling — and the racks can go wherever. This equipment isn't as big or as expensive as it may seem: A rack that can store two bikes vertically, for example, can be had for under $60, and is no more than two pieces at a right angle. Forked mounts for more than one bike can be even smaller, and a single hook for the front tire, secured properly to the wall (beware drilling in drywall), is even smaller.
Mounts also save a lot of space — lifting the bikes literally into unoccupied thin air — particularly if users are savvy about placement.
"You may have a wide space over the couch, but not a very deep one," Vines said via e-mail. "Or you may have room inside a closet, but it's tall and not wide. Changing the orientation of how you store your bike can make all the difference."
Finally, clever storage in a tight space doesn't have to be all about getting your cycling gear out of the way. It can instead become a deliberate focus, Vines said. "Hang it over the mantel of the nonworking fireplace you fell in love with when you first saw your apartment!"
Subscribe to the Globe's free real estate newsletter — our weekly digest on buying, selling, and design — at pages.email.bostonglobe.com/AddressSignUp. Follow us on Facebook, Instagram, and Twitter@globehomes.