Real Estate News
12 tips for creating a good remote learning environment in small spaces
We talked to the experts — mental health professionals and decorators who are also parents — about distance learning areas.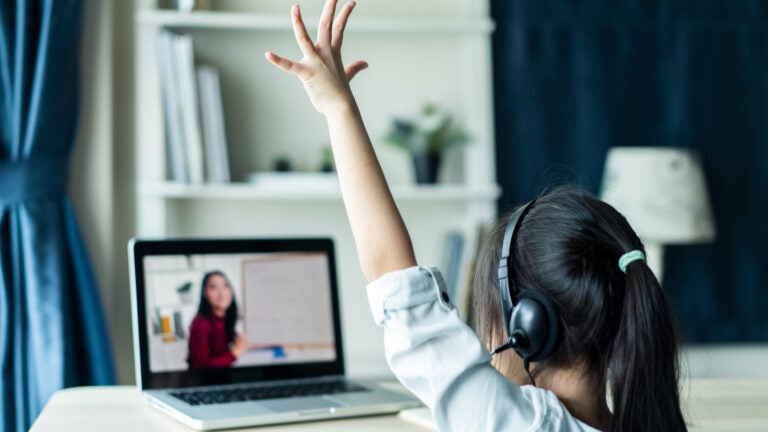 We talked to the experts — mental health professionals and decorators who are also parents — about how to design a distance learning area in tight quarters.
Let your kids take ownership. Kids are more likely to study in areas that they help to create. "Make your kids part of the process," said Kelly Sexton, head of counseling at the LABBB Educational Collaborative, based in Burlington. "Have a family meeting and discuss what went well in the spring and what didn't. Your child will be more engaged in learning if they feel part of the planning."
Separate work areas from play spaces with visual cues. If your child works in her bedroom, create visual cues to help her associate one area with school and one area with rest, whether that's a desk devoted to computer time or a lamp used only for nighttime reading. "Physically separate the play space from a dedicated workspace," said Anya Dashevsky, a Lexington-based clinical psychologist who works with children and adolescents. "When I go into my physical building at work, my whole brain and body remembers what it's like to get into work mode. It's the same for kids."
Aim high with vertical space. Wellesley-based designer and mom Nikki Dalrymple hangs pegboards from Blick behind clients' beds, making use of wall space when floor space is at a premium. Spray paint them a favorite color and tack on papers, posters, and photos.
Try a floating desk. No room for a clunky desk with legs? Dalrymple likes floating versions found at indie-design shop Etsy that look like consoles, hooked to a wall. Pull up a chair and get working. Bonus: When kids go back to school — let's hope — you can repurpose it for books or pictures.
If your budget allows, buy furniture tailored for small spaces. Concord-based designer and remote-school mom Sage Conti likes the pint-sized offerings at Crate & Kids, which offers a suite of junior office furniture perfect for the remote-school era. IKEA, Pottery Barn Teen, and World Market also stock collections built for smaller spaces (and bodies).
Turn your spice rack into a bookshelf. Dalrymple refashions IKEA spice racks for forward-facing book storage. Mount against a door or wall, paint them your favorite color, and give new meaning to "food for thought."
Create cozy nooks in unlikely spaces. Conti places fluffy rugs — she stocks up on faux sheepskin from Target — in corners throughout her home and complements them with throw pillows, so anywhere is fair game to plop down with a book.
Consolidate school supplies in style. Is your child a "spreader" who leaves a tornado of paperwork, chargers, and broken crayons in his wake? Invest in a slender rolling cart, said Arlington-based certified professional organizer and parent Wendy Buglio. "Part of the daily routine should be to tidy up the area and put supplies away, just like in the physical classroom. A small rolling cart can be used to provide easy access during the school day but can be tucked out of the way as needed," she said. Buglio likes this one from Target.
Create space for visual cues. This can be as simple as a whiteboard on the fridge with the day's schedule, important passwords for different platforms (Zoom! Google classroom! E-mail!), and chores. Buglio and Sexton also use Time Timers, clocks that help kids visualize how much time left they have for specific activities, which come in 3-inch models.
Get a wiggle seat. If your child wants to be a mini-CEO and twirl in his chair — but you don't have room — try a wiggle stool. Sexton loves these streamlined, moveable chairs for fidgety students, which allows them to purge excess energy while still focused on the screen. Storex makes versions in bright colors; pick them up and plop them anywhere.
Buy a worry jar. "If you have a kid who's a worrier, write it down and put it in a jar, then discuss it at the end of the day," Sexton said. A Mason jar works well.
Out of sight, out of mind. Create a repository for used masks, chargers, pencils and pens, and other daily debris to keep your space clutter-free. If you're going for style, Dalrymple likes the compact woven storage baskets from Serena & Lily, but even a shoebox will do.
Kara Baskin can be reached at [email protected]. Subscribe to the Globe's free real estate newsletter — our weekly digest on buying, selling, and design — at pages.email.bostonglobe.com/AddressSignUp. Follow us on Facebook and Twitter @globehomes.