Real Estate News
Follow-up: Frank Lloyd Wright home is donated to N.H. museum
The museum intends to preserve the house and to make it accessible to the public.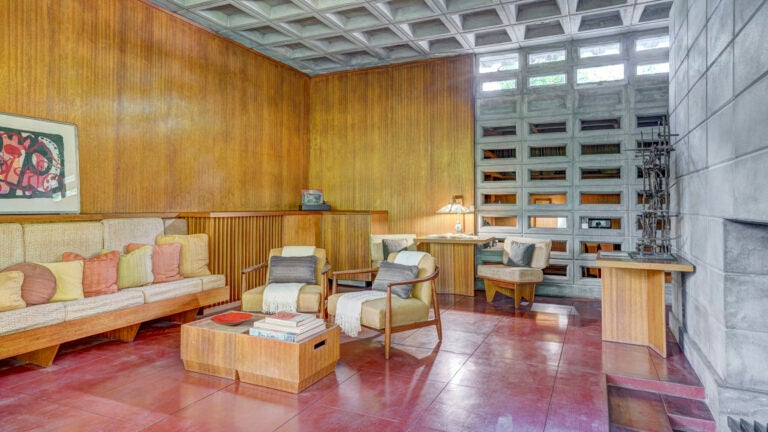 At 1,406 square feet, Toufic H. Kalil House in Manchester, N.H., is not Frank Lloyd Wright's biggest or most famous work, but it is an enormous addition to New England's house museum collection.
One of only seven Usonian Automatic houses ever built, the house was offered for sale for $850,000 in September 2019. Built in 1957, it was commissioned by Dr. Toufic and Mildred Kalil of Manchester. Wright used contrasts of narrow and wide spaces and light and shadow to enliven the small two-bedroom structure. It is built of concrete components made in Manchester and mahogany from the Philippines.
The remarkably well-kept home was purchased and given to the Currier Museum by an anonymous donor. The museum, located in Manchester, intends to preserve the house and to make it accessible to the public.
Frank Lloyd Wright designed only a handful of houses in New England. With the impending sale of the Kalil House, there was a real danger that it might be altered, moved, or even torn down.
"It is a real privilege to be able to help the Currier Museum of Art acquire this house designed by Frank Lloyd Wright, known as the Kalil House," the anonymous donor said in a statement the museum released. "This is an important piece of American architecture, and the public's enjoyment of this house will be increased immeasurably by having the Zimmerman House just three doors down for comparison and contrast."
Neighbors and friends of the Kalils, Dr. Isadore and Lucille Zimmerman had commissioned their own Wright house in 1950; the two houses stand a companionable three doors away from each other. The Zimmermans gave their house, along with an operating endowment, to the Currier Museum of Art in 1989.
"Frank Lloyd Wright intended his Usonian designs to be affordable to the broader American public, but each is a distinctive work of art," said Alan Chong, museum director. "Although they are about the same size and on the same street, the Zimmerman and Kalil houses are very different in character."
Wright patented the technique seen in the Kalil House, where he used interlocking concrete blocks and reinforced them with horizontal and vertical rods set into the walls and roof, with a grout mixture between the rods and blocks. Wright intended to make this technique easy and available for home buyers to construct themselves someday.
Located on a 0.73-acre city lot, the house features an L-shaped layout, as well as many signature Wright details, including original Wright-designed furniture, original textiles, and a Cherokee Red concrete floor with radiant heating and in-floor air ducts. There is also a fireplace, a study, and a carport.
Subscribe to the Globe's free real estate newsletter — our weekly digest on buying, selling, and design — at pages.email.bostonglobe.com/AddressSignUp. Follow us on Facebook, Instagram, and Twitter @globehomes.