Real Estate News
The US and Boston housing markets have something in common: Pending home sales are down
It may be a sign a sign that elevated asking prices and lean supply are tempering the boom despite record-low interest rates.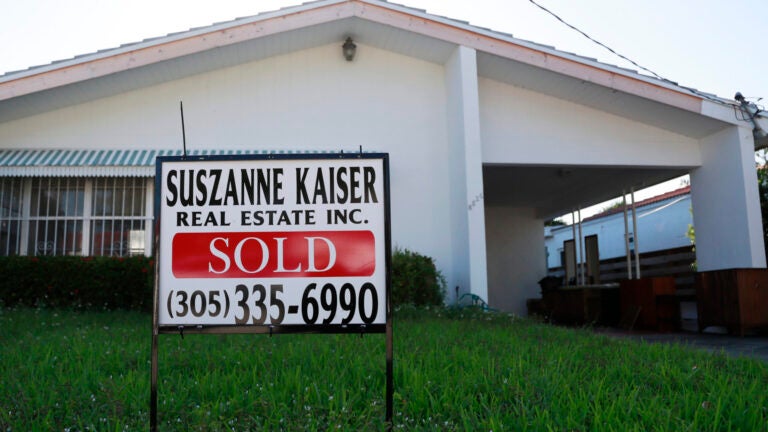 (Bloomberg) — A gauge of US pending home sales unexpectedly declined in September for the first time in five months, a sign that elevated asking prices and lean supply are tempering the boom in housing despite the record-low interest rates.
The National Association of Realtors' index of contract signings to purchase previously owned homes decreased 2.2 percent from the prior month to 130, according to data released Thursday. The September gauge, down from a record 132.9, compared with a median estimate in a Bloomberg survey of economists for a 2.9 percent gain.
"The demand for home buying remains super strong, even with a slight monthly pullback in September, and we're still likely to end the year with more homes sold overall in 2020 than in 2019," Lawrence Yun, NAR's chief economist, said in a statement. "With persistent low mortgage rates and some degree of a continuing jobs recovery, more contract signings are expected in the near future."
Pending sales of single-family homes in Greater Boston were down 9.9 percent month to month, and pending condo sales fell 5.8 percent, according to a report the Greater Boston Association of Realtors released Wednesday, but year over year, the picture is brighter: Pending sales for single-families and condos were up 38.2 percent and 13.2 percent, respectively.
The drop in the NAR index may represent a pause in the housing surge as lean inventory causes prices to soar. For most of the year, Americans have been snapping up larger, suburban houses that double as their remote workplaces. The decline in September contract signings is consistent with a retreat in mortgage applications in recent weeks.
More home buyers are at risk of being priced out of the market if the volume of available properties remains limited and causes bidding wars. While the borrowing costs are ultra-low, higher asking prices can make it more difficult for buyers to come up with down payments.
By region, pending home sales fell in three of four regions, including a 3.2 percent drop in the Midwest. Contract signings also declined 3 percent in the South and 2.6 percent in the West. The Northeast saw a 2 percent increase.
The government's first estimate of third-quarter gross domestic product underscored the recent strength in housing. Residential investment jumped an annualized 59.3 percent, the fastest since 1983, Commerce Department data showed Thursday. GDP rose at a record 33.1 percent annualized rate during the period.
A separate report on Monday showed that purchases of new single-family houses declined slightly from a near 14-year high but remained elevated, another evidence of the strong appetite in residential real estate.