Real Estate News
Design expert Mélanie Berliet of The Spruce on making the most of small spaces
How can you spruce up a workspace without buying anything new? Make your space seem roomier? Get more design inspiration at realestate.boston.com.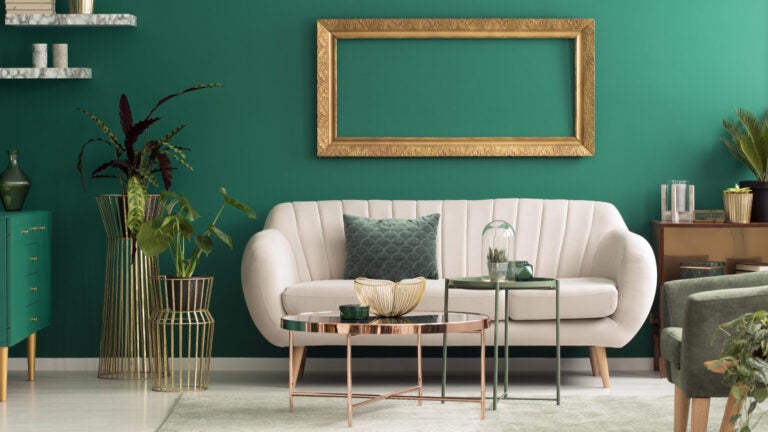 Mélanie Berliet, general manager of lifestyle website The Spruce, joined staff writer Jura Koncius last week for The Washington Post's Home Front online chat. Here is an edited excerpt.
Q. What are some easy, inexpensive ways to increase the cozy factor in my home with cold weather approaching?
A. You definitely don't have to break the bank to make your home feel cozier. The addition of a shaggy area rug or a chunky knit throw will automatically make a space feel cozier. I would also suggest that there's a lot of power in personalizing your space — even just a nook — by adding little accents that mean something to you, whether a family photo, an inspirational quote, or a scented candle that triggers nostalgia. Another option is to make your bathroom feel more spalike as winter approaches by adding a bathtub caddie, lots of candles, and some beautiful soap and lotion dispensers to sit sinkside.
Q. I have no natural light in my home. How do you decorate a room with no windows?
A. Embrace reflective surfaces such as glass and mirrors. Try to stick with light paint colors and furnishings. If you like bold colors and patterns, don't shy away from them entirely, but resist the urge to go all out on that front. A patterned throw pillow and a few bold accents can create visual interest without overwhelming a space.
Q. What types of lighting do you recommend for a small galley kitchen? I currently have fluorescent lights and am trying to stay away from can lights.
A. In a galley kitchen, it's really worthwhile to invest in ceiling lights that run the entire length of the space. Track lighting could be a good solution if you're going for a contemporary design. If your kitchen is more traditional, pendant lighting would work well. You'll also need some task lighting for the various work stations and perhaps some accent lights for additional brightness.
Q. What types of furniture work best in a small space?
A. Multipurpose pieces and pieces with sneaky storage capabilities are perfect for small spaces. Also, consider nontraditional options. For instance, when shopping for a desk, consider a bistro table if that would suit your space, or a small chest of drawers in place of a side table. In terms of seating, chairs and sofas with exposed legs and no arms can create the illusion of more space.
Q. What paint colors work best in a small space?
A. Warm metal colors that reflect light or neutrals are best. Try a greige (gray and beige) or a light pewter. Avoid anything too bold or bright, which can make you feel boxed in. Don't assume white is necessarily the best option.
Q. What kinds of plants do you recommend for small homes that receive a lot of direct sunlight?
A. There are a lot of plants that love light. Some recommendations: aloe vera, jade, sago palm, snake plants, and ponytail palms.
Q. What budget-friendly projects would you recommend to spruce up my small living room?
A. Install open shelving along a wall or even in a corner. Another budget-friendly way to spruce up any room is through a fresh coat (or cool design) with paint. Don't underestimate the power of rearranging. It costs nothing to step back, reassess, and rearrange your furniture or decor accents for an updated looks that feels fresh.
Q. Since we've been spending so much time at home I've gotten a little sick of my space, but I don't have the budget for a big remodel. What are some low-cost ways to freshen up my home?
A. Paint, art, and plants. Paint is the quickest, easiest way to freshen up your space. It can make such a big difference and is relatively inexpensive. Whether you paint all four walls of a room, the interior of your cabinets, or a headboard for your bed, a little paint can lead to a big transformation. My next suggestion is art. And by "art," I don't mean that you have to spend thousands or even hundreds of dollars. There are so many awesome independent artists selling really beautiful, reasonably priced works of art via Instagram and places like Etsy these days. Find something that speaks to you that fits your budget and aesthetic and add it to your home. You won't regret it. Lastly, I recommend plants. Plants are a surefire way to make your space feel brighter and more alive without spending too much money.
Q. We're downsizing from a family home to a smaller house. Do you have tips for how to make this new arrangement of old furniture and decor work in a new space without buying all new items?
A. Assess everything you own and discard pieces you don't need or feel attached to. You probably won't need as much furniture or as many decor items if you're downsizing. It's important not to overwhelm a small space with too much furniture or stuff. Once you've whittled your belongings down to essentials, play around with different arrangements. Experiment and embrace decluttering as you go.
Q. I have to redo a small powder room and am getting stuck on where all tile should go. It has high ceilings and a small footprint so tiling only the floor won't have much of an impact. Tiling all the walls seems too much. Should I do floor and half wall and then wallpaper above that?
A. I think you're on the exact right path: I love the idea of tiling the bathroom floor and half the wall, and then painting or wallpapering the top half. You can have fun with your wallpaper or paint color choice.
Q. How can I spruce up my at-home workspace without buying anything new?
A. Shop your home. Look around for little accents you can add to your workspace that will enhance it. Cleaning and organizing go a long way in making an at-home work station feel more inviting and conducive to productivity. It's so easy to fall into the trap of buying new stuff when often the answer is decluttering and rearranging.
Q. What are some ways I can maintain brightness in my home throughout the winter now that daylight saving time is over?
A. Make sure you have enough lighting, including overhead, accent, and even candles. Add plants to brighten up your space. Reflective surfaces are also helpful in making a space feel brighter and more open — think glass and mirrors.
Q. In a two-bedroom, one-bathroom condo, do you advise keeping the second bedroom as a bedroom or turning it into something else? If so, do you advise a sleeper sofa for the living room?
A. It really depends upon your needs, how often you plan to entertain overnight guests and such. I think a sleeper sofa in the living room is always a good idea, personally. If you need only one bedroom, there are so many options for the spare room: at-home office, mini gym, game room, meditation space, etc. I would think deeply about how you like to spend time, and base your decor decisions around optimizing your space for your individual needs.
Q. How can I make my home workspace feel more inviting and relaxing while still keeping it a productive space?
A. Add plants. Greenery is a great way to make your workspace feel alive. Personal touches (framed photos, mementos, etc.) also go a long way in making a workspace feel less, well, worky. Make sure that your workspace is well lighted. This is good for your mood and also essential for your eyes.
Q. What are some of your favorite organizing tips for small spaces?
A. I am a big fan of containers; what I mean is that every object within your small space can have a home of its own. That can mean purchasing a lovely wooden tray to display your remote controls, investing in felt bins to house your kids' toys, or placing your spare blankets neatly within a wicker basket. The fewer objects you have strewn about, the more tidy your small space will feel. I would also suggest avoiding clutter at all costs. It helps to look around your home every so often and ask yourself honestly what you need/actually use and to discard anything that doesn't serve a purpose any longer.
Subscribe to the Globe's free real estate newsletter — our weekly digest on buying, selling, and design — at pages.email.bostonglobe.com/AddressSignUp. Follow us on Facebook, Instagram, and Twitter @globehomes.