Real Estate News
First residents settling in at The Sudbury, located at Bulfinch Crossing
The apartments and condominiums mark a five-year rollout of a five-acre downtown development.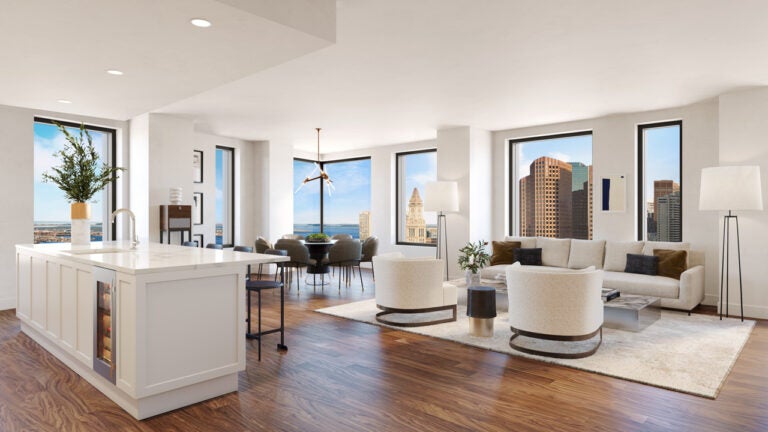 The soaring glass-clad Sudbury stands in stark contrast to the now-demolished, Brutalist-style Government Center Garage, which for decades straddled Congress Street where this 48-story residential tower now dominates.
The Sudbury's completion marks the beginning of a mixed-use, six-building, five-acre development on both the west and east sides of Congress, in one of Boston's oldest neighborhoods.
"The big, ugly garage is gone," said Thomas O'Brien, founding partner and managing director of Bulfinch Crossing's development firm, The HYM Investment Group, which is also behind the Suffolk Downs and Boston Landing developments, among others.
"This will change a place that was so badly developed in the 1960s," he continued. "It's amazing to build this new development in the historic center of Boston."
The name "Bulfinch Crossing" is inspired by Boston's own Charles Bulfinch, who designed the Massachusetts State House, contributed to the U.S. Capitol, and developed the West End's block-wide Bulfinch Triangle.
"Bulfinch Crossing evolved from Bulfinch's original idea of designing the Bulfinch Triangle," O'Brien said. "Also, the word crossing brings to mind this hub, which is in close proximity to Logan Airport, the major arteries, and every line on the T is within one stop of Haymarket."
The Sudbury is also an easy walk from the West End, North End, Downtown Crossing, and the Seaport.
The LEED Gold-certified Sudbury contains 423 residences and has separate lobbies and entrances for the 55 condominiums and 368 apartments, 63 of which are affordable units.
Condos and apartments share some things, such as neutral white and grey interiors, and expansive amenities. There's a whole floor of social space that includes a vast state-of-the-art fitness center, a yoga and pilates studio, and a multi-sport simulator; a lounge with fireplaces, a pool, and, poker tables; an outdoor pool deck with fire pits; co-working and meeting spaces; and a children's playroom.
Additionally, condo owners have exclusive access to an owner's club room and 48th floor rooftop lounge.
Condos also boast higher end fixtures, including kitchens with instant hot and cold water dispensers, wine refrigerators, gas fireplaces, and two self-park garage spaces.
The five different condo floor plans range from 1,738 square foot two-bedroom units at $3,475,000 to a 2,766 square foot four-bedroom at $6,500,000.
Pricing for apartments ranges from $2,350 per month for a 467 square foot studio, to $11,855 for a 1,547 square foot three-bedroom. Parking for apartments is extra and contracted directly through the garage.
"The [condo] views are really dramatic with water views on both sides," said O'Brien. "You can watch the sun rise over the Boston Harbor and watch it set over the Charles River."
However, the apartments' vistas aren't too shabby.
"Even at the lower levels the views are amazing," O'Brien added. "You have wonderful nighttime views of the Boston skyline. Virtually every condo or apartment has an amazing view."
Apartments: 100 Sudbury St., Boston, 02114; 833-485-8122. Condos: 110 Sudbury St., Boston, 02114; 617-227-2080. thesudbury.com