Real Estate News
The holiday season is ripe for package theft. Here's how Boston-area apartment buildings are dealing with it.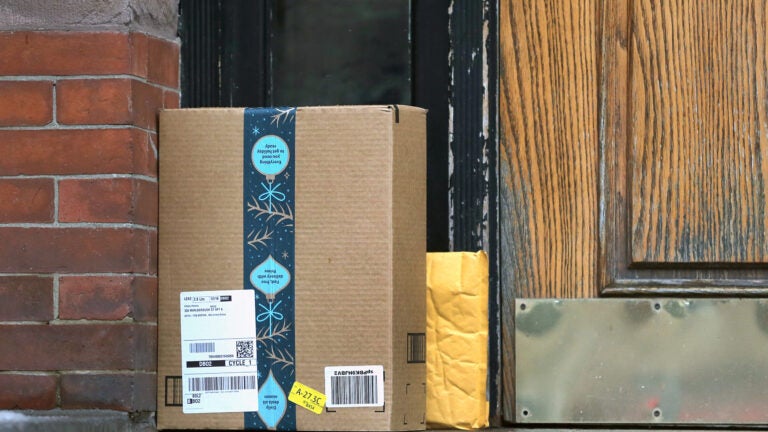 Package thefts have become an all-too-common occurrence for Boston-area buildings, who struggle to control the never-ending deliveries of padded envelopes and boxes. And with the holiday season in full swing, those boxes are coming faster than ever.
In the wake of COVID-19, when shoppers are hesitant to head into busy stores, the internet has proven to be everyone's favorite shopping destination. In the three months leading up to Sept. 30, Amazon reported $6.3 billion in profits, nearly triple what it earned in the same period last year, the Globe previously reported. That momentum is unlikely to slow down. Back in October, Adobe predicted that U.S. online holiday sales will total $189 billion, shattering all previous records with a 33% YoY increase.
"The pandemic has greatly contributed to the number of packages we are seeing at all our multifamily developments," says Mike Procopio, Vice President of Development at The Procopio Companies. "Package delivery and management has become crucial to the resident experience."
But with those record-breaking sales comes the concern that someone with sticky fingers might grab your holiday haul.
Take a stroll down any Boston street, and you're likely to see signs posted on a front door asking delivery people to tuck boxes inside the door while the residents aren't home. Of course, not everyone can leave their front door unlocked. That's why it's not unusual to spot padlocked sacks, like the popular Package Guardian, hung on apartment door fronts. These delivery sacks, which are woven with steel cable, work by providing a code on your shipping label for the delivery worker, who unlocks the bag and drops the box in. For those with porches, locked parcel delivery boxes are another popular option.
At larger residential buildings that rely on package rooms, like the one in East Boston, package theft can still be an issue, whether it's a culprit who follows a resident behind the locked door, or a resident who steals from their own neighbors.
Caldwell, an apartment building in downtown Lynn, relies on high-tech amenities to prevent package theft. In addition to 24/7 building-wide video surveillance, the package room features a ButterflyMX Video Entry System to enable controlled access. Each unit is also equipped with Hello Alfred, a mobile app that connects tenants with an on-site assistant who comes to the building when requests are put in to ensure packages get directly from the package room to the resident.
In conjunction with technology, some buildings are simply asking residents to keep the constant influx of deliveries to a limit.
"Most of our buildings are assuming one package per day, per resident – an intense volume," says Procopio. "Parcel lockers and package rooms that can scan barcodes in and out can help keep packages safe and secure, alongside our video security systems. In-unit delivery can also be implemented by property management team members."