Real Estate News
Hold the salt. An arborist offers de-icing alternatives and tips for protecting your plants
Salt that hits plant tissues has an extreme impact. It causes leaf distortion and discoloration and can affect next year's buds.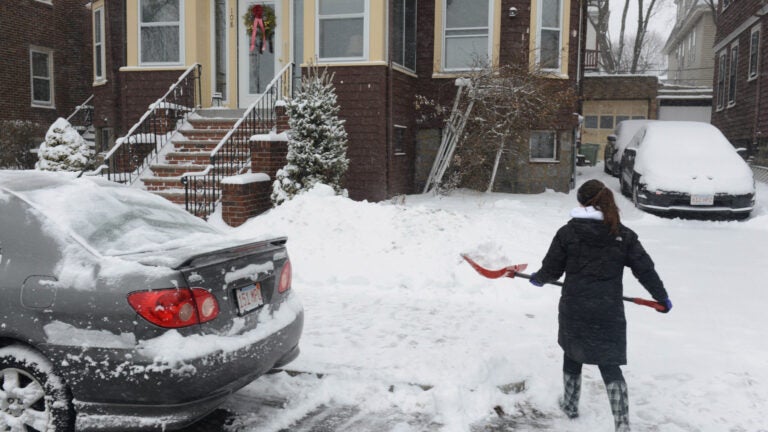 George Barth, an arborist and plant health care manager for Needham landscape management firm and Davey company affiliate Hartney Greymont, tells writer Jimmy Morrison how the chemicals used to melt snow and ice on driveways, walks, and patios can harm plants and shares tips on how to protect them:
(This interview has been edited for clarity and condensed.)
Q. How does salt hurt plants?
A. Salt that hits plant tissues like twigs and buds has an extreme impact. It causes leaf distortion and discoloration and can affect next year's buds. Even worse is damage to the root zone from salt leaching into the soil. That decreases nutrient absorption and reduces available water. It can burn the root zone and decreases the root system for the next season. It also impacts the nutritional side of the soil. There are a lot of organisms in the soil. People think dirt is just dirt, but it's a very complex organism.
Q. What does the salt damage look like?
A. Leaf discoloration or distortion; scorched, dying branches; sparseness of leaves; and irregular foliage thickness. Plants are extremely tough and can normally survive the damage, however.
Q. What can people do to protect their plants from the salt state and municipalities spread?
A. First and foremost, if you have an area where you expect heavy salt damage, grow more salt-tolerant varieties of plants and provide enough organic matter (compost and mulch) to help protect the root zone.
We always recommend applying gypsum (calcium sulfate) in the fall and winter, which helps protect the plant from root damage. It reacts chemically with the salt and neutralizes it.
Make sure the plants are well-watered, which helps flush out the salt and process the soil. Fertilize plants in the spring, too, but you have to be careful; some fertilizers contain salt. The types of fertilizers arborists can get are different than what is available to the general public, and they know which ones to use for a particular plant or problem.
Q. What should people do on their own properties to keep both walking surfaces and plants safe?
A. First, shovel the paved surfaces as cleanly as possible. Then make sure you don't over-apply salts. Keep the salt off the lawn and planting beds as much as possible. When the season is over, clean your railings and walkways to help minimize salt damage to them as well.
Q. What are good alternatives to salt?
A. Sand is a great one. It's a natural part of the soil and won't burn plants. Calcium chloride, which is a kind of salt, is a little less impactful on plants' root systems. Mixing it with sand yields decent results. Some people who want to avoid chemicals use sawdust, sand, or cat litter on their walkways.
Heated walkways and driveways are the cleanest way to melt snow and ice. They're extremely effective, but they're expensive to install and to operate.
Subscribe to the Globe's free real estate newsletter — our weekly digest on buying, selling, and design — at pages.email.bostonglobe.com/AddressSignUp. Follow us on Facebook, Instagram, and Twitter @globehomes.