Real Estate News
These local designs won a Best of Houzz 2021 award. Check them out.
From home offices that take the work out of "workspace" to colorful laundry rooms, these spaces are popular with readers.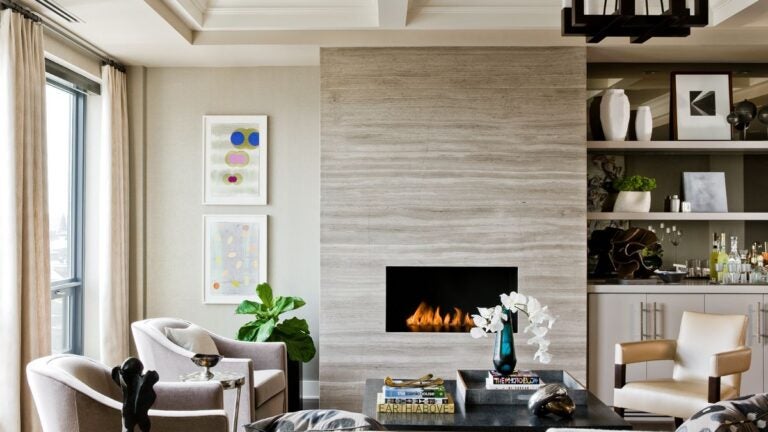 We asked the designers of these 14 spaces to reflect on their influences and why these spaces received a Best of Houzz 2021 award.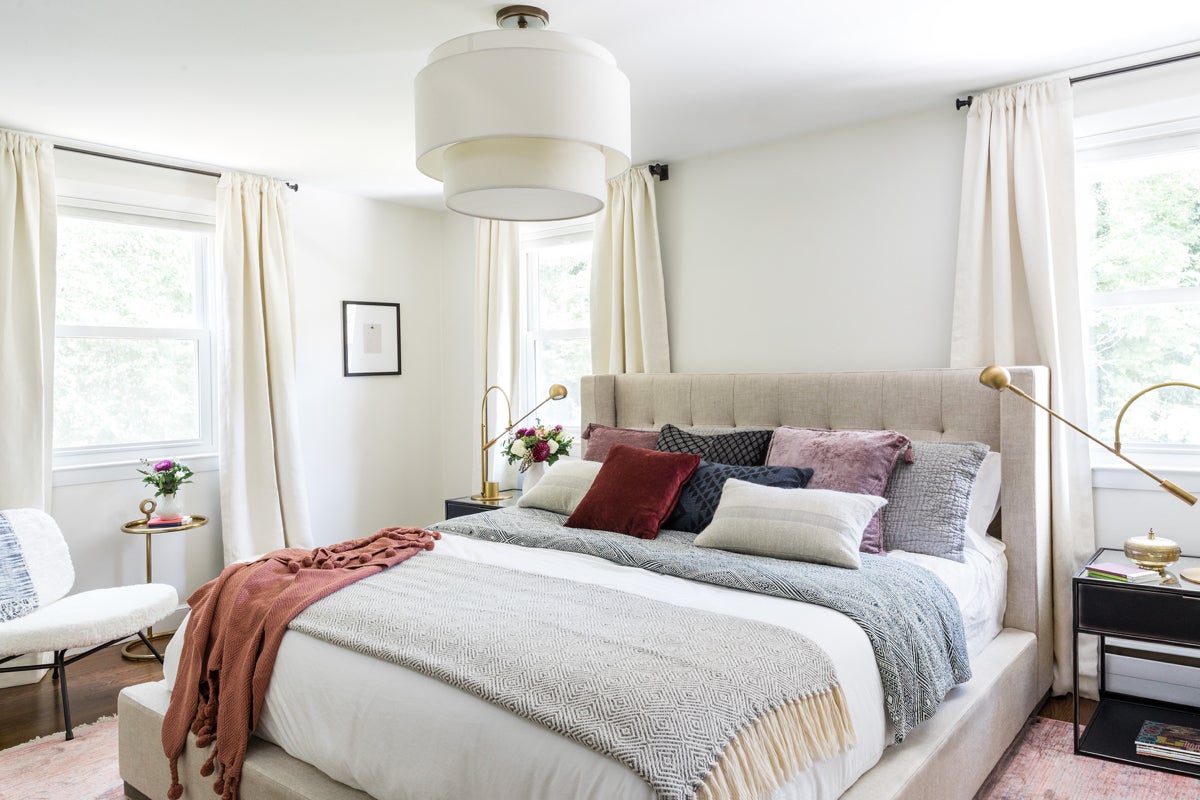 A black-iron night stand and a brass cocktail table might not be most people's first pick for a bright and cozy bedroom. However, it is exactly those unexpected elements, blended with layers of warm white and neutral tones, that give this Jamaica Plain bedroom its appeal. The design also embraces the space's most prominent architectural detail: prominent windows overlooking a lush backyard. By placing furniture in strategic spots, the windows became a main feature.
The most asked about items in this bedroom are the arched brass table lamps. As my client and I shared inspiration images for this bedroom, I noticed that she had a liking for sculptural and minimal wall sconces. However, we could not mount sconces for this bedroom due to the position of the bed in relation to the windows. Thus, as a solution, I looked for table lamps with the same sculptural and minimal look of a modern sconce. The minute I saw this lamp, I knew it was the one.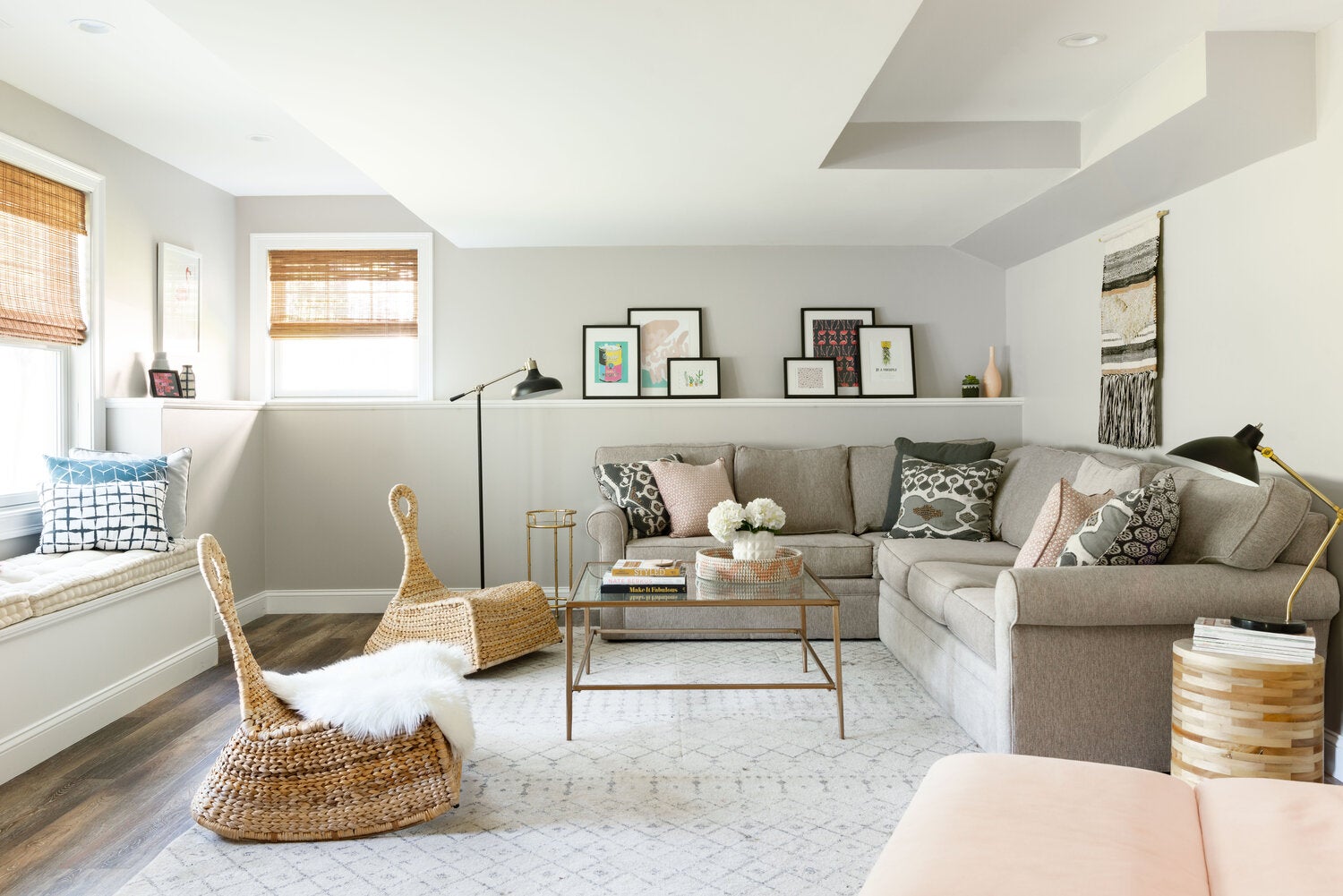 Our client wanted to create a space in her Danvers home where her three girls could hang out with their friends for sleepovers and on the weekends. She wanted it to feel more sophisticated than your average playroom since her kids were entering their teen years. We stuck to a sophisticated vibe overall but added some fun twists such as the rattan rocking chairs and colorful art. One of the best parts about this basement is that the windows let in sunlight. We incorporated a window seat to create another spot for lounging and reading. It also makes the space feel less like a finished basement and more like an extension of their home.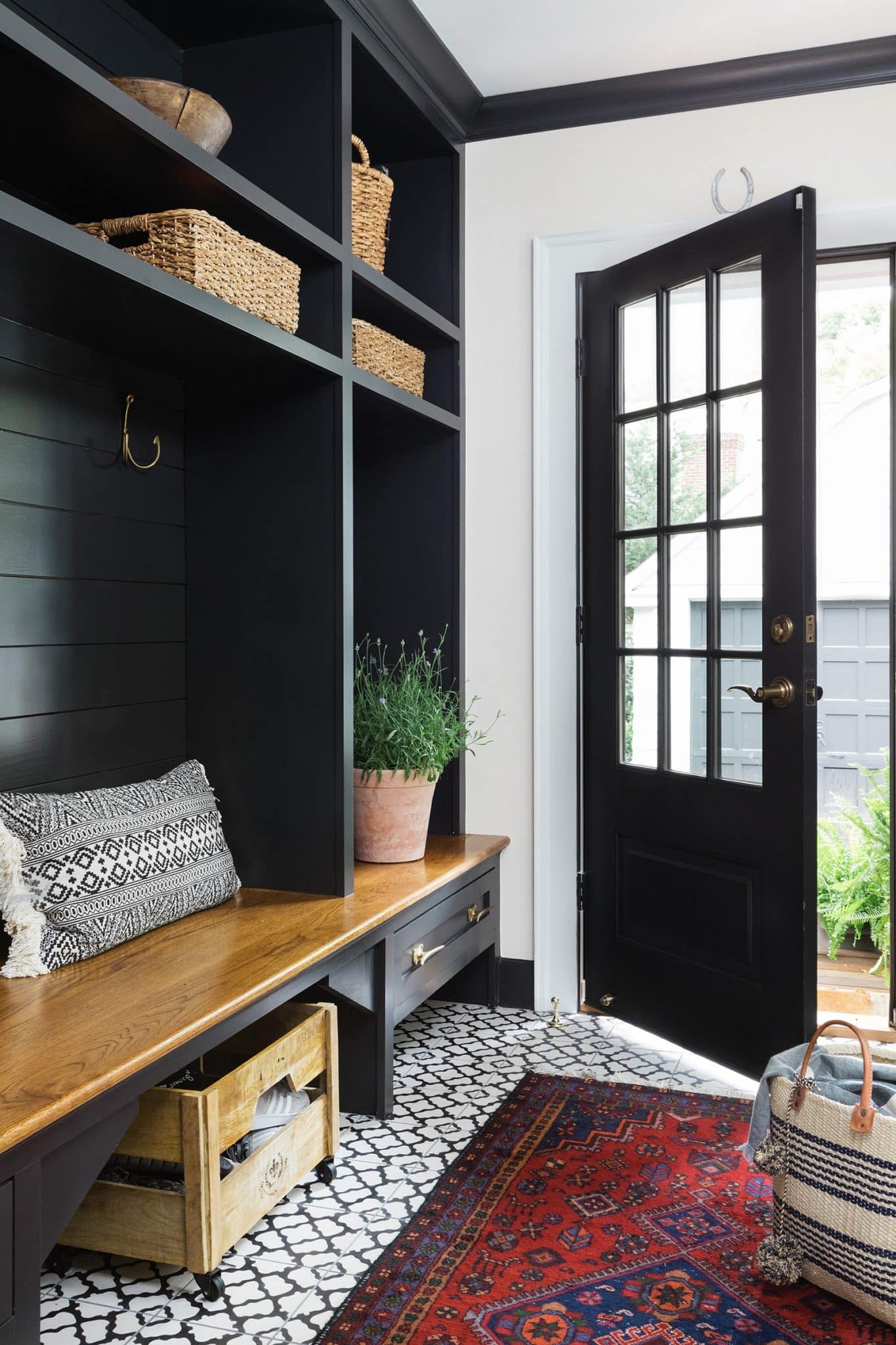 People are drawn to this dynamic mudroom in Winchester because it blends modern and traditional aesthetics with clean, crisp finishes and fixtures. Full-height custom built-ins create drama and make the space feel taller. People are used to seeing shiplap in mudrooms, but it's often painted white. Black makes a refreshing statement in this bright entry. On the floor, the organic geometry of the black and white tiles is an engaging focal point and beautifully ties together the space.
The mudroom in this 1915 Southern Colonial was designed to absorb the energy of a young family while keeping an elevated aesthetic. The black and white cement tiles coupled with a worn vintage rug help to camouflage New England dirt and snow. The walls are softened with a vinyl grasscloth by Schumacher that provides texture and is easy to wipe down. The painted trim, doors, and lockers offer a unique and warm saturation to the room, as do the antique brass light fixture and nautical hooks and pulls; they're a modern twist on a classic home.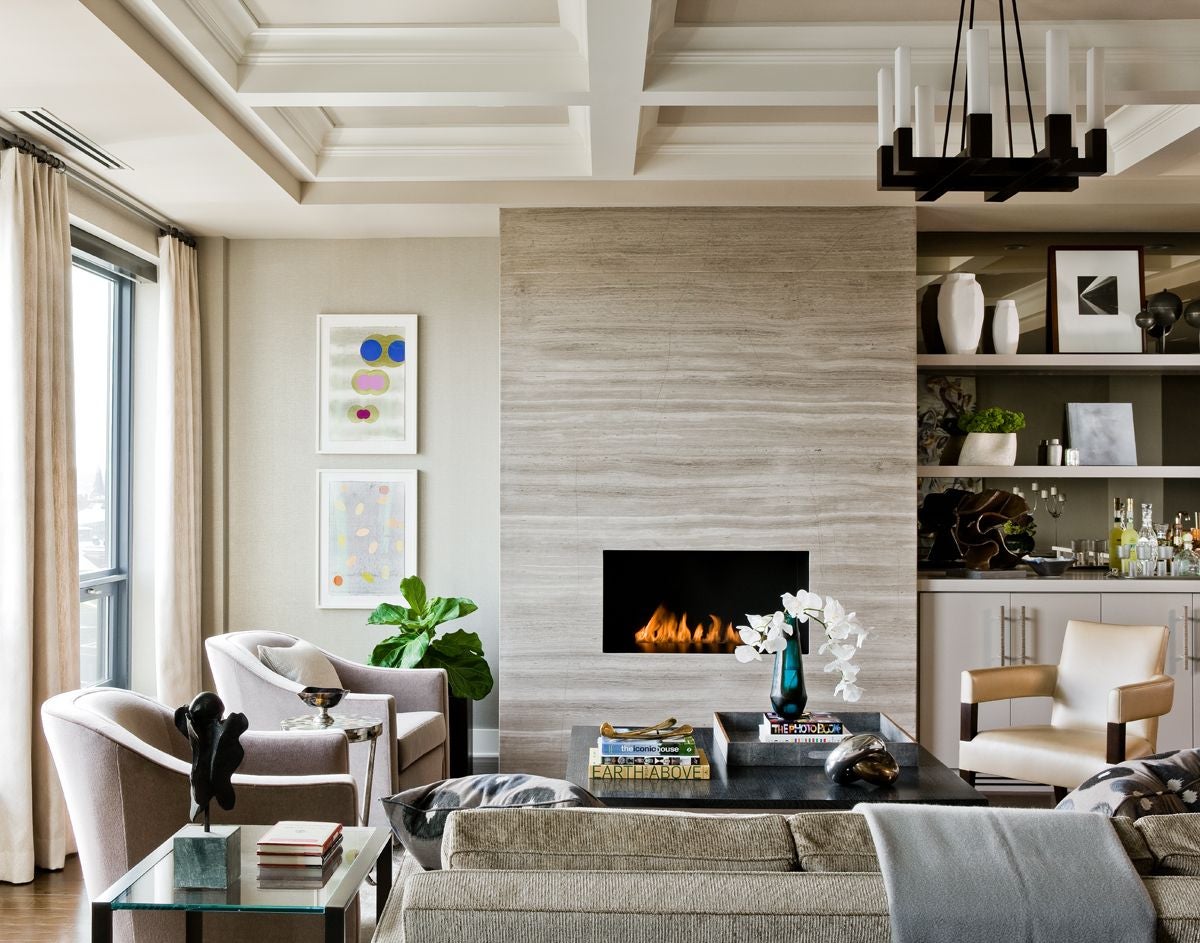 This Back Bay living room does a good job blending contemporary and classic material and vibes. The fireplace is a good example: Travertine is a classic material, but we used slabs in the most contemporary way, with clean horizontal lines. The coffered ceiling is classic, but the Boyd Lighting light fixture is a more contemporary, angular take on an armed chandelier. The chairs are a modern update on a classic swivel with a French vibe and very comfortable. It's a very neutral room, and I love adding pops of color through the art. The abstract artworks incorporate metallic paint and are definitely contemporary. I stacked two pieces for balance; using just one felt too monolithic.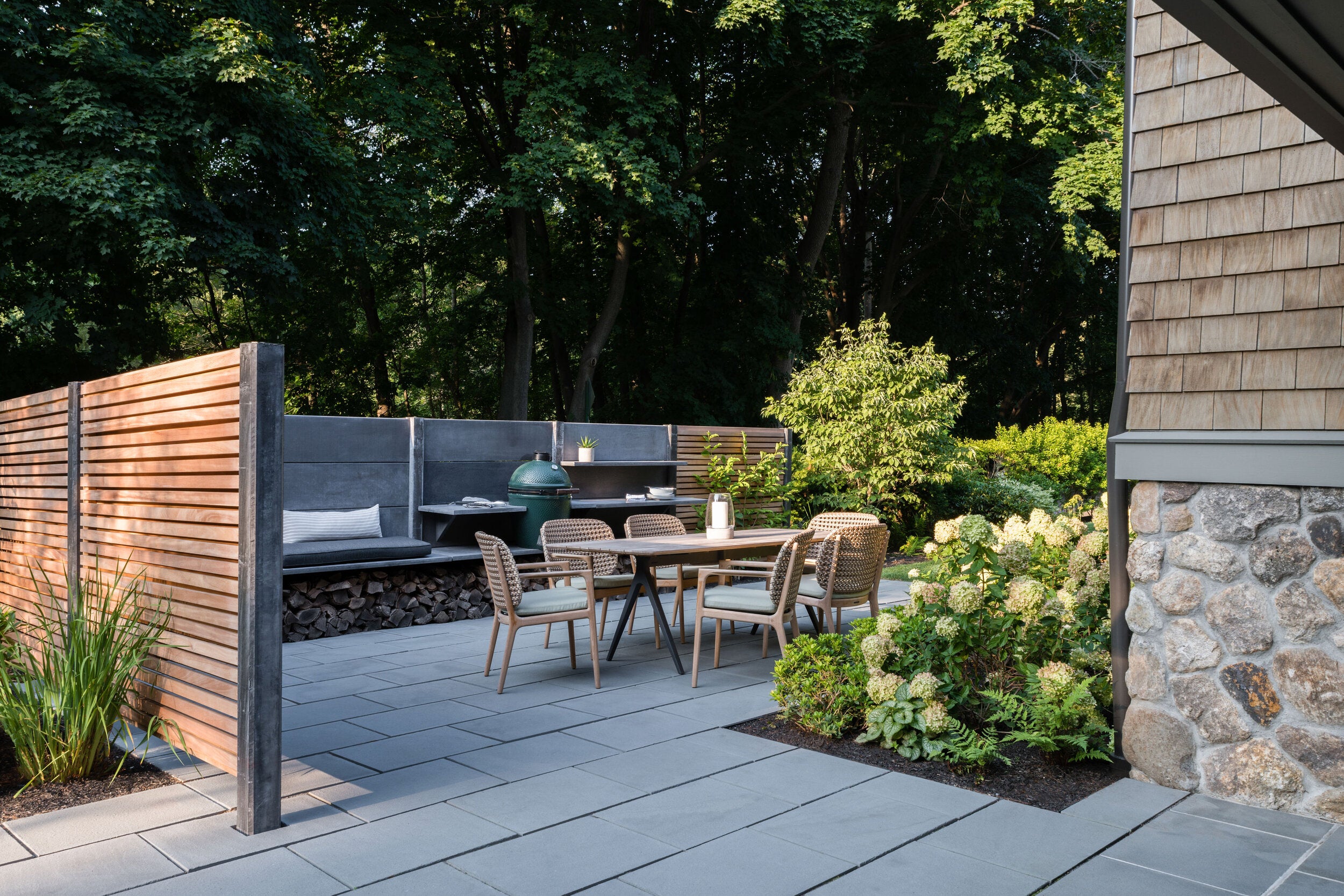 We're all looking for ways to bring our indoor style, comfort, and activities outside so we can entertain friends outdoors, especially now. This backyard terrace in Wellesley does so with privacy and intimacy, despite a public path on the far side of the screen. Our design, which juxtaposes concrete with wood and hardscape with planting, brings warmth and interest to the experience.
A foyer sets the tone for the rest of the design in a home. This Medfield foyer welcomes you with a bright, airy, and colorful space. We mixed modern and traditional elements for an eclectic, casual vibe. There are a few special moments throughout the space, from the large flatweave rug with various shades of blue that adds a softness and helps ground the space to the console with the porcupine mirror. A large capiz shell drum shade pendant and the beautiful traditional staircase both bring your eye up.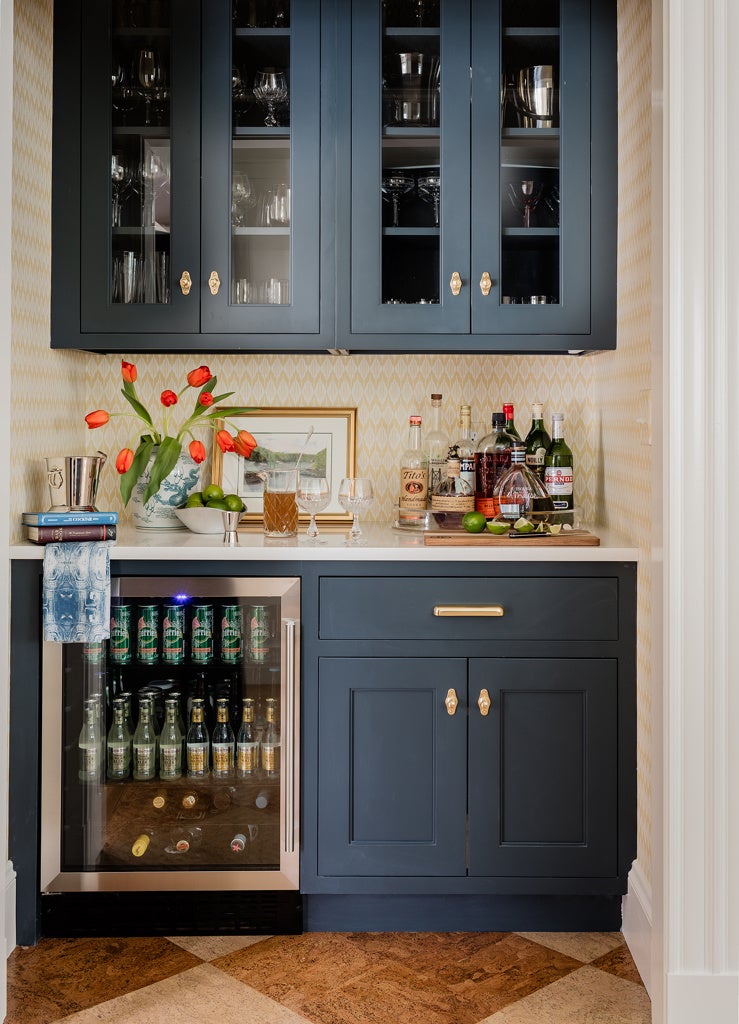 This bar is tucked into a niche in the client's mostly white kitchen, so it had to fit in with its surroundings while still signaling its unique purpose. We used the color of the kitchen island for the cabinetry, then added small-scale wallpaper to make it special. If I were to guess the reason for the popularity of this Lexington kitchen, it would be the blue cabinet color. It is an alluring and nuanced shade that is not quite navy and not quite teal, and it has drama but is still cheerful. Plus, it looks fabulous with brass cabinet hardware. Although the color looks custom, it is actually a standard selection called "Blue Fir" from cabinet manufacturer Cabico.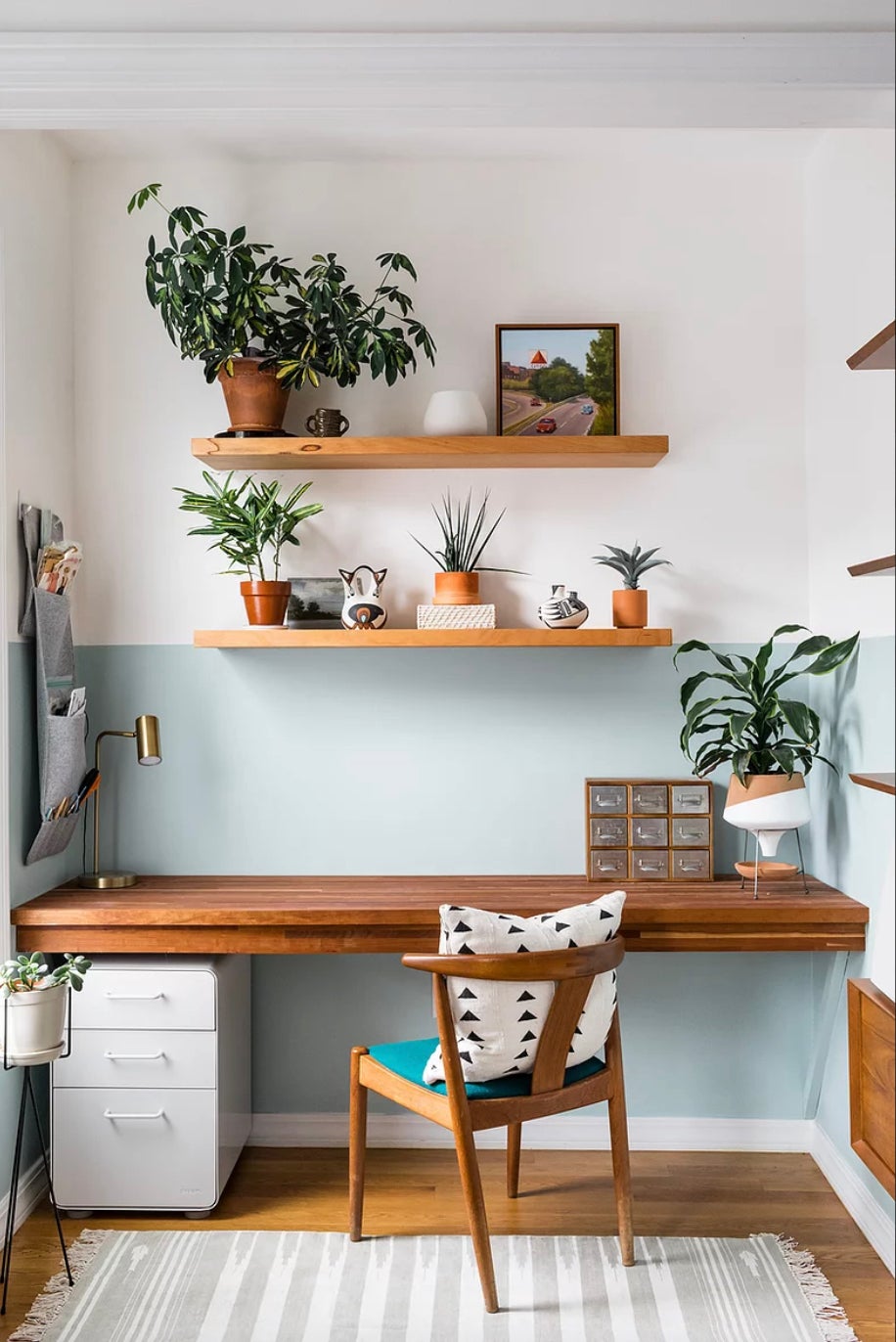 We turned a small unused space in an East Boston condo into a functional office and workspace. I think people are attracted to the simplicity of the paint treatment and coziness of the multiple wood tones. Plants are always imperative to my designs, and they bring an organic vibe to the nook.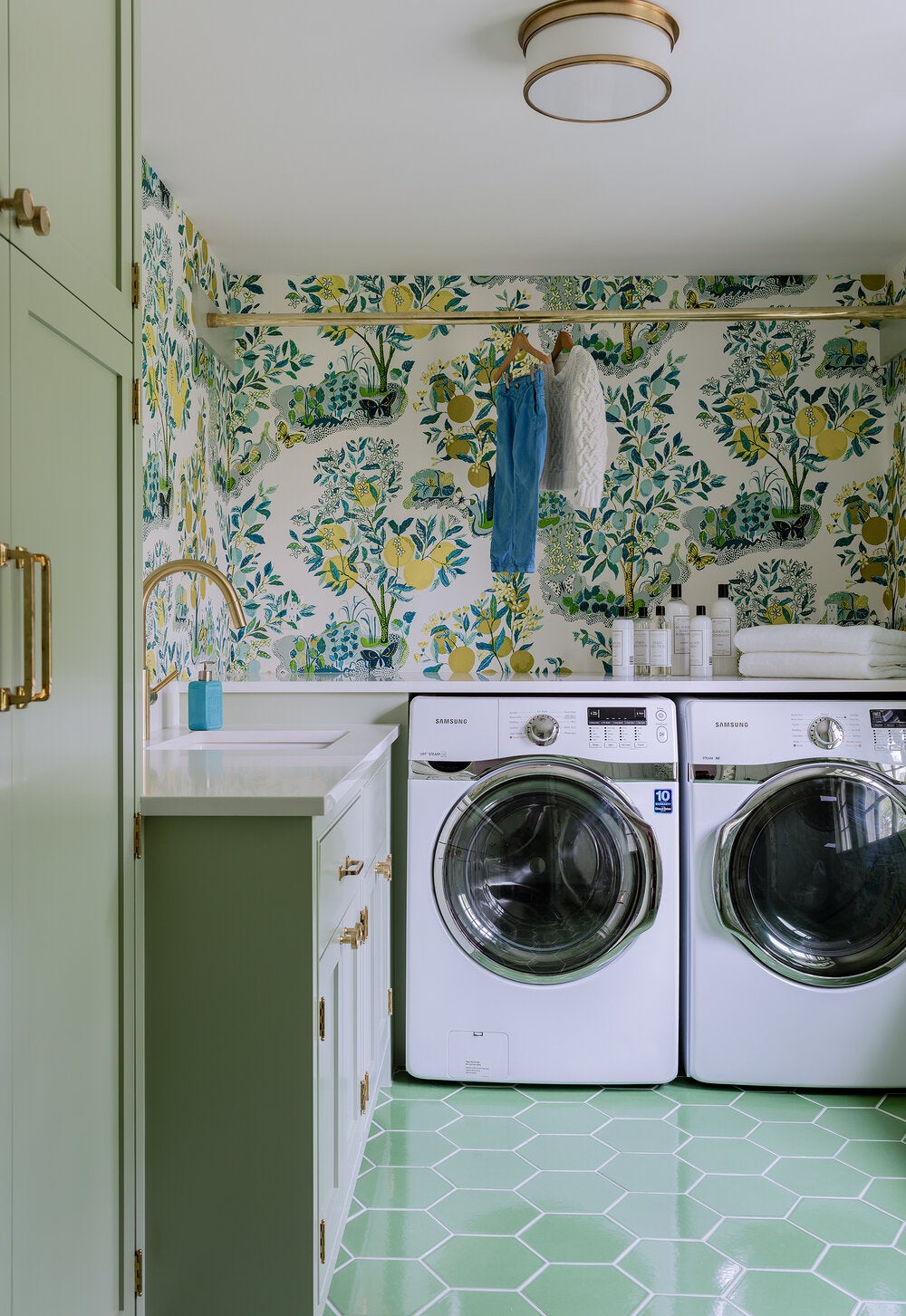 For this laundry room in a 1908 Colonial in Cambridge, I incorporated a vibrant color palette and cheerful wallpaper, Citrus Garden by Schumacher, which is uplifting and fun. The wallpaper was the starting point of the design. The green-painted millwork and handmade ceramic hexagon flooring by Fireclay Tile pair perfectly with it. I love to use lively colors and playful patterns in utilitarian spaces, as they are refreshing and help to turn a mundane task into something one might look forward to. The custom millwork provides an abundance of concealed storage, including a pull-out ironing board drawer, to maximize organization and keep the work area clutter-free. I think people are drawn to both the cheerfulness and the organization of the space.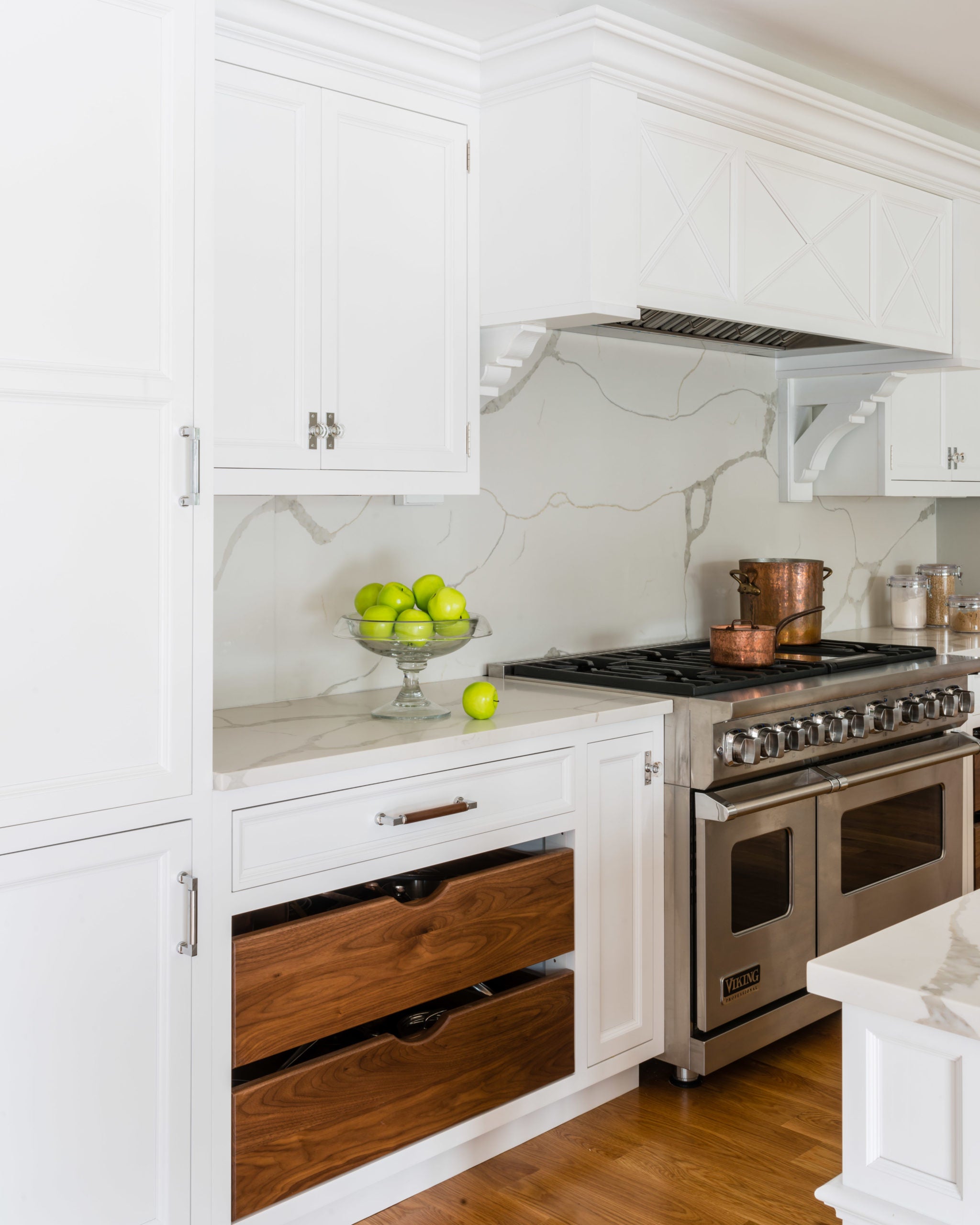 I think what has drawn people to this Weston project is that it diverges a bit from the popular all-white kitchen but still maintains the timeless look that everyone is hoping to achieve by featuring white cabinets. The walnut drawers are definitely the stars of the kitchen. We are seeing clients really gravitate toward warm woods, particularly walnut. The open walnut drawers not only bring a dose of warmth to the space but subtly incorporate a farmhouse feel without overpowering the classic vibe and aesthetic of the room.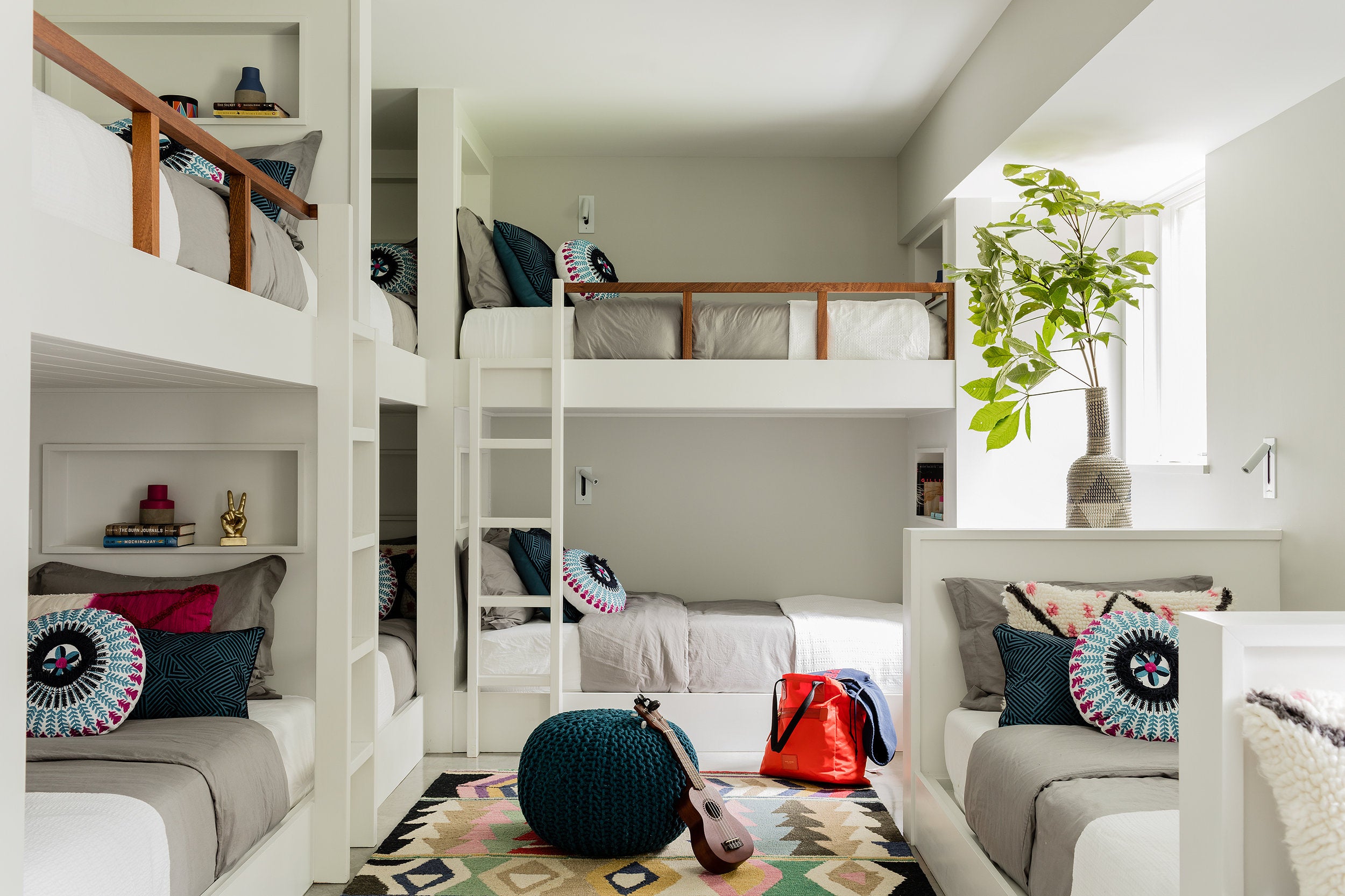 In this New Hampshire lake and ski house, this Boston-area family knew that memories are made from time spent with cousins and friends, away from the parents. We designed this bunk room, located directly off the kid-zone game room, for late-night giggles and stories or just as a place to read a favorite novel before drifting off to sleep. The room has nice light and wonderful views during the daytime, and each bunk space has a book niche and a reading light for after dark.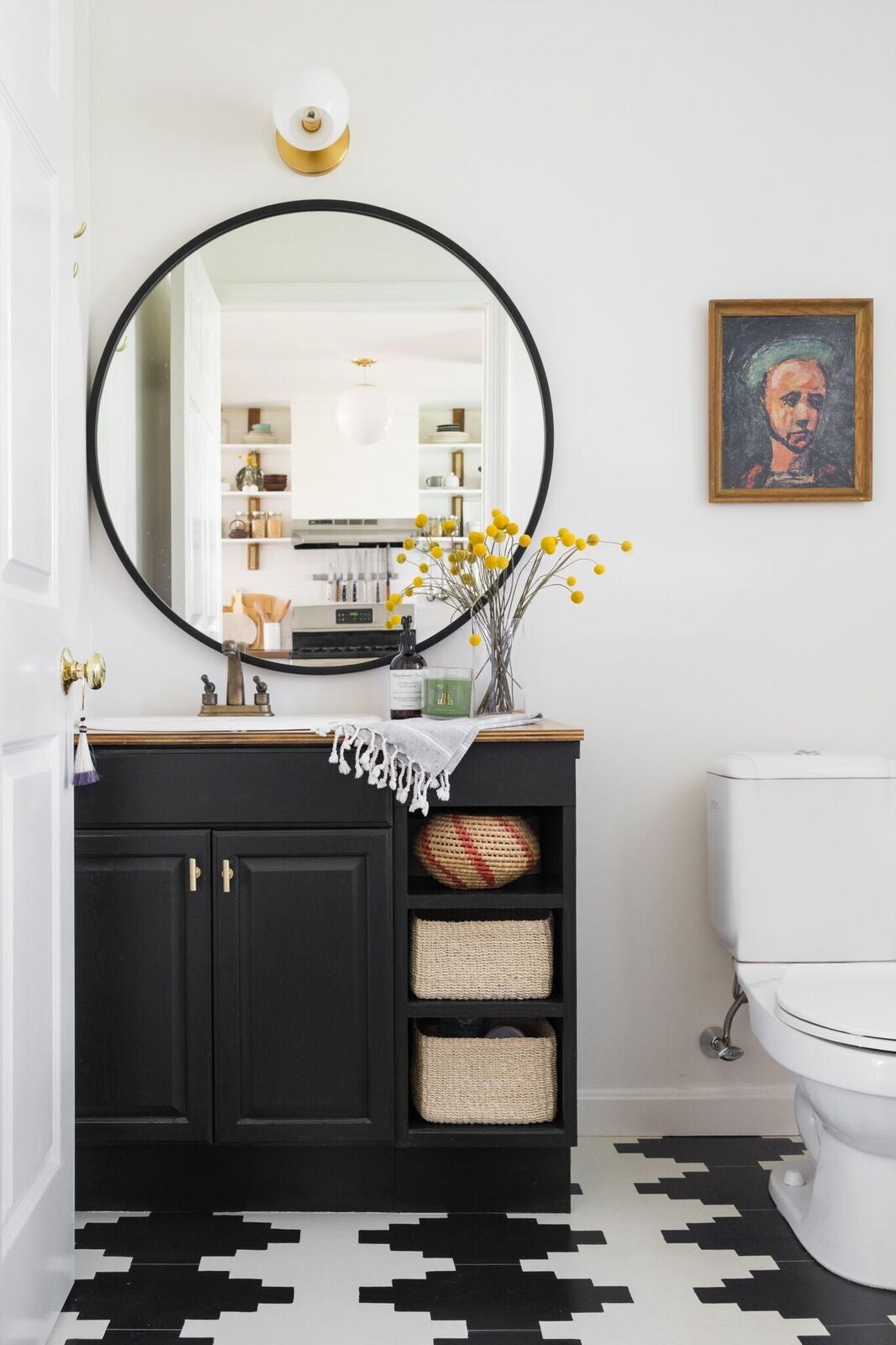 From the beginning of my career, I have included custom-built furniture in every project. As my business grew, I stopped building them myself and began outsourcing the building portion. Still, designing and building furniture is something I really enjoy. I'm a daddy's girl; my dad taught me how to tinker and how to figure things out on my own. I use my house in the Pioneer Valley as an experimentation ground where I can dive into these types of projects. I built an extension onto my vanity, painted it, changed the countertop, plumbing, [and] lighting, and rather than tiling the floor, I made a stencil and painted it. It's a classic color palette that feels timeless, and in bathrooms and kitchens, that's always the best route.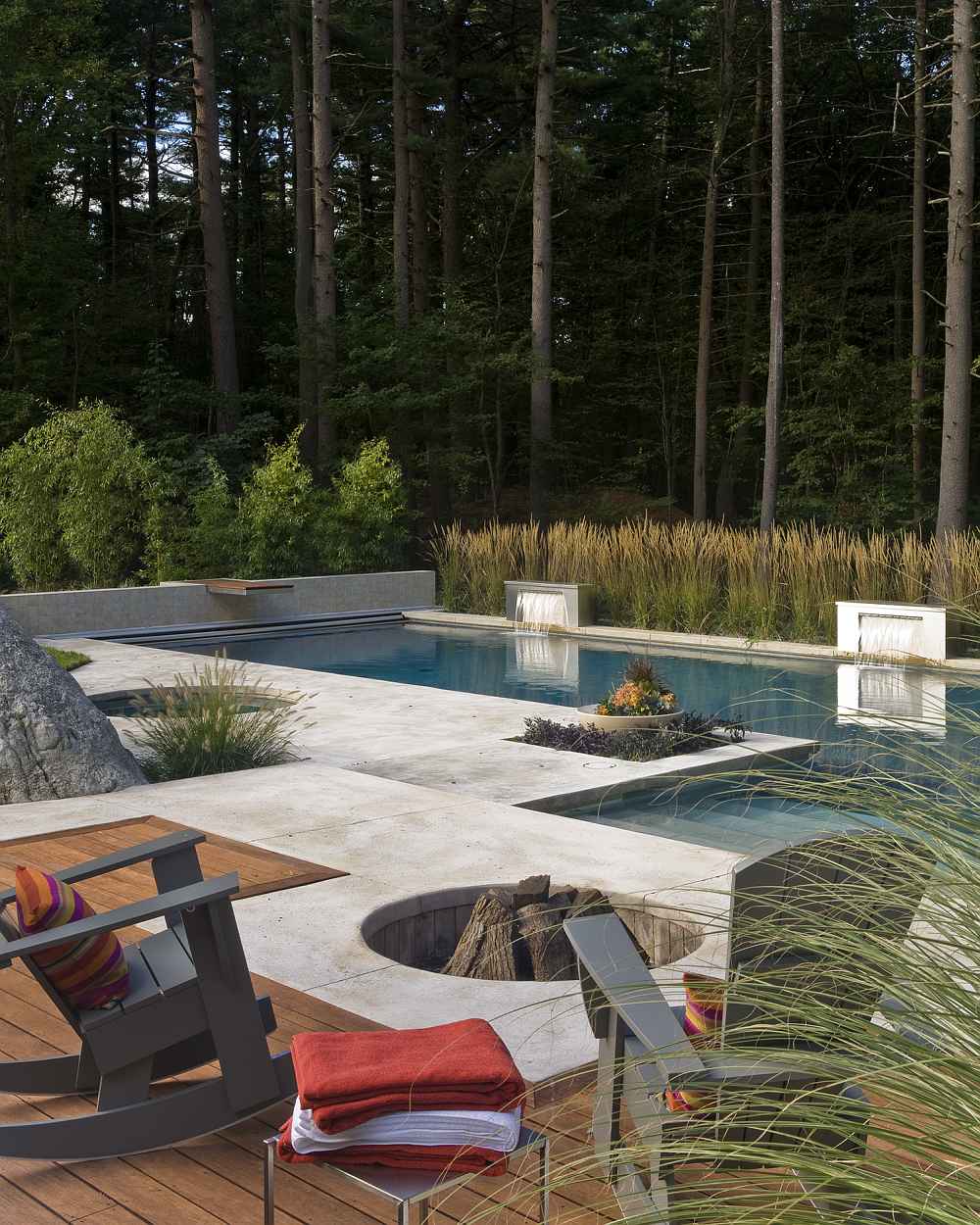 This pool in Andover was a complicated undertaking because it had to be built into a large ledge outcrop but required a minimalist design. We used etched concrete, stainless steel, and an Asian-influenced landscape design to create a calming backyard oasis. The different levels provide multiple functional spaces for small or large gatherings. Fire and illuminated water features help to extend use well into the evening hours.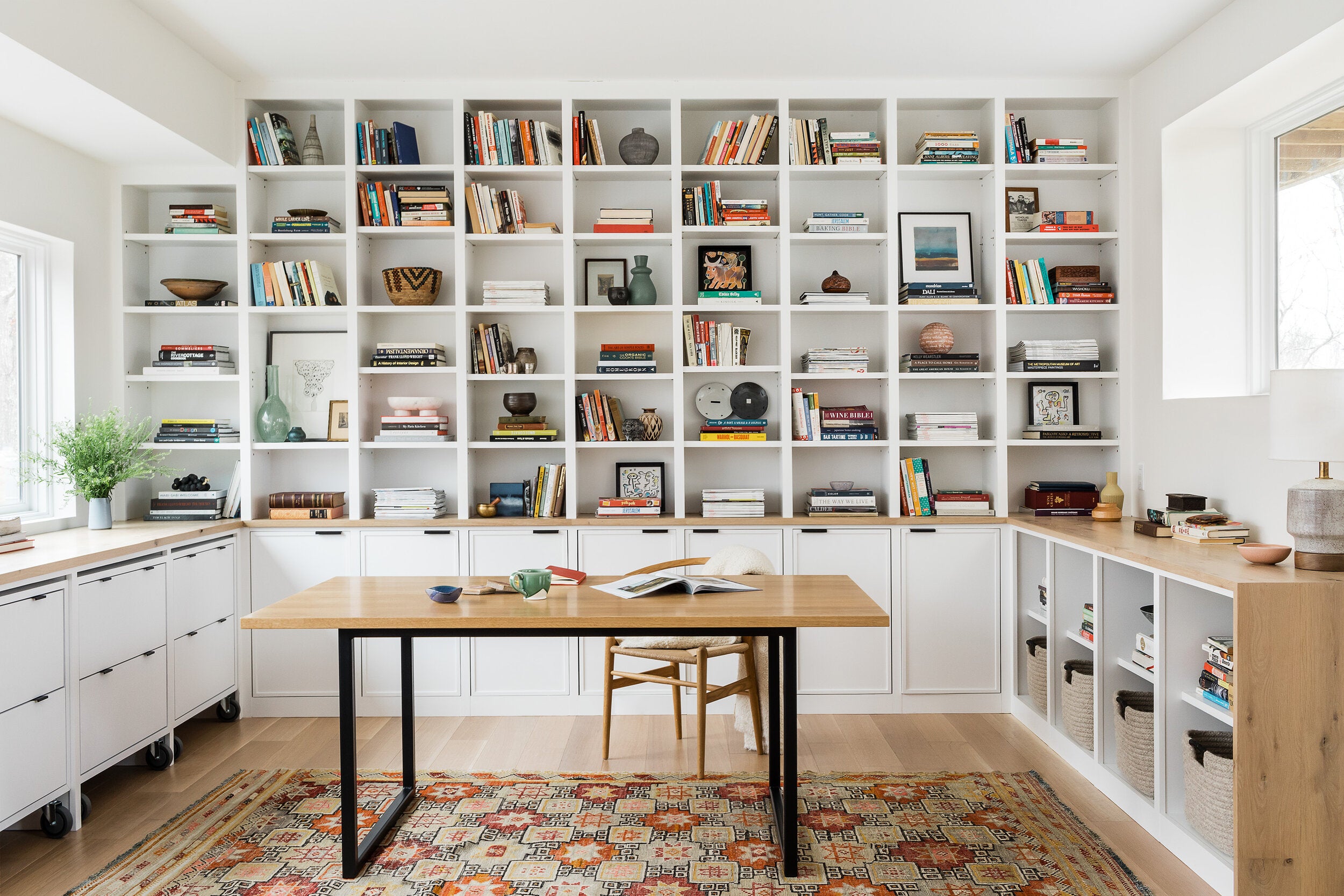 This office in Rhode Island was originally meant to be a carport, but when the couple realized that they preferred individual workspaces, we took this over as her office. She's a well-traveled Vermonter who collects books and pottery and is a coffee expert and wine enthusiast. We needed to make the space feel cozy with a smidge of a Vermont vibe. I think people like it because it is very bright. The clean-lined built-ins, furniture, and materials are modern-leaning, but it's filled with pieces that are full of texture, color, and character that make the space come to life.
Marni Elyse Katz blogs about design at StyleCarrot.com. Follow us on Facebook, Instagram, and Twitter @globehomes. Subscribe to our free real estate newsletter — our weekly digest on buying, selling, and design — at pages.email.bostonglobe.com/AddressSignUp.