Real Estate News
After fits and starts, community solar is going mainstream. Here's how to get in on it.
Community solar is not wholly unlike community-supported agriculture (CSA) farm shares, but it's a bit more complicated.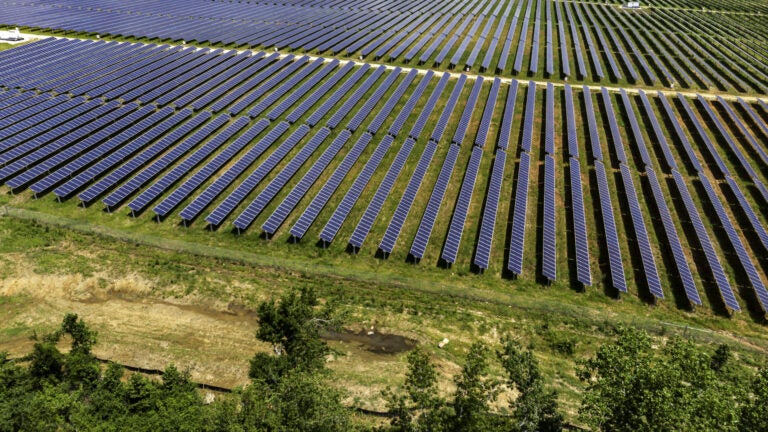 Solar photovoltaic panels are now the cheapest way to produce new electricity in most of the world, according to the International Energy Agency's 2020 World Energy Outlook, offering "some of the lowest-cost electricity in history." And yet, despite tax credits and other incentives, most people aren't able to install solar panels on their roof to sop up those money-saving sunbeams.
But even if you rent your home, own a condo without roof access, or live beneath a shady canopy of towering trees, it's getting easier to take advantage of cheap solar power through what's known as community solar.
Community solar is not wholly unlike community-supported agriculture (CSA) farm shares, but it's a bit more complicated — and instead of buying leafy greens, you're buying green energy. Here's how it works: You sign up to purchase a share of the electricity produced by a local solar farm, enough to offset your annual usage, at a fixed discount — typically around 10 percent off whatever your utility normally charges. That clean energy goes into the grid, and the solar farm earns credits from the utility company — similar to how net metering works for rooftop solar, but at a much larger scale.
Each month, you pay the solar farm for your share of the energy it produced and then receive a corresponding credit on your regular electric bill. You're basically buying green energy credits at a guaranteed discount to the going rate — though it does mean you'll generally receive two bills instead of one. To extend the CSA analogy, imagine getting most of your fruit and vegetables in your farm share box, which later reduces how much you spend on produce at the grocery store.
And like a CSA, solar farms produce a bigger bounty in the summer, which means you'll be buying more credits during the sunny months, even if your energy consumption doesn't change. But unlike a box of zucchini, those solar credits don't go bad — they get rolled over and applied to your bill during darker winter months.
Here's an example using the average monthly electric bill in Massachusetts, which was about $125 in 2019, according to the US Energy Information Administration. Imagine a family who uses exactly $125 of electricity every month, and signs up for an equivalent share of community solar power at a 10 percent discount:
Say that household's share in a community solar farm generated $150 of electricity in a sunny month, like August. They'd pay $135 to the solar farm, and have no electric bill that month — plus they'd receive a $25 credit toward a future bill.
If their share at the solar farm produced $125 worth of bill credits the next month, September, then they'd pay $112.50 to the solar farm, and receive no electric bill that month, nor any extra credits.
And if in October, their share at the solar farm produced only $100 worth of bill credits, they'd pay $90 to the solar farm, and get a $25 electric bill from their utility — which would be covered by the leftover credit from August. If the same thing happened again in November, they would once more pay $90 to the solar farm and owe $25 to their utility, for a total bill of $115.
"The big thing here is there's no risk of ever paying extra," said Scott Becker, a spokesperson for Solstice in Cambridge, which helps manage subscribers for community solar farms. "In the worst-case scenario of a meteor striking your solar farm, your solar share would stop producing energy, and you'd go back to paying the electric bills you were already paying in the first place."
It's not a new concept, but the industry has evolved in important ways, said Vikram Aggarwal, founder and chief executive of Boston-based EnergySage, a consumer marketplace for solar installations. For a long time, most community solar operations required customers to sign 20-year contracts with huge cancellation fees. That began to change a couple of years ago.
"More and more developers started offering contracts saying you can lock in rates for 20 years, but if you as a consumer want to leave, you can leave with a 30-day or 90-day notice without any fee," Aggarwal said. "That was a great change in the industry that delivered savings to the consumer without binding them long-term."
Seeing those positive changes — and as more states passed legislation making community solar feasible — EnergySage started working on a community solar marketplace. They quietly launched their comparison shopping tool last summer, listing the few community solar projects that were up and running or nearing completion in Massachusetts and a handful of other states. "They sold out very quickly, which is great news — even those projects that are not going live until spring or summer of 2021," Aggarwal said. "So they do sell in advance."
To see whether any community solar projects are available in your service area, enter your ZIP code and electric utility on EnergySage.com. From there, you can compare savings, payment terms, and other details and enroll in existing or upcoming projects (or join a waitlist for ones that are sold out). You can also sign up directly through a solar company like Boston-based NexAmp, the country's largest community solar provider with roughly 25,000 customers and almost 200 projects.
You'll want to have a recent electric bill handy, because you'll need your account number and average monthly usage. Not every Massachusetts community is currently served by a solar farm, but Aggarwal said several projects in the pipeline should be ready to accept subscribers in the coming weeks.
Aggarwal, who lives in a Brookline condo shaded by two majestic trees, recently signed up for community solar himself, for a project that will go online in March. But community solar is also a helpful option for people who plan to move in the near future, he noted, or those who wouldn't be able to finance a rooftop solar array due to poor credit. "There are projects where, as long as you're paying your electric bill on time, you can get that discount," Aggarwal said, regardless of your credit score. "It really democratizes access to direct solar power."
As you compare plans, it's important to remember that you can sign up only for a community solar farm that's within your utility's service zone. "If you're an Eversource customer in Boston, you can only subscribe to a project that connects directly to Eversource's grid. You can't connect to one built in, say, Illinois — or even one close to your home that connects to National Grid," Becker said. That's a good thing, he added, for communities and consumers alike. "Localized power projects make our grid more resilient to outages, and shorter transmission lines are more efficient since some energy is lost for every unit of distance it must travel through lines."
Community solar isn't the only way to get green energy without rooftop panels. Because Massachusetts residents can choose a different electricity supplier (affecting only a portion of their bill; delivery charges remain the same), it's possible to get 100 percent renewable energy through the state's EnergySwitchMA.gov website. However, many such plans charge more than the standard rate, or offer low introductory rates that leap higher after six or 12 months.
Given how much cheaper solar power has become in recent years, that frustrates Aggarwal. "It's cheaper than coal, it's cheaper than gas, definitely cheaper than nuclear," he said. "Anytime I see a product that is claiming that you have to pay more for green energy, it just bothers me a lot," because it reinforces the idea among some consumers that green energy has to be more expensive.
"That's not true, it's actually cheaper."
Jon Gorey blogs about homes at HouseandHammer.com. Send comments to [email protected]. Follow him on Twitter at @jongorey. Subscribe to our free real estate newsletter at pages.email.bostonglobe.com/AddressSignUp.