Real Estate News
Here's how Boston's mayoral candidates would expand affordable housing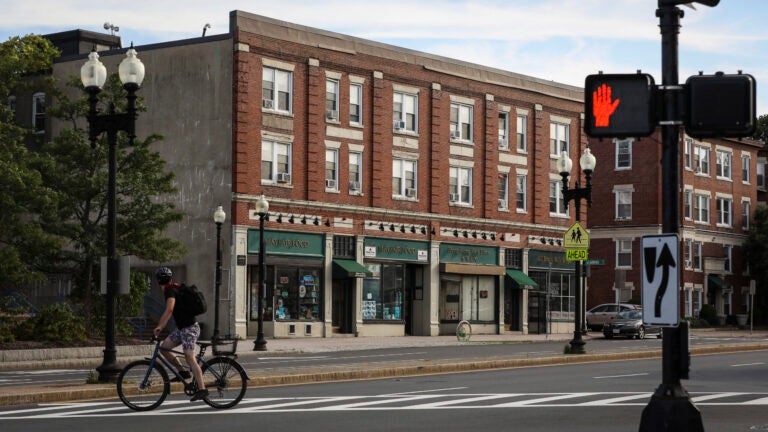 In their first face-off Tuesday night, five of the six Boston mayoral candidates pledged to usher in more affordable housing in a city where booming development has left rents rising and residents in fear of displacement.
"Affordable housing is a right that every Bostonian should have access to," said state Rep. Jon Santiago, speaking at a virtual forum hosted by Boston Wards 4 and 5 Democratic Committees. "And, you know, in the year of COVID that has been made more clear than anything."
Before leaving office last month, former Mayor Marty Walsh announced $34 million would go toward creating and preserving 841 income-restricted units across the city, serving Walsh's goal of creating 16,000 income-restricted housing units by 2030.
In 2019, his administration, in a press release at the time, boasted one in every five total residential units and one in every four rental units in Boston were deed-restricted affordable units.
Families earning less than 60 percent of the area median income — approximately $57,000 for two people or $64,000 for a family of three — lived in almost half of those deed-restricted units, officials said.
But advocates have long maintained more must be done. In Allston-Brighton alone, one organization had a waitlist of over 17,000 residents waiting for affordable units, The Boston Globe reported last year.
And activists and officials alike say the financial crisis brought on by the coronavirus pandemic has only exacerbated the issue.
"Boston's residents are struggling to pay rent; our families can't find or afford stable housing; and too many individuals are experiencing chronic homelessness," City Councilor At-Large Annissa Essaibi George said Tuesday. "COVID-19 we all know has only emphasized how these realities are so very real for our families and the effects will last long after the pandemic. In fact, they were here well before the pandemic."
Absent Tuesday's forum was acting Mayor Kim Janey, who canceled her appearance following the announcement of the Derek Chauvin murder trial verdict.
Here's what the candidates at the forum said they would do to help build more affordable housing:
Michelle Wu
Wu called for investing more city resources into affordable housing, and pointed specifically to her efforts to use Boston's green and social bonds through the capital budget to build climate-resilient affordable units.
Wu, the daughter of Taiwanese immigrants, said she's grateful to own her two-family home in Roslindale, but noted that her home would have been unaffordable for her family only one summer after they purchased the property if she didn't buy it when she did.
"We also need to keep expanding the support for first generation homeowners in the city to close the racial wealth gap," Wu said. "That is the biggest piece of why Boston is one of if not the most unequal city anywhere in the country."
The city councilor at-large voiced the importance of extending the COVID-19 eviction moratorium "until the public health emergency is fully passed" and the need for rent stabilization tools.
Wu also detailed her proposal to abolish the Boston Planning and Development Agency — the sole candidate at Tuesday night's forum to support completely scrapping the agency and starting anew.
"We need an independent city planning agency that's accountable, that has the power and the resources to truly set new rules and update the zoning code," she said.
Jon Santiago
Santiago agreed the city's zoning code is outdated.
"We are living in a 21st century world right, but we're operating under 20th century techniques," he said.
Santiago vowed to take a community-centric approach for how officials can incentivize affordable housing development and spoke about leveraging the city's AAA bond rating.
"I want to have to serve as a co-signer for low-income folks who want to purchase their first home," he said. "I want to leverage that bond rating to issue municipal bonds to make sure that renters and (community development corporations) have the equity they need to develop affordable housing."
Santiago, a South End Democrat, also highlighted how the Legislature passed the "housing choice" bill earlier this year, easing the way for local officials to build housing by requiring only a simple majority — instead of a two-thirds majority — to make zoning changes.
"I want us to be innovative in how we think about expanding affordable housing opportunities," he said.
Annissa Essaibi George
If elected, Essaibi George would create "better paths to homeownership" for residents while boosting affordable housing creation, she said.
Specifically, the city councilor at-large said she would focus on "creating generational wealth to break down systemic racism that we see in our housing market."
"I strongly support the creation of more affordable and workforce housing for working families, for our seniors, and for those living in poverty," she said. "Right now, Boston's housing stock is lacking. We need to be sure that we are building housing that will enable Bostonians to live in the city they've contributed so much to."
Essaibi George indicated she doesn't want to dissolve the BPDA as mayor, but said officials must make sure both aspects of the agency "aren't in competition with each other."
Essaibi George said she supports breaking up the BPDA by creating an independent office for planning that would prioritize individual neighborhood needs.
Planning, she said, must be rooted in community conversation.
"I believe in growth," Essaibi George said. "I think that's really important for our city, but I also think that it's important that as our neighborhoods grow, that it's an aesthetically pleasing growth, that it is a sensible growth, that it is smart growth, and those shifts and those changes as they come along have to be properly planned out. It can't be reactionary."
Andrea Campbell
Campbell said the BPDA needs to be transformed, not eliminated.
"I'm a district councilor," Campbell said. "I have had to deal with every single development project that comes in my district. And what I have heard from residents (and) those who are doing construction and development is their lack of process, it's time consuming, it's not predictable."
Instead, Campbell would seek to build a "civic engagement bureau" within the BPDA to better engage local neighborhoods in the process and bring on planning experts to assist the agency, she said.
"I absolutely think there's a way in which to do a cultural shift and have accountability all at the same time," Campbell said.
Campbell added she saw and felt the impact of the lack of affordable housing and gentrification growing up in Roxbury and the South End and worked to find solutions in City Hall, which she vowed to continue to push for as mayor.
"My first piece of legislation on the council was a Community Preservation Act. It is generating millions of dollars to create more affordable housing," she said. "I've spearheaded a vacant lot initiative. We have hundreds of city-owned vacant lots, sometimes blighted, where I've pushed the city to activate those lots for affordable housing purposes, mixed development projects, and so many other things."
John Barros
Barros called for establishing a fund and land trust aimed at preventing evictions and displacement.
"We've got some real challenges coming out of the pandemic," Barros, who served as the city's chief of economic development in the Walsh administration, said. "We've got to answer those immediate threats, right away, and it's going to take city intervention and city financial to do that."
Barros said it's prudent the city sets affordable housing policies and development based on area median income of a neighborhood, not the threshold set by the federal government, "which is far too high for most of our neighborhoods," he said.
Barros also rejected the idea of abolishing the BPDA.
"If you were to get rid of the BPDA, you'd create a lot more lack of transparency. It's a regulatory body," he said. "You need to improve the BPDA. You've got to create some consistency and transparency. We have to double the amount of staff and resources we spend on planning. The BPDA needs to take planning seriously, and right now, planning plays second fiddle to development."
Barros said officials "have to be true to what the neighborhoods' visions are" for new development.
"We should no longer allow our planning to be dictated by what the private market can pay for or else we're always going to cheat the resident vision and the resident plans," Barros said.