Real Estate News
Don't dip your doughnut in this: Dunkin' paint hits the market
"I would definitely use these on the wall to pack the right kind of punch." Continue reading and get more style tips at realestate.boston.com.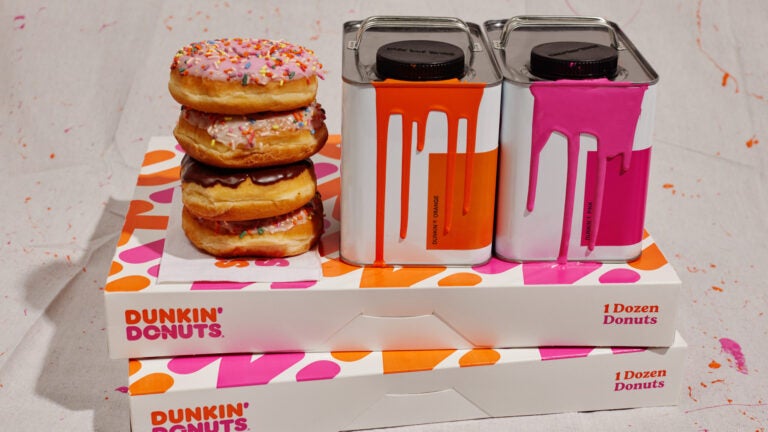 Dunkin' fans, rejoice! Starting today, you can get Dunkin' in your cup and on your walls, too.
In its first-ever paint partnership, Dunkin' has teamed up with online retailer Backdrop to offer the brand's iconic hues in paint form.
The vibrant pink and lively orange are available in half-gallon sizes and retail for $39 each. But don't expect to tack a paint order onto your morning coffee run. While Dunkin' stores often sell mugs, apparel, and other branded accessories, the paint can be purchased only online at backdrophome.com/dunkin.
"With home improvements on the rise this year, we're thrilled to team up with Backdrop to give Dunkin' devotees the opportunity to really bring home their love for our brand with a fresh coat of paint for the ultimate home décor," said Jamie Kelly, a strategic partnerships representative for the doughnut shop brand.
Mary Flo Ouellette, cofounder of Somerville-based Squarehouse Studios, said the perky pairing evokes some of her favorite fashion labels, like Emilio Pucci and Lilly Pulitzer. "I would definitely use these on the wall to pack the right kind of punch. For example, in a dining room paired with white wainscoting or a fun powder room." Color enthusiasts could sweeten up the look of a door, bookcase, or picture frame with the candy-like tones, too.
Ouellette and cofounder Steven Santosousso agree that in certain spaces, the saturated tints would even be right at home on a ceiling.
Outdoors, painted wooden planters and furniture are easy ways to glam up a patio for summer entertaining, suggested Boston designer Taniya Nayak. "Why not paint a pair of Adirondack chairs in these fresh colors? These shades will look great if you have a lot of greenery in your backyard."
It's not the first collaboration for the international coffee company. In a 2018 promotion, Dunkin' partnered with Saucony on limited-edition Kinvara 9 running shoes, featuring bright orange and pink soles, so that loyalists could literally "Run on Dunkin'." Now consumers can paint on Dunkin', too.
Take our poll:
Subscribe to the Globe's free real estate newsletter — our weekly digest on buying, selling, and design — at pages.email.bostonglobe.com/AddressSignUp. Follow us on Facebook, LinkedIn, Instagram, and Twitter @globehomes.