Real Estate News
The Northeast warmed up to air conditioning — eventually, a new report finds
And that's not good news for the planet. Was it a deadly heatwave in the '70s that changed people's minds? Continue reading at realestate.boston.com.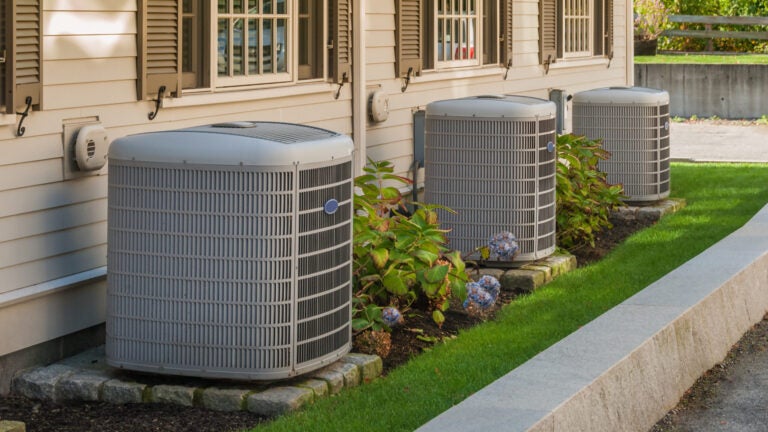 Since the use of air-conditioning took off in 1975, the Northeast has come to embrace it, according to a new study by Fixr, a home improvement site.
In 1975, 13 percent of the new homes built in the Northeast had air conditioning. Today, it's 89 percent, according to the report. Fixr.com used the latest US Census Bureau data to plot the course of air conditioning in American homes: from its nascence in the early 20th century; through the 1970s, when nearly half of the new single-family homes in the United States had it; to 2020 when 95 percent reported using it. It was in 1975 when air conditioning took off.
Why 1975? Could it have been a reaction to the 1972 heatwave in the United States, when nearly 900 people died as a combination of high heat and very high humidity spanned roughly 16 deadly days?
By the 1970s, installation costs had come down. In 1914, when the first residential unit was installed in the United States, Fixr writer Adam Graham reported, the cost range was equivalent to $269,000 to $1.3 million today. Yeah, only the superrich kept cool.
Now, Graham estimated, "central AC costs between $3,500 and $12,000 on average."
He also noted that Southerners were quick to embrace air conditioning, which "helped grow the economy as businesses that once had to close during the summer months can now remain open year-round."
In the South, 95 percent of new single-family homes had AC by 1990, a figure the Midwest didn't reach until 2017. The Northeast still isn't there (89 percent in 2020), and the West is just below that figure (86 percent).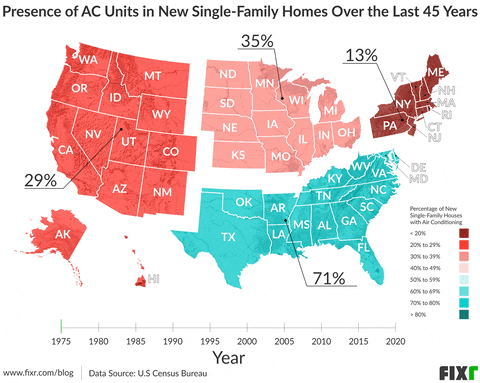 AC has encouraged development in locations previously considered "inhospitable and too hot to live in year-round," Graham wrote.
In the Northeast, Graham wrote, "Summers can be hot, but not nearly as hot as those in the South."
True, but hot is hot. We may not live in Alabama, but in Boston, the sound of summer isn't tree frogs and crickets; it's the low, steady hum of air conditioners.
More AC means more carbon emissions, and, as scientists are warning, exacerbated climate change and more heatwaves.
"Residential air conditioning use is not exactly environmentally friendly," Graham wrote. "With so many homes now having AC installed, it results in roughly 100 million tons of carbon dioxide being released into the atmosphere each year."
Gives you the chills, doesn't it?
Subscribe to the Globe's free real estate newsletter — our weekly digest on buying, selling, and design — at pages.email.bostonglobe.com/AddressSignUp. Follow us on Facebook, LinkedIn, Instagram, and Twitter @globehomes.