Real Estate News
Boston has one of the most rat-infested metro areas in the U.S., a new report finds
Boston is the second most rat-infested metro area in the U.S., sneaking in just behind Philadelphia.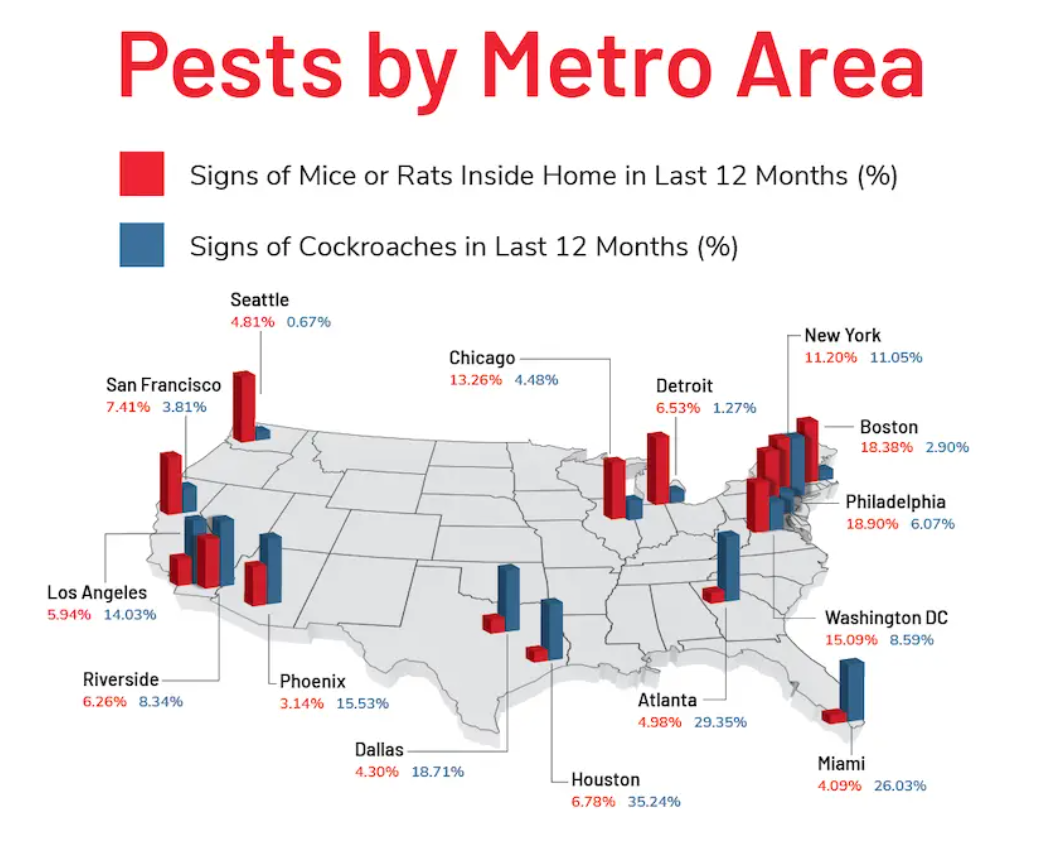 Coming in second place is typically gut-wrenching for Bostonians, but in some cases, it's probably for the best.
According to Census data compiled by Apartment Guide, Boston is the second most rat-infested metro area in the U.S., with 18.38 percent of the country's rodent sightings, sneaking in just behind Philadelphia's 18.9 percent. Both cities sat well above the national average of 11.9 percent.
The research, which compared the 15 most populous metro areas in the U.S., found Washington, D.C., ranked third at 15.9 percent, followed by New York at just 11.2 percent.
This finding may come as little surprise to many in the area, after increased rodent sightings in Cambridge and Boston last year led both cities to take action to control their pest populations. Boston's City Council has taken up the issue numerous times, with Councilor Liz Breadon calling the rodents a "public health risk and concern." Cambridge initiated a "Rodent Taskforce" and created a heat map to show where in the city the critters are holing up.
The findings don't surprise Bobby Corrigan, an urban rodentologist who has spent his 30-year career studying the mammals.
Corrigan noted that the No. 2 ranking could just as feasibly belong to any major city in the eastern megalopolis. Boston, however, is a "near-perfect," home for rats and mice, he said. It's a seaport city with old infrastructure and "deteriorating" underground sewers. Combine that with the bustling shops, restaurants, and parks, all rife with food trash, and you essentially get rat-heaven.
"When you have a lot of food like they have in Boston Common, all those litter baskets … just spilling over with food trash," Corrigan said, "rats can crank out the maximum number of young."
A well-fed female rat can produce up to 12 pups in one litter. In eight to 12 weeks, those pups will become sexually mature and be able to reproduce themselves. Pregnancy for rats lasts about three weeks.
"If you sit down with those numbers and calculate that for the course of a whole year … you'll come away saying 'Oh my god,' " he said.
Moreover, rat populations around the world are increasing rapidly, likely in part because of climate change, Corrigan said.
"Rats do not hibernate," Corrigan said. In order to survive the cold winter months and hold onto as much heat-generating body mass as they can, they pause reproduction. However, as winters become warmer, there's no need for the reproduction hiatus. "So what are rats doing around the world? They're having babies in the middle of the winter," Corrigan said, causing a "logarithmic addition" to an already substantial population.
John Bozarjian, owner of B&B Pest Control, a pest management company with locations throughout Greater Boston, also noted the impact of warm winters on the area's rodent population.
"Back in the day, mice and rats, you didn't see in the winter. These warmer winters we're having, the natural selection, the kind of natural knockoff of rats and mice, it's not happening," Bozarjian said. "These deep freezes we used to get would kill off half the rodents anyways, but since it's warmer, they're not only not dying off, they're also breeding more."
Human population growth, and the new development that comes with it, may also be to blame. Years of development built on top of old construction has left the foundations of the city filled with old pipes and wood, creating a "rat world" below our feet, Corrigan said.
"Someone comes in to rejuvenate the neighborhood, or puts up a new giant office building, and they gentrify an area, and they tear down an old building that's no longer useful. Well, many times … they're allowed to leave what's called abandoned infrastructure," Corrigan said. "That means they can leave the old pipes where they lay, and just put new pipes next to them."
Because Boston's buildings and housing are so tightly packed, it can be difficult to prevent rats and mice from moving in, even in an immaculate living space, Bozarjian said.
"You could be doing everything on your end to make sure there are no rats in your yard, but you know, the houses in the South End, South Boston, they're right on top of each other," he said.
In 2020, Boston saw an uptick in rodent complaints, which the city's Inspectional Services Department spokeswoman, Lisa Timberlake, said in an e-mail may have been "in part due to the pandemic, which forced many people to be in the home more thus creating a larger amount of trash that was not properly maintained."
In 2020, complaints totaled 1,145, compared with 1,002 in 2019. There have been 923 complaints so far this year, according to Timberlake.
Bozarjian said in his experience the city seems to take the rodent problem seriously.
"Boston has always been pretty proactive, especially with citing landlords who won't take care of the issue on their property," Bozarjian said.
The city's Inspectional Services Department has 14 licensed inspectors, with plans to add another soon, Timberlake said. In Boston, all construction sites must control any rodent infestations before they can be granted a building permit and must submit a pest control plan and pass a pest inspection. Any businesses in the city with excessive waste are required to get a license, or risk fines up to $1,000, according to Timberlake's e-mail.
However, even a strong response from the city may not be enough to keep the critters out of peoples' homes.
"A lot of times, these rodent problems that the city is facing, there's not an all-hands-on-deck approach by the neighborhood," Bozarjian said. "If not everyone is doing their part, it's gonna be a struggle to get rid of them."
Rat problems? Tell us.
Your response may be featured in an upcoming Boston.com story.
Subscribe to our newsletter at pages.email.bostonglobe.com/AddressSignUp. Follow us on Facebook, LinkedIn, Instagram, and Twitter @globehomes.