Real Estate News
This is what it's like to work from home in a tiny house
Tiny-home owners talk about the challenges and offer advice for working in 400 square feet or less. Continue reading at realestate.boston.com.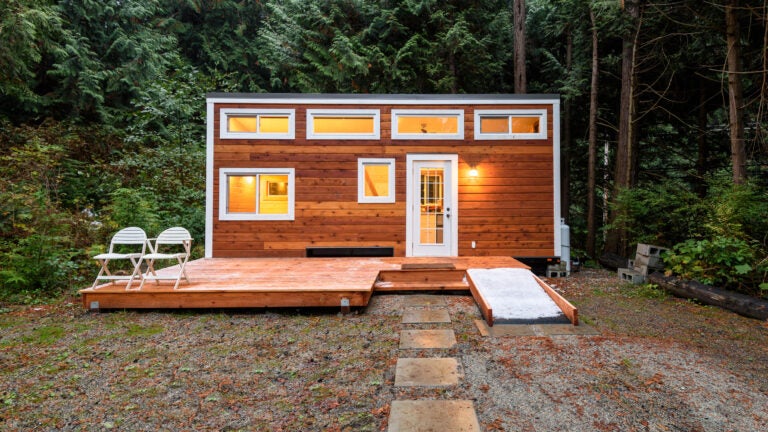 When the coronavirus pandemic hit in March 2020, many workers were forced out of the office and into the virtual, work-from-home world of Zoom and Slack. Some worked from a home office, others from their living room. For author and life coach Kerri Richardson, the two were already one in the same.
"My office is just a little table that flips up from the wall in the living room," Richardson said.
Richardson is one of the thousands of people in the United States who have joined the tiny-house movement, downsizing from her 2,000-square-foot home in Newbury two years ago. Today, Richardson, her wife Melissa Silk, and their two cats, Kiva and Kaia, live— and work— in a 240-square-foot trailer parked in a family member's backyard in a town southwest of Boston.
Richardson has worked from home for 15 years, she said, but the pandemic still brought unexpected challenges.
"What changed with the pandemic was before that happened, I had a great coworking space in Walpole called the Coworking Station, so I could go there to work," she said. "I would go to coffee shops or cafes, which I really enjoyed, but once the pandemic hit I had no choice."
Silk was working to start her own business, a situation the tiny home was not fully equipped for, Richardson said.
"​​When we built the tiny house, we built it with only needing one office available," she said, "so now that she's starting a business, she's kind of doing it from the couch or the loft."
Sharing the small space was especially complicated when it came to taking meetings or calls.
"Everything had to happen out of the tiny house, and so because there was two of us living in there, if I have a client call coming up, I need to say to Melissa, 'Hey you either need to leave the house or stay in bed and not make a sound, like don't cough, don't sneeze, don't come down the stairs to go to the bathroom because they creak,'" she said.
Internet problems complicate matters
Jackie Walker, a tiny-house owner in New Hampshire, faced a similar dilemma during the pandemic. Walker has worked as the deputy director of a childhood cancer charity for eight years, but was going into the office in northern Massachusetts only once or twice a week when the pandemic hit. Since then, she has been completely remote, working from the 8-by-20-foot space she shares with her husband, Wesley LeFevre, and their two dogs.
Over the summer, LeFevre was furloughed from his job as a commercial driver trainer at the University of New Hampshire, adding to the existing challenges of working from home in a confined space, Walker said.
"Especially because of the nature of what I do, so many conversations that I have with people are very private, so that was definitely the hardest part," Walker said. "For example, if I'm in the house and it was lunchtime, but I have a meeting [and] he was hungry or the dog needed something. It was distracting."
Luckily, Walker's tiny house sits on an acre of land rented from someone she and LeFevre found on Craigslist, offering the couple plenty of outdoor space that came in handy when she had sensitive meetings.
"We were really fortunate on days where there was nice weather that we could either both be outside, or mostly Wes would be outside or out of the house so that when I was working I could have some privacy," she said. On foul-weathered days, Walker said, "he would basically just put on noise-canceling headphones and read or watch TV. Sometimes I forgot he was up there because it is like a little bit blocked off."
Occasionally, both Walker and LeFevre, who is also working toward a bachelor's degree in outdoor education, would have conflicting class and meeting schedules, and one of them would end up working from the car.
Aside from privacy, the main challenge Walker said she faced was accessing a strong Wi-Fi connection. Because of legislation surrounding tiny houses, the couple was unable to get the Internet to run directly to their home, Walker said. Instead, they have been relying on the connection from the main house on the property, a connection that has been unreliable, especially when it comes to joining Zoom meetings and videoconferences.
"For months, there was just no chance that I was going to be in these [Zoom] meetings, so after a while I would just let people know I'm probably just going to have to call in and listen," Walker said. "We've tried several different Wi-Fi boosters and routers and had our landlords in the main house move the router closer to our tiny house. We're not that far from the main house, and there's no obstacles in the way, so we're not sure why this is happening, but it's continuing to be a problem," she said.
Tips for working remotely in a tiny home
For those considering joining the tiny-house movement while working remotely, Stephanie Burrows, founder of the Tiny Homes of New England Meetup group, offered advice.
"Try to be forward-thinking if you're going to be in it for a while. Make every bit of space be convertible in some way, or have a specific purpose for it so you're not wasting space," said Burrows, who also works as a kitchen and bath designer. Burrows previously rented tiny houses, and will soon move into the tiny home she designed for herself. Knowing she might have to work from home in her 8.5-by-37-foot trailer influenced her design, she said.
"The area where my desk is, part of that wall space is also a fold-dining room table. What that does for me is for working when you need that extra countertop surface, it's an extension of the desk area," she said. "I also created vertical space so that I'm able to do the stand up-sit down kind of desk for long periods of time."
For those with less control over the design or the amount of chaos in their home, Richardson and Walker also offered advice.
"Don't take your days as they come, because you're going to lose a lot of time that way," Richardson said. "The habit I've gotten into that has been super helpful is every Sunday night or so I plan my week, and I think about what do I need to get done work-wise this coming week? … I try to do my client calls on one day, rather than having them scattered throughout the week."
To prevent Wi-Fi woes, Walker suggested finding a Plan B.
"We had the option when were switching phone providers to get a free third line, and I wish we had known at the time we were going to have Wi-Fi issues so we could've gotten that free third line and come [up] with some sort of data plan for a mobile Wi-Fi hotspot," she said. Walker also recommended investing in a quality pair of noise-canceling headphones.
Despite the complications, there is a light at the end of the tunnel, she said.
"A lot of the issues that I'm facing working from home in a tiny house are pandemic-related, so I hope it doesn't deter people from getting tiny houses. There are a lot of people that I know in this community who work remotely 100 percent of the time and don't have these issues," she said.
"I wish that we had thought of more options before we settled into what we have now, because it's a little harder to make up for not preparing for the unknown."
Subscribe to the Globe's free real estate newsletter — our weekly digest on buying, selling, and design — at pages.email.bostonglobe.com/AddressSignUp. Follow us on Facebook, LinkedIn, Instagram, and Twitter @globehomes.