Real Estate News
City councilors want to get tough on Boston's 'chronic offender' landlords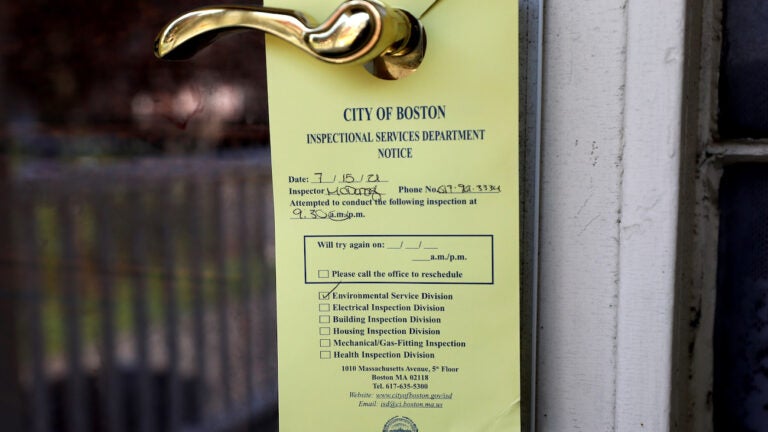 A trio of Boston city councilors is seeking to crack down on landlords in the city who repeatedly violate municipal code, especially large companies that pay off fines without fixing the problems on their properties.
Councilors Liz Breadon, Lydia Edwards, and Kenzie Bok on Wednesday called for a public hearing to review city codes regarding rental property inspections and standards, with an aim to better enforce existing rules against violators.
"We just completed the annual rituals around — in September — the rental lease renewal turnover cycle, colloquially called 'Allston Christmas,' and I've heard from a significant number of Allston-Brighton tenants about rental unit conditions and questionable compliance with city regulations," Breadon told councilors.
"We must review the city's current property registration and inspection practices," she added.
Today I am introducing a hearing order with @LydiaMEdwards @KenzieBok to review rental unit conditions, standards & inspections in the City. This will be an opportunity to review enforcement of code in order to hold accountable landlords who are repeat offenders. #bospoli pic.twitter.com/n6gNf335ET

— Councilor Liz Breadon 🏳️‍🌈 (@LizBreadon) September 29, 2021
In particular, Breadon is most concerned with "larger corporate and absentee landlords who have become chronic offenders, allowing violations to pile up and having the means to pay off fine after fine without actually improving living conditions in their units," she said.
"We're dealing with more and increased rental units, but we also are wondering if they're really complying with the law," Edwards said.
Councilors note that under city code, non-exempt owners of rental properties must register each of their units with the city's Inspectional Services Department, and the law "generally requires" inspections of all rental units every five years for code compliance.
However, unit registration information is not publicly available "leaving tenants, rental unit occupants, and other members of the public with limited means to determine whether a rental unit is in compliance with city regulations," councilors wrote in their hearing order.
The code does also not require owners to disclose all individuals or entities with ownership interest in a unit to the city during the registration process.
The result is holding chronic code violators accountable becomes difficult, according to Breadon.
Bok said she is "hoping that we can figure out how together we use our existing regulations to escalate things more effectively and solve more of these problems."
Ensuring landlords are complying with municipal code has been a longstanding issue facing local officials, particularly in a city where a majority of residents rent their homes, and tales of code violations and property scams are perennial each fall, as Boston's robust, renting college student population returns for classes.
Edwards called the compliance problem "one of the most consistent conversations" she's had since she was elected as a councilor of District 1 in 2017.
But councilors have signaled a renewed interest in pinning down the problems.
Last week, Edwards, Bok, and Breadon filed a home rule petition that, if approved by the council and state lawmakers, would allow Boston to consider increasing certain municipal fines from $300 to up to $3,000 per violation.
"It really encourages certain actors to just blow off the municipal fine," Bok said of the current "low" fines on Sept. 22. "We've all heard the frustration from our constituents. You know, many of these bad actors will go as far as to sort of just incorporate a certain number of fines into their financial planning, and wait until it's actually until they judge it to be profitable for them to make changes and fixes on things instead of improving conditions for Boston tenants and neighbors."
Both filings are under committee review.