Real Estate News
Mayor Wu announces $50 million for improvements to Jamaica Plain affordable housing complex
'We plan to make affordable housing a top priority when it comes to putting federal recovery funding to good use.'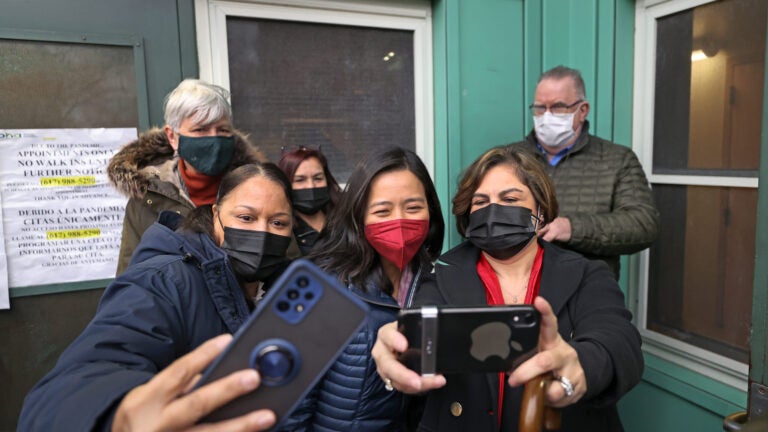 With the Mildred C. Hailey apartments and a crowd of supporters behind her, Mayor Michelle Wu announced a $50 million investment into improving the units and signed an executive order reaffirming the city's commitment to fair housing and racial equity.
"Today was an exciting recognition of the legacy of activism and leadership at Mildred Hailey and the legacy and activism of housing and tenants rights activists across the city and beyond," Wu said. "We plan to make affordable housing a top priority when it comes to putting federal recovery funding to good use. That means preserving and improving affordable housing that already exists, as well as adding more affordable housing options for residents across the city."
At the end of the briefing in front of the Jamaica Plain apartment building, Wu signed an executive order affirmatively furthering fair housing and implementing a city assessment of fair housing. The order is intended to instill the practice of fair housing and racial equity throughout the city government, she said.
The investment in the Jamaica Plain apartments is a "significant part" of the mayor's plan to prioritize affordable housing, the mayor said.
"These funds will go toward improving plumbing and ventilation, renovating windows, kitchens, and bathrooms across 526 units of housing," Wu said. "The dollars will come from a few different sources, including the city's capital budget, as well as new federal funds from the American Rescue Plan Act — [and] fingers crossed, Boston City Council."
The Boston Housing Authority aims to begin work within the year, according to the mayor's office. Centre Street Partners, a collaboration of the Jamaica Plain Development Corporation, The Community Builders, and Urban Edge, will carry out the redevelopment project.
The executive order builds on Boston's legacy as the first major city in the country to include affirmatively furthering fair housing requirements in its zoning code, Wu said.
"Today's news is a major step toward protecting current and future residents' access to dignified, affordable housing," Wu said. "It's an investment that speaks to our city's commitment to this community, to our ability to move forward by ensuring the long term sustainability of these residences."
The investment will restore more than 250 housing units for low- to moderate-income residents and create hundreds of new units, Wu said. She went on to acknowledge that the investment builds on generations of work from advocates and tenant leaders.
Wu pointed to the planned renovations' potential to prevent environmental health hazards like mold and increase energy efficiency, saying, "housing justice is climate justice."
The mayor was joined at the press conference by a number of advocates and elected leaders. State Rep. Nika Elugardo applauded Wu's announcements but emphasized they are only a start.
"It is a return on the investment of its people. And so this $50 million is a down payment on an investment," Elugardo said. "This work is not done. The $50 million is an incredible investment for a city municipality. but the Commonwealth of Massachusetts also has resources that we need to pull into this as well."
City Councilor Kendra Lara, who represents the neighborhood, thanked and congratulated those who pushed for investments in public housing.
"When we make an investment in public housing, we are making an investment in the working class people of the city. We're making an investment in the people that make our neighborhoods, the vibrant communities that they are today," Lara said. "My hope is that this is only the beginning of a much bigger investment into more public and social housing all across the city."
Subscribe to our newsletter at pages.email.bostonglobe.com/AddressSignUp.