Real Estate News
With sea level rise to come, Mayor Wu is turning her attention to East Boston's waterfront. Here's what to know.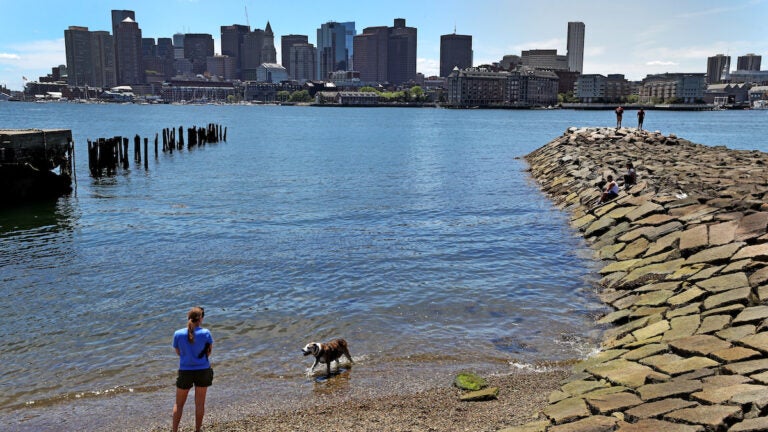 As Boston braces for the anticipated impacts of climate change, with rising sea levels in its historic harbor, Mayor Michelle Wu is bringing to the forefront a focus on neighborhood resiliency, namely, how East Boston will prepare for the rising tide.
On Wednesday, Wu's administration announced its intention to take on a municipal harbor planning process for the coastal community, while also amending a similar plan for the city's Downtown waterfront.
The latter zoning plan has been the subject of much debate and scrutiny since it was approved in 2017.
As it stands, the plan paves the way for two soaring towers to rise above the harbor: a 600-foot office and residential skyscraper backed by developer Don Chiofaro that would replace the Boston Harbor Garage, and a 275-foot hotel, slated for the site of the James Hook & Co. seafood restaurant.
Acting Mayor Kim Janey, last year, announced her intent to rewrite the plan — and it appears Wu, to some degree, is following suit.
"We are looking to, in some ways, hit a little bit of a reset on that process to really center resiliency, equity, access to the waterfront, and (to) make sure that in the limited time that we have, we can't get this wrong at the waterfront," Wu told GBH News on Wednesday.
Here's what to know:
Equity is a driving factor in the focus on East Boston's forthcoming plan. The neighborhood is also 'incredibly vulnerable' to rising tides.
The Wu administration, which has put forth a vision for a Green New Deal for Boston that would boost climate resilient infrastructure and green jobs, is approaching its climate work with an equity lens.
"We must meet the climate crisis with urgent action through maximizing resiliency, equity and accessibility in Boston," Rev. Mariama White-Hammond, chief of energy, environment and open space, said in a statement. "As our city continues to evolve, climate change and racial justice must be at the forefront of our development process."
Speaking to The Boston Globe, White-Hammond put it this way: "We can't say 'equity' and prioritize downtown over East Boston."
"Our commitment to equity requires us to focus on East Boston and not delay it anymore," she said.
That said, White-Hammond said city officials won't seek to finish the new East Boston plan before returning to the downtown plan per se, but the former area is "incredibly vulnerable" to climate change impacts and is a priority for City Hall, she told the newspaper.
"The downtown community will have to wait a little bit, because we need to make sure East Boston is given the focus and attention and support that it needs," White-Hammond said. "Then we can come back to … a conversation around downtown."
In East Boston, the new harbor plan will build upon a planning initiative, "PLAN: East Boston," currently underway by the Boston Planning and Development Agency. City officials described PLAN as "a community-driven, neighborhood-wide planning initiative that is creating a framework to predictably shape the future of East Boston."
"PLAN: East Boston is focused on expanding housing options that are affordable, advancing climate preparedness and promoting a healthy environment, transportation connectivity, and supporting neighborhood economies that meet the needs of local residents and small businesses," the city said in a press release. "The planning process is developing recommendations that will shape the municipal harbor planning process, and codify and implement the community's desire for a resilient and equitable waterfront."
Further study of the downtown plan shows changes 'need to occur,' Wu says.
Since state officials approved the Downtown Waterfront District Municipal Harbor Plan in April 2018, the city has conducted further planning, analysis, and outreach in the 42-acre area the plan encompasses, Wu wrote in a letter to the Massachusetts Office of Coastal Zone Management on Wednesday.
In 2020, the city published a report that studied possible coastal resilience tactics for downtown Boston and the North End.
"As a result of the climate analysis we have done and the subsequent public engagement we have started, it has become clear that further refinement of this harbor plan needs to occur," Wu wrote in her letter.
The plan and similar ones across the commonwealth allow cities and towns to green-light construction projects that otherwise would have violated state law that places strict regulations on the size of buildings near the water, with the condition each project grants a certain amount of public waterfront access.
Last year, however, a Suffolk Superior Court judge ruled in favor of a lawsuit seeking to block the so-called Pinnacle project — the 600-foot skyscraper — stating the waterfront plan was approved by the wrong state official in 2018. The decision forced Gov. Charlie Baker's administration to have to re-approve waterfront plans around Massachusetts.
Right now is an ideal moment to reconsider the plan, Wu said on GBH's "Boston Public Radio" on Wednesday.
"I know it's frustrating for everyone that we are at this point today after so many years of conversation," Wu said. "But each year we see the impacts of climate change intensify, and sea level rise go up, and the flooding, and (there's) opportunities we have right now during this moment to really recover from the pandemic in an equitable way. So we're going to get it right."
'We're committed to our neighborhood': Tower developer stands with Wu on climate resiliency
In a statement to the Globe, Chiofaro — the developer of Pinnacle, planned to be adjacent to the New England Aquarium — signaled he believes addressing rising sea levels should be a priority for the city in its harbor planning.
"We are in full agreement with Mayor Wu that climate resiliency and equity are urgent considerations for the future of our entire waterfront," Chiofaro Co. said in a statement to the newspaper. "It's no exaggeration to say that in recent months Boston has been playing chicken with nature and is lucky to have escaped with near-misses. We're committed to our neighborhood and our investment."
The New England Aquarium, which has been a vocal critic of plans for the development, cheered Wu's decision to revisit the waterfront plan.
"We look forward to participating in a new Downtown Waterfront Municipal Harbor Planning process that is centered in accessibility, resiliency, and equity for all," Vikki Spruill, the aquarium's president and CEO, said in a statement. "We applaud Mayor Wu for her decisive action to launch a new planning process that will prioritize these important issues, as well as better engage and respond to residents from across the city who care deeply about climate justice and the future of our waterfront."
A new federal report released on Tuesday provided updated forecasts on climate change's more tangible impacts.
The study, spearheaded by the National Oceanic and Atmospheric Administration, found that by 2050, sea levels across the country's coastlines will be approximately a foot higher than they were in 2000.
In the Northeast, however, that projection was higher: Boston and other coastal communities in the region will likely see 16 inches of sea level rise compared to levels at the beginning of the century.