Real Estate News
A renovation to tweet about: Addition to Somerville cottage included an aviary for three beloved birds
The birds love their new home, including the Google speaker that provides their favorite music: Brazilian and R&B.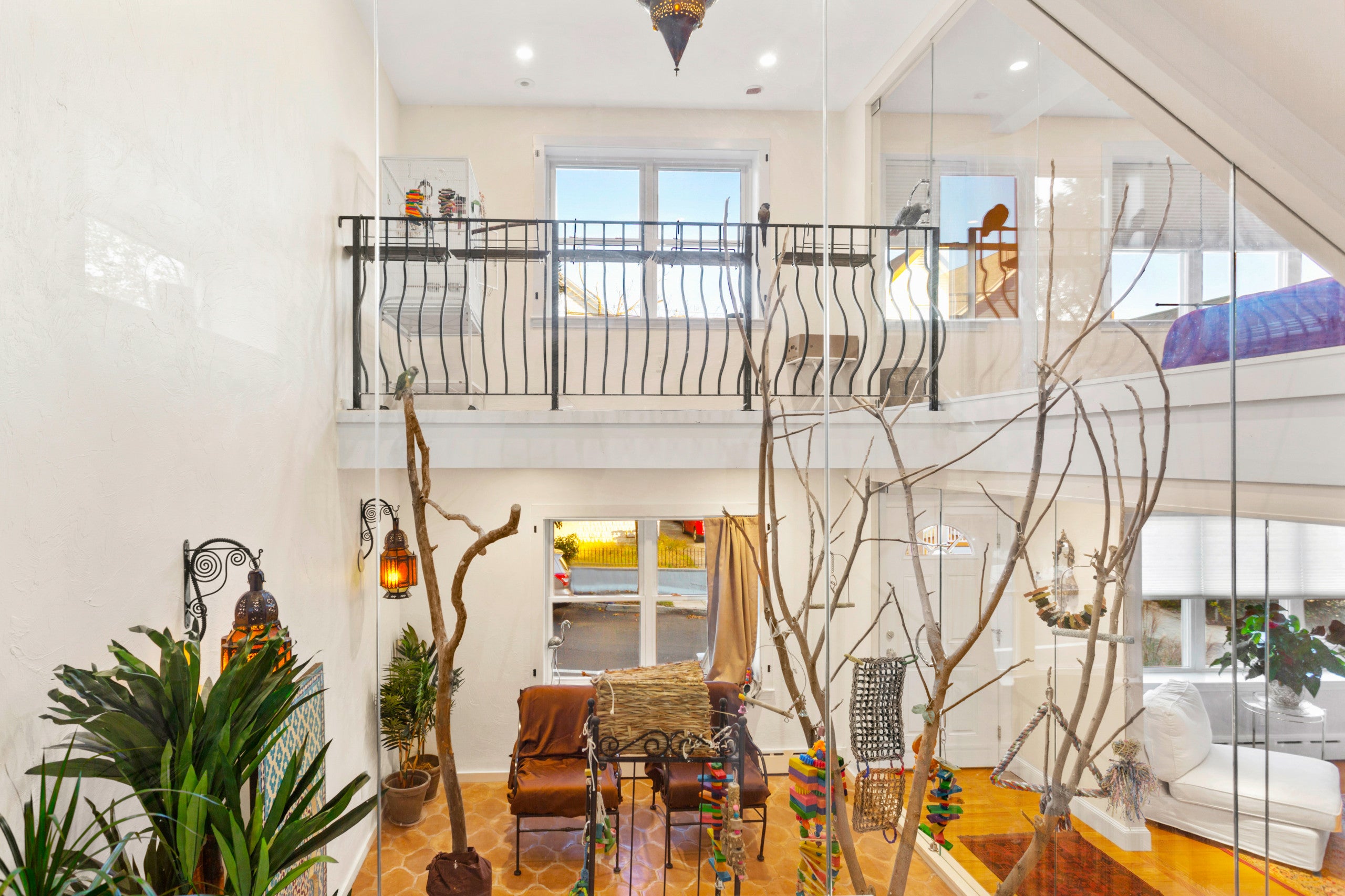 Diana Greene and Daniel Needleman's three parrots — Lucci, an African gray; Toula, a Senegal; and Belle, a green-cheeked conure — had oversized cages but no dedicated place to spread their wings and fly.
"We wanted more freedom for them,'' Greene said. So, when the couple hired David Supple of New England Design & Construction to top their Somerville cottage with a second story, they decided to include an easy-to-clean, bird-friendly space, too.
Working closely with the couple to fine-tune their vision, Supple and his team transformed the entry into a double-height glass-enclosed aviary with a Moroccan courtyard scheme. "We thought a space with a natural, outdoor feeling would be nice for them and nice for us,'' Needleman explained. Establishing the aviary in the entry made the most sense. Not only does that side of the house garner ample sunlight, it was an obvious place to locate the stairs, where a new TV lounge on the second-floor landing could overlook the aviary.
For the aviary floor, the couple chose Spanish terra-cotta tiles with a Moroccan shape in a color that melds with the wood-plank flooring in the rest of the house. The floor is slightly sloped and has a drain for easy cleanup. Stucco walls emulate the exterior texture of Mediterranean-style buildings, and a pair of lanterns makes beautiful shadow patterns at night. The wavy wrought-iron rail on the second-floor landing continues the theme.
The aviary's focal point is an artisan-made, Moroccan-tiled fountain from a local importer. The couple intended the fountain as a birdbath for their feathered friends, but Belle's rowdy frolicking proved too big of a mess, relegating the fountain to a showpiece. The couple also had to remove the Moroccan-style shutters that flanked the window because the birds gnawed on them.
The homeowners have had great success replicating trees for the trio. The larger one is part of a tree from their yard that they dried out and treated with a mixture of hydrogen peroxide, soap, and water. A Christmas tree stand holds it erect, and colorful toys hang from its branches. The other is concocted from dead branches they stumbled upon at Mahoney's Garden Center in Winchester. "We asked if we could buy the pile of dead wood,'' Greene said. "They laughed at us and delivered it, free, a few days later.'' It's Lucci's favorite spot.
The birds love their new home, including the Google speaker that provides their favorite music: Brazilian and R&B. "Lucci says, 'Hey Google…!' '' Needleman said. He can also imitate his owners' voices to perfection.
Despite their stylish digs, the flock is still game for adventure outside the aviary. Belle and Lucci buzz around the house and play together, and all three birds watch TV in the new upstairs lounge with their owners, often perched on Greene's head and on her shoulder.
"They need their human time,'' she said.
Marni Elyse Katz blogs about design at StyleCarrot.com. Follow us on Facebook, Instagram, and Twitter @globehomes. Subscribe to our free real estate newsletter — our weekly digest on buying, selling, and design — at pages.email.bostonglobe.com/AddressSignUp.