Real Estate News
Bid for BCEC land puts emphasis on entrepreneurship for underserved communities
The pitch from Cronin Development and Street2Ivy would bring the footprint of a historically Black college to Boston.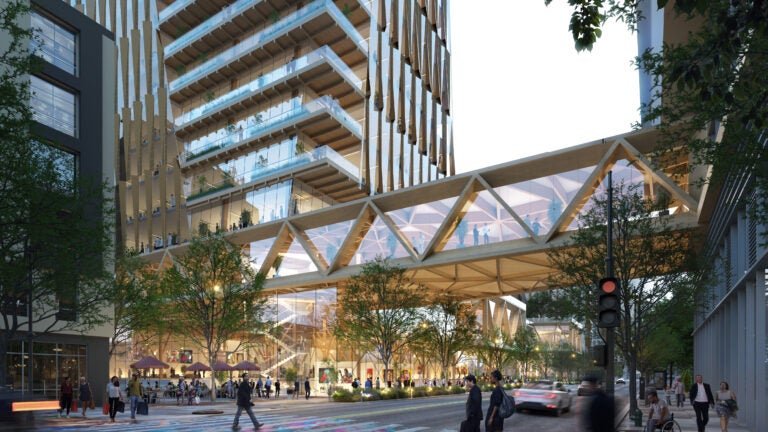 The Seaport's glistening towers reflect a whole lot of Boston from their glass-paneled facades.
But Tavares Brewington says, for some, there's a significant absence in what mirrors back to the city's sleekest neighborhood, now home to some of the nation's priciest rentals.
"A lot of people don't see themselves reflected in the Seaport, and they don't feel like it's a welcoming place," Brewington told Boston.com recently.
"It's very difficult to get there from communities like Roxbury, Mattapan. And then when you get there, there's really no one that looks like you. There's certainly no stores occupied and run by people who look like you," he added. "It's very discouraging."
Brewington is the founder of Street2Ivy, the Boston-based nonprofit aimed at inspiring and connecting youth in underserved communities to paths into entrepreneurship. These opportunities combat significant income and wealth disparities, and they can, and should, happen right here in the Seaport, he says.
Street2Ivy is part of the driving force behind a bid to redevelop three properties on D and E streets owned by the Massachusetts Convention Center Authority. The parcels, totaling about six acres, are a stone's throw away from from the Boston Convention and Exhibition Center.
In partnership with Cronin Development, the local developer that's already redeveloping Boston Ship Repair's Seaport drydock to keep blue-collar jobs local, the proposal boasts a vision for a 1.9 million-square-foot mixed-used development across three towers with space for offices and life-science labs.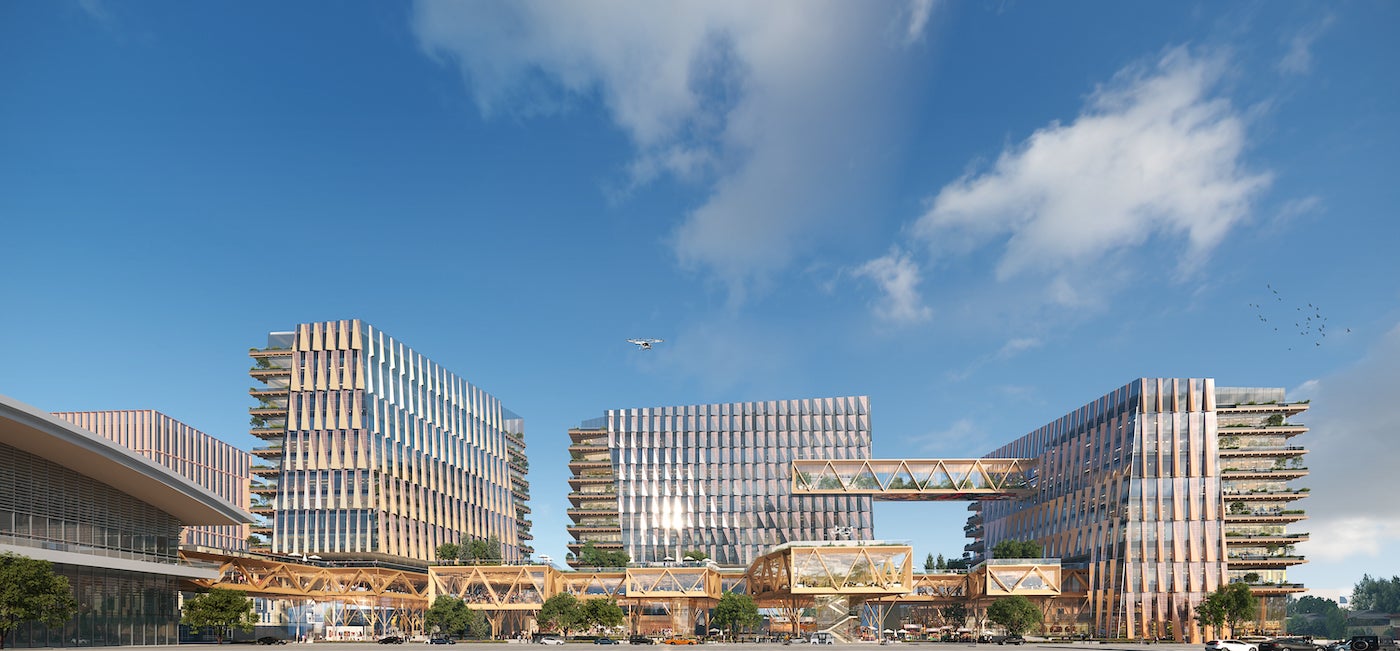 The vision also packs in a host of amenities such as a daycare center, a 100-seat performance space, lecture rooms, and an open market.
But John Cronin, principal of Cronin Development, said the bid's core pillar is space for the 5,000-square-foot BLK Chip Art Gallery, a gallery to showcase work from Black and brown artists that will also function as programming space for Street2Ivy.
Cronin has already committed to providing the gallery temporary space in the Seaport, but if the bid proves successful, this project will give it a permanent home to foster ingenuity and inspiration for young, burgeoning entrepreneurs and designers.
"The design that we've got for the space on D Street is really the anchor of the project," Cronin said.
According to the bid proposal submitted to the MCCA in December, the space will offer room for an artist-in-residence and opportunities for "design education, professional development, and business skill expansion for artists."
"This is not your typical art gallery – BLK Chip will be the nexus of several programs designed to help emerging artists learn, work, collaborate, and grow," the proposal states. "A series of programs in the Gallery and Studio will together form a center dedicated to career development, creativity, mentorship, education, job preparation, and more."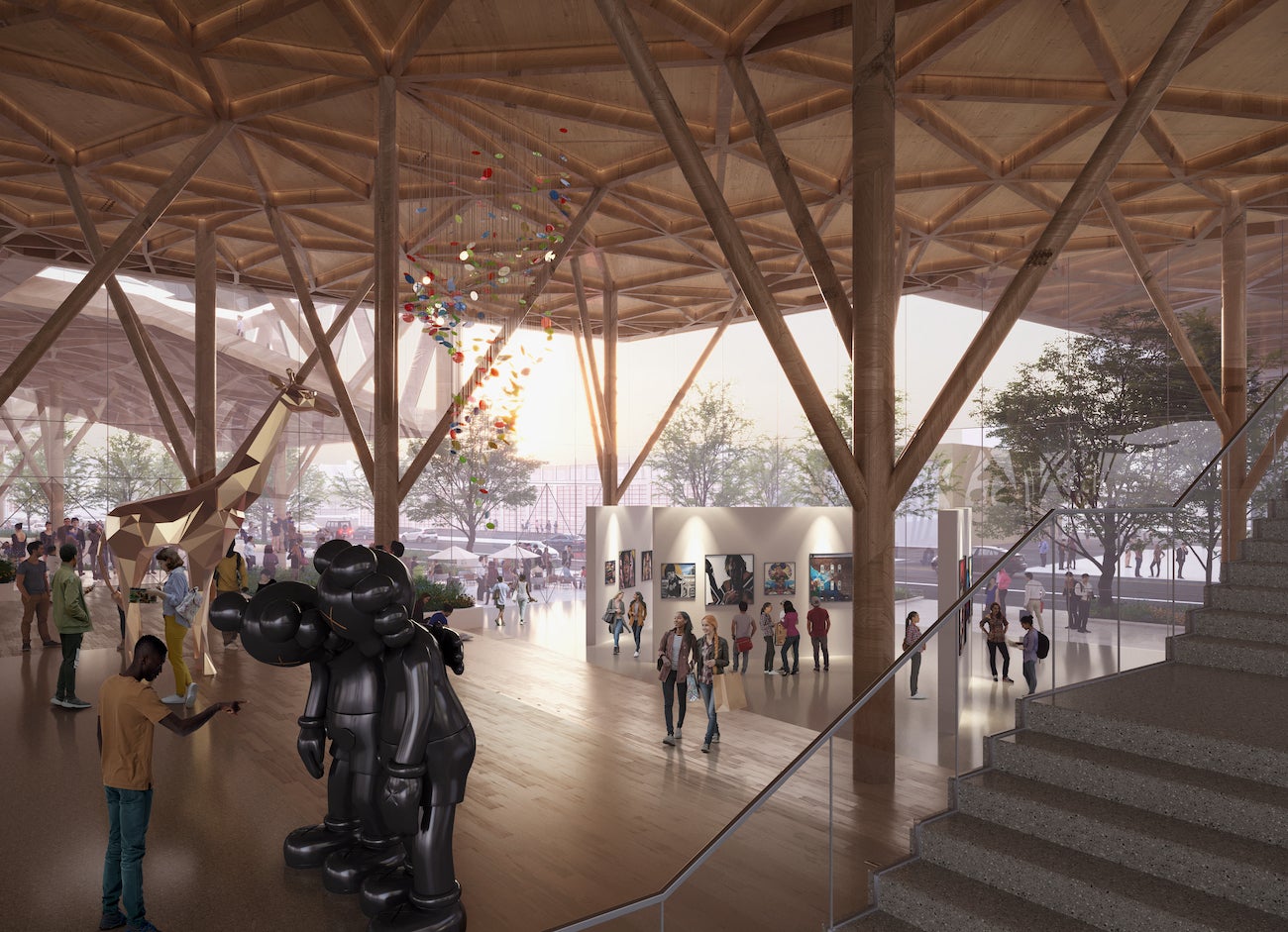 The space also has the promise to make for a historic first for the Bay State, Brewington and Cronin said.
The gallery is partnering with D'Wayne Edwards, the prominent footwear designer who served as the lead designer of the Nike Jordan brand and is the founder of the Pensole Lewis College of Business and Design in Detroit, the historically Black college he revived in 2021 after its closure in 2013.
"What we're proposing is, for the first time in the history of Massachusetts, is to have a footprint of a historically Black college that will teach young people design [and] business and give them a real opportunity," Brewington said.
"A lot of people don't want handouts. They don't want anything for free," he continued. "What they really want is an ability to learn and create a pathway for themselves, right? They want knowledge and opportunity and relationships. And that's what we really focus on."
Cronin said these programs would also make use of the adjacent market space.
"We have a market hall next door so that these children that come in, whether they're designing shoes or creating T-shirts or other goods, whatever it is … we'll have pop-ups [where] they can sell them, and prove out a business model –actually prove that this business model works," Cronin said. "And then if they want to move it out of there to a brick-and-mortar store or online only, it gives them that opportunity."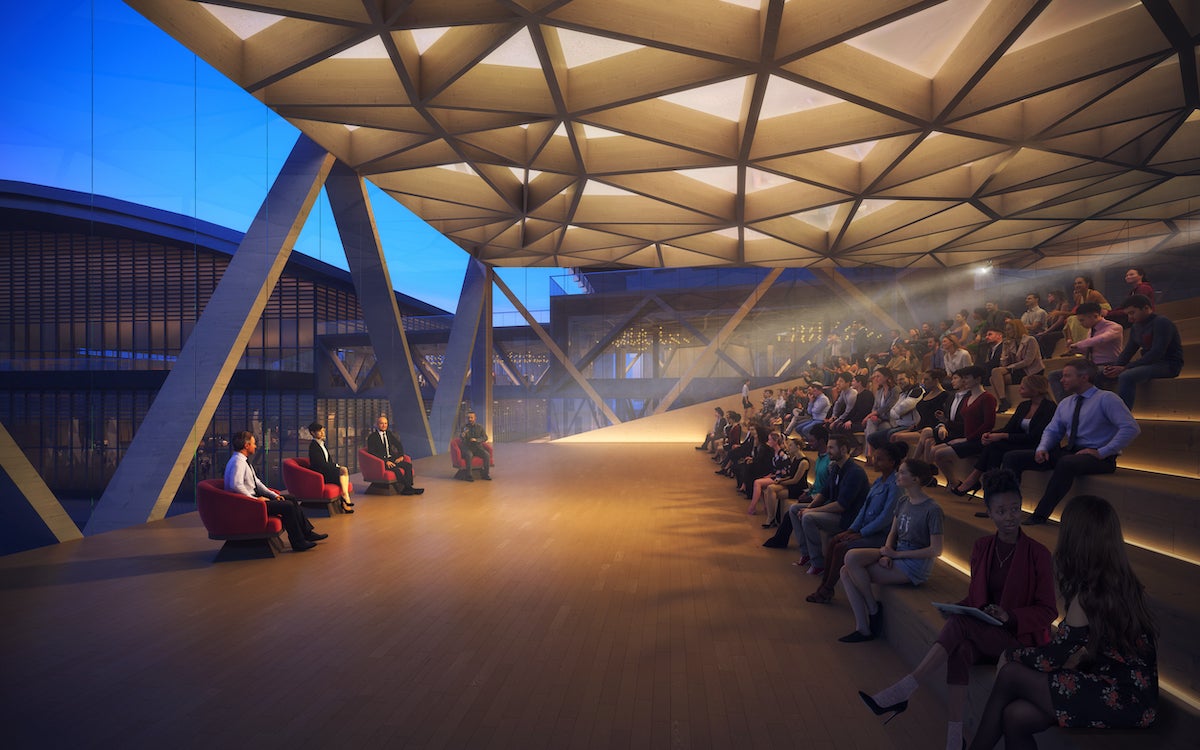 For transit, Cronin said the project will connect with the Nubian bus shuttle system his company is already funding and planning to run between Roxbury's Nubian Square and the Seaport. The bid also touts infrastructure to support air-taxi landing — accommodating new electric vertical takeoff and landing vehicles developers are betting will take off big within the next decade — and underground parking garages would accommodate 1,525 vehicles.
Cronin also wants to put a 7,500-square-foot daycare facility in one of the three buildings, which he said will be "deeply-subsidized" so South Boston can access affordable child care currently in short supply.
Plans also call for a grocery store, another amenity that's crucially needed in that part of the city, he said. Developers will provide subsidizes so a store can operate among the area's pricey real estate.
"The community needs are vast," Cronin said.
The Cronin and Street2Ivy proposal is one of two bids seeking to win support from the MCCA.
A bid from Boston Global Investors looks to build three buildings spanning over 550,000 square feet, with offices, labs, a grocery store, and other retail and community space across two buildings, and lab and biomanufacturing facilities in another.
A spokesman for the MCCA said the association could decide between the two proposals "toward the end" of next month, though that's only a tentative timeline still subject to change.
The MCCA posted the request for proposals on Nov. 21, seeking submissions for a 99-year lease across the three sites at 371 D St., 351 D St., and 410-520 E St. Potential bidders had one month to submit plans.
The bidding process made waves in December, when several South Boston elected officials accused the MCCA of failing to solicit community input for the process and seeking to develop land taken through eminent domain for public use.
Newsletter Signup
Stay up to date on all the latest news from Boston.com