Real Estate News
Home prices in Mass. hit record high in January
'Historically, condos were a more affordable alternative to single-family homes, but that doesn't appear to be the case any longer.'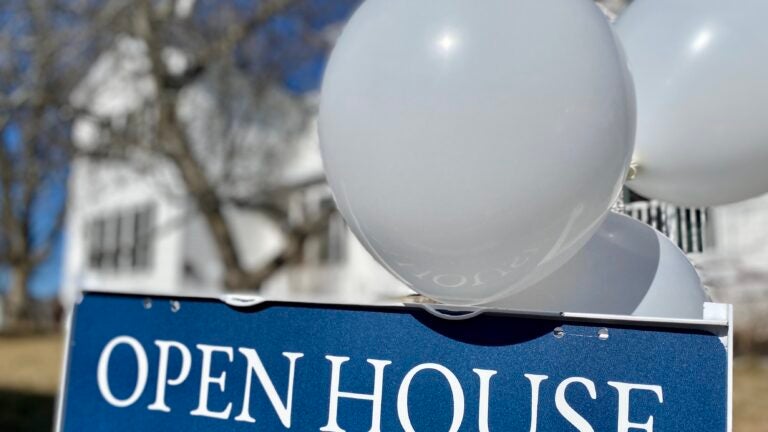 Home sales slipped and prices went up last month. It seems as if January was just like December, which was just like November.
But the number of active listings was up, according to the Greater Boston Association of Realtors, which could signal a change is in the air this spring for home buyers.
And the Massachusetts Association of Realtors reported Tuesday that pending sales were up nationally and locally, "indicating that a potential uptick in market activity is on the horizon."
A lack of inventory, coupled with buyer demand, has been ratcheting up prices, while high mortgage rates (they jumped to their highest level in five weeks on Feb. 16) have relegated many a home shopper to the sidelines.
"We understand that some buyers and sellers might be remaining cautious while they wait to see where the market is headed in 2023, but pending sales indicate that buyers are out and making purchase decisions," David McCarthy, 2023 president of the state association and a realtor at Keller Williams, said in a news release. "Over the years, one trend we've observed is that if we have a warmer start to the year, market activity tends to pick back up before the cyclically busy spring market. With a bump in inventory and a mild winter thus far, we're optimistic market activity will increase even before we officially enter spring."
A rise in inventory — which means prospective sellers, at least some of them, are stepping from the sidelines onto the field of play — could be a game-changer.
The Greater Boston Association of Realtors released a report Tuesday indicating that the number of active listings was up across the board in the region last month:
| Home type | year-over-year change |
| --- | --- |
| Single-family homes | 💹55% |
| Condominiums | 💹12.7% |
Source: Greater Boston Association of Realtors
"Buyers were hard to find over the final quarter of the year as stubbornly high inflation and a steady rise in mortgage rates between September and November spooked many and priced some out of the market entirely," Alison Socha, GBAR president and an agent with Leading Edge Real Estate in Melrose, said in a news release. "In addition, many sellers were reluctant to accept the fact that market conditions had changed during that period and were slow to adjust prices. That's caused homes to take longer to sell, and when combined with an already reduced number of listings for sale you get a slower sales pace."
Are sellers starting to adjust their prices? Could bidding wars be a thing of the past?
"The reality is buyers can't afford as much home as they could 12 months ago, so many are either unable or unwilling to get involved in bidding wars," Socha said. "Sellers also have begun to adjust their asking prices to align more closely with current listings rather than trying to top what their neighbor's property sold for, and that's allowed prices to level out."
Regardless, she said, there has been an "uptick" in showing requests, foot traffic at open houses, and competition.
That continual demand makes the chances of major price drops very slim, according to Socha.
"Even though inventory has improved recently, demand still far exceeds supply, with just two months of inventory on hand entering February," she said. "As a result, we expect any price declines that occur to be fairly modest."
The Warren Group, a data analytics firm and publisher of Banker & Tradesman, said there still aren't enough listings to meet the demand. "Add in the fact that interest rates are nearly double what they were a year ago and the rising cost of consumer goods, and we can expect sales numbers to continue their downward trend in the coming months," Cassidy Norton, associate publisher and media relations director at The Warren Group, said in a news release.
The Warren Group reported Thursday that single-family and condo home prices set records in January and "sales activity plummeted by double digits."
Single-family home sales dropped nearly 33% from January 2022 to January 2023, and in the condo market, sales fell about 30%.
"Condo sales activity followed similar trends to single-family homes in January, but the biggest difference was the 9.2 percent increase in the median condo price," Norton added. "The median condo price of $480,500 marked a new all-time high for the month of January. Historically, condos were a more affordable alternative to single-family homes, but that doesn't appear to be the case any longer." In contrast, it was $400,000 in 2021.
The median sales price for a single-family home was $499,000. In 2021, it was $446,000, an 11.9% increase.
Overall, sales of single-family properties in the state were down in every county, from minus nearly 5% in Franklin County to about minus 54% in Hampshire County. On Nantucket, there were no condo sales in January, but Plymouth County, home to communities like The Pinehills, saw a 10.7% increase in sales. In Suffolk County — which encompasses Boston, Revere, Chelsea, and Winthrop — condo purchases were down more than 20%. See The Warren Group's county-by-county breakdown.
Looking at the town-by-town stats, a snapshot shows that condo sales were down in Cambridge, Framingham, and Medford:
City
Year-over-Year
change in sales
Median
sales price
Year-over-year
change in price
Cambridge
🔽32.4
$975,000
💹25.1
Framingham
🔽11.1
$385,000
💹44.3
Medford
🔽21.4
$535,000
🔽13.7
Source: The Warren Group
And single-family home sales dropped in Acton, Brookline, and Natick:
CITY
YEAR-OVER-YEAR
CHANGE IN SALES
MEDIAN
SALES PRICE
YEAR-OVER-YEAR
CHANGE IN PRICE
Acton
🔽61.5
$1,025,000
💹51.9
Brookline
🔽12.5
$2,450,000
🔽12.5
Natick
🔽50
$778,673
💹21.2
Source: The Warren Group
One month does not a pattern make, but it's something to keep your eye on, especially if you are weighing whether to buy your first home because of rising rents or to sell one.
Address newsletter
Get the latest news on buying, selling, renting, home design, and more.