Real Estate News
Amid flood risk, New England homes are overvalued by $10b-plus, report says
The tally for Massachusetts alone is roughly $4.6 billion.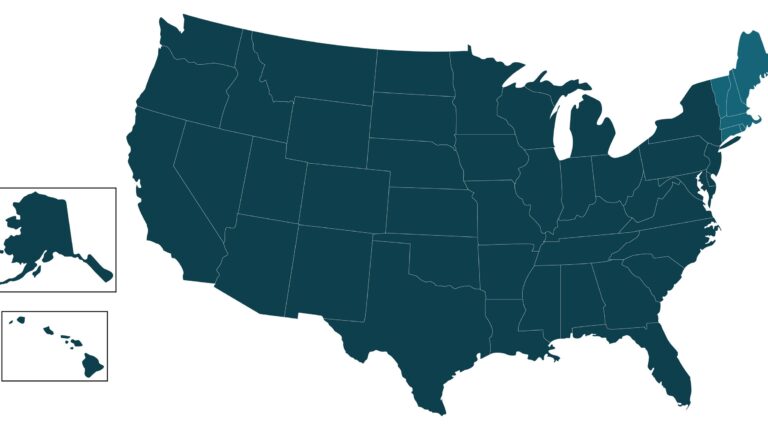 Future flood risk isn't fully baked into US real estate values, and that means American homes in flood zones are collectively overvalued by as much as $237 billion, according to a new report.
That poses pricey ramifications for New England communities.
The study — co-released on Feb. 16 by three environmental and climate risk nonprofits, the Environmental Defense Fund, First Street Foundation, and Resources for the Future — in the journal Nature Climate Change notes that the lack of flood disclosure laws in counties at risk have led to inflated home values. That makes communities vulnerable to a decline in property taxes when a flood disaster occurs.
Stability of housing market questioned
Properties in coastal counties with no flood risk disclosure laws are particularly susceptible to extreme overvaluation. Florida, which does not have a flood disclosure law, had the highest level of property overvaluation. The study pegged it at more than $50 billion.
"Increasing flood risk under climate change is creating a bubble that threatens the stability of the US housing market," said Jesse Gourevitch, a postdoctoral fellow at the Environmental Defense Fund and lead author of the study. "As we've seen in California in the last few weeks, these aren't hypotheticals and the risk is more extensive than expected — and that risk carries an enormous cost."
"Currently, more than 14.6 million properties in the United States face at least a 1% annual probability of flooding, with expected annual damages to residential properties exceeding $32 billion," according to the report. "Increasing
frequency and severity of flooding under climate change is predicted to increase the number of properties exposed to flooding by 11% and average annual losses by at least 26% by 2050. The increasing cost of flooding under climate change has led to growing concerns that housing markets are
mispricing these risks, thus causing a real estate bubble to develop."
New England properties are overvalued
The study warns that even progressive New England is susceptible to overvaluation because most of region lacks laws that require sellers to disclose a property's flood risk or past flood damage.
Supplemental data from the report provided to Boston.com indicate that properties across all six New England states are overvalued by more than $10 billion. Massachusetts properties are overvalued by roughly $4.6 billion.
| County | overvaluation |
| --- | --- |
| Barnstable | $594,529,602 |
| Berkshire | $176,797,478 |
| Bristol | $71,657,203 |
| Dukes | $815,145 (incomplete) |
| Essex | $910,122,495 |
| Franklin | $82,240,760 |
| Hampden | $204,785,194 |
| Hampshire | $76,424,464 |
| Middlesex | $658,725,055 |
| Nantucket | $1,610,868 |
| Norfolk | $570,951,841 |
| Plymouth | $661,094,185 |
| Suffolk | $218,316,903 |
| Worcester | $241,567,827 |
Sources: Environmental Defense Fund, First Street Foundation, and Resources for the Future
"In New England, especially, we see there are, in general, no required disclosure laws at the state level. However, there is, as you can imagine, above-average concern about climate change," Gourevitch said. "Given those two factors, we do find that flood risk is particularly poorly priced in New England."
Only two New England states have disclosure laws — Connecticut and Rhode Island — and the report labeled those measures "inadequate."
Connecticut has a mandatory form that requires sellers to disclose whether the home is in a flood hazard area or an inland wetlands area, but it doesn't compel them to disclose past flood damage or whether flood insurance is mandatory. Rhode Island's disclosure statement requires sellers to provide information only on floodplains; they don't have to say whether there was prior floor damage or whether flood insurance is required.
"A potential buyer may be walking into an offer not aware of a property flood risk whatsoever, and therefore [they] aren't able to make a rational decision as far as how to bid on that property," Gourevitch said.
The report contends that low-income households are particularly vulnerable to financial loss: They "stand to lose as much as 10% of their market value."
Perpetuating behaviors
While the report highlights the risk of overvaluation, that doesn't mean you should bank on crashing sales prices for long-desired beachfront vacation properties.
Other factors, such as mortgage lending in at-risk communities and government subsidization of flood insurance, mean buyers will still pour into vulnerable areas.
"It's subsidized insurance, it's lack of good information and disclosure, and it's the fact that our prices are based on old maps that undervalue the level of risks we're facing today," said Billy Grayson, the executive vice president of Centers and Initiatives at the Urban Land Institute. "As long as you have a way to get cheaper insurance, that means that you may not price that risk into valuations."
Send comments to [email protected].
Address newsletter
Get the latest news on buying, selling, renting, home design, and more.