Real Estate News
Home prices break records in Mass. Sales fall. Rinse, lather, defeat.
With mortgage rates back on the rise, the spring house hunt is off to a dismal start.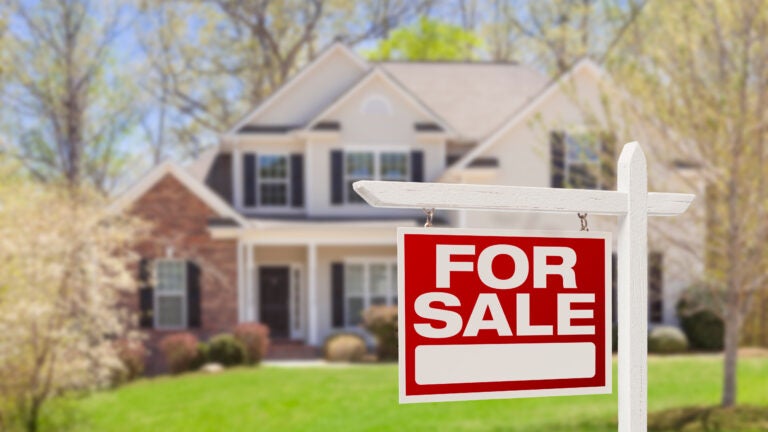 The housing market in Massachusetts is starting to sound like a broken record, and for home buyers, the hits just keep on coming.
Prices for condos and single-family homes broke records in March, according to a report released Tuesday by The Warren Group, a data analytics firm, and mortgage rates have climbed again.
The median sales price for a condo in Massachusetts jumped 7.5% year over year to a record $500,000. In the single-family market, the median sales price rose 4.9% to $540,000.
Narrowing in with a look at Greater Boston, The Warren Group reports that the median condo price increased 3.2% year over year to $584,805. The median home price for a single-family inched up 1.5% to $670,000.
It's enough for home buyers to start singing a dirge.
Mortgage rates in the sixes have home sellers sitting on the sidelines, wary of joining the fray, ratcheting up the demand for the paltry number of listings the region does have and prices along with it.
There were 2,756 single-family and 1,525 condo sales in Massachusetts in March, reflecting drops of 23.4% and 22%, respectively.
It was the fewest number of home sales in the state since 2011, according to Cassidy Norton, associate publisher and media relations director at The Warren Group. "A lack of inventory across Massachusetts continues to be
the biggest factor in the declining sales volume. But when paired with rising interest rates and uncertainties about the economy, we can expect to see similar trends as the spring housing market starts to heat up."
Drilling down into Greater Boston, the report notes that single-family home sales plummeted 22% and condo sales slid 20.9%. The median sales price for a condo in Greater Boston increased 3.2% to $584,805, while the cost of a single-family property inched up 1.3% to a median of $670,000.
So to repeat, there's an obvious premium for living in Greater Boston …
| home type | state median | greater boston median |
| --- | --- | --- |
| Single-family | $540,000 | $670,000 |
| Condo | $500,000 | $584,805 |
"Not surprisingly, median prices in the Greater Boston housing market were well above statewide numbers in March," Norton said. "Buyers will likely need to expand their home search even further from Boston in the coming months."
And shoppers are doing just that, according to Globe Magazine's Top Spots to Live. Prices for a single-family home in Plymouth weren't particularly welcoming for "America's Hometown," the Globe reported. They shot up from $380,000 in 2019 to $545,000 in 2022.
But here's some news that would have buyers, not sellers, whistling a happy tune: Looking at The Warren Group's town-by-town breakdown, sale prices for single-family homes in Plymouth dropped 6.8% year over year to a median of $515,000. And sales were down 22.4%.
What about the condo market in Plymouth? Cue that sound they use for losing on "The Price Is Right." The median cost of a condo is higher than the price for a single-family home: $590,000, a 27.5% jump amid a 66% decline in sales. That median sales price is based on only 17 sales.
Sticking with the P's, Pepperell was another Globe Top Spot to Live. The median sales price for a single-family home in this Middlesex County community was $502,500 in March, a 15.7% year-over-year drop based on an equal number of sales.
Closer to Boston, the median price for a condo in Somerville rose 8% to $875,000, based on 37 sales in March — the same as in March 2022.
In the county-by-county breakdown, single-family home sales were down everywhere, except for Dukes County, which saw a 5.6% year-over-year increase. Sales numbers plunged the most across the water in Nantucket County (down 42.9%), which also experienced the biggest drop in the median sales price: $2,265,000, down 30.9% (based on eight sales).
The median sales price climbed the most out in Western Massachusetts: Franklin County saw a 17.5% increase in March, based on three fewer sales than last year.
Address newsletter
Get the latest news on buying, selling, renting, home design, and more.