Real Estate News
Roman and Kendall Roy's 'Succession' apartments hit the market
Brokers are hoping the mystique of the fictional Roy family can help sell the multimillion dollar homes.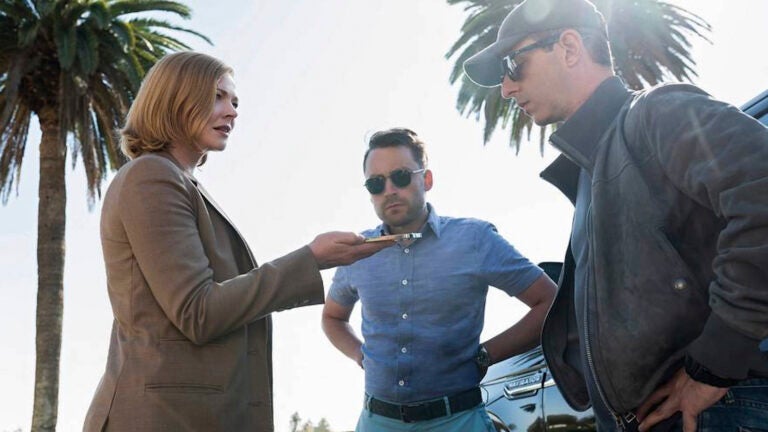 NEW YORK — If Roman Roy were a real person, he wouldn't live on New York's Upper West Side.
So said a real-life real estate broker recently. Yet, Roman's apartment during the fourth season of "Succession," the hit HBO show about a trio of mega-rich siblings vying for control of their father's media empire, is actually a penthouse at 200 Amsterdam Avenue, with panoramic city views. Fans of the show were there with Roman (played by Kieran Culkin) during a recent episode when he solemnly brushed his teeth the morning after a devastating plot twist.
The four-bedroom duplex is on the market for $38 million. Daniella G. Schlisser, the real-life associate broker with Brown Harris Stevens and a listing agent for the apartment, said that if Roman were a real person, she would redirect him south, probably to TriBeCa, where he might receiver a warmer welcome. Given his winning personality, she'd advise him: "No one's going to talk to you here — you won't make any friends" in the family-oriented Upper West Side.
Two other "Succession" locations are also on the market — Roman's Chelsea town house from Season 2, listed for $22.5 million (down from $24.995 million) and his brother Kendall Roy's Upper East Side penthouse from Season 4, listed for $29.5 million (down from $33 million). The brokers for all three listings are leaning into the show's addictive love-to-hate watchability as they try to persuade buyers to pluck the trophies in a sluggish housing market.
"I had someone call me and offer me a good number because they saw the show," said Lila Nejad, a Douglas Elliman saleswoman and the listing agent for Roman's Season 2 town house on West 17th Street.
But it's still on the market and now rented to a tenant paying $100,000 a month to live in six stories of opulence, with a home theater, private garage and indoor resistance pool.
To bring more traffic to 200 Amsterdam, Schlisser partnered with the sales team for the penthouse at 180 East 88th Street — where viewers this season watched Kendall (Jeremy Strong) slump on his Brutalist-esque bedroom floor in grief — to host a doubleheader brokers' open house Tuesday, giving the real estate community a taste of where a Roy heir (or, better yet, their real-life client) could live.
"People want what everyone else has deemed fabulous," Schlisser, standing in the living room of the 200 Amsterdam penthouse, said as she admired the view of northern Manhattan and the Bronx. "And this is what they chose."
Paul Eskenazi, a location manager for "Succession," doesn't see Roman Roy as much of an Upper West Sider either — something he considered when selecting options for Jesse Armstrong, the show's creator.
"It's a balancing act, really," Eskenazi said.
But if Roman did live in the area, he would probably choose 200 Amsterdam. At 668 feet, the building is the tallest in the neighborhood and was at the center of a protracted legal dispute with community organizations that waged an ultimately unsuccessful battle to lop off the top 20 floors.
To give the space Roman vibes, set dressers rearranged the primary bedroom, adding an oversize print of a woman's bare breasts above the bed. Other Romulus details included a vape pen tossed on a desk and a night stand filled with books, including "Bad Sex" by Nona Willis-Aronowitz.
The room was pumped full of cologne to set the mood.
"It was really musky, like a sleazy kind of smell," said Matthew R. Breeden, a vice president at SJP Properties, a developer of the building, who attended the shoot last summer.
If Kendall Roy lived north of 59th Street, Eskenazi suspects it would be in a building like 180 East 88th Street, which he described as feeling more downtown than Upper East Side.
"It's sexy; it's cool," he said. "It's that feeling of him being on top of the world, perched up somewhere in the sky, looking down on everyone else."
The developers of the Kendall penthouse — a triplex with a spiraling staircase, 28-foot ceilings in the dining area and dramatic arched windows — aren't done making the most of the showstopping location. The building's resident lounge doubled as Shiv Roy's (Sarah Snook) office on the most recent episode, and its wine cellar made a brief appearance with Lukas Matsson (Alexander Skarsgard) in the show's trailer. On the morning a reporter visited, Fendi had taken over the five-bedroom space to host a private event. Racks of fur coats filled the living room.
"Anytime you do a collaboration with someone, you want to make sure the collaboration fits with your brand," said Joseph A. McMillan, Jr., founder and chief executive of DDG, a developer of the building, describing his brand as "high-end luxury, exquisite and aspirational."
But is there a downside to tying a property to America's most loathsome — even if it's fictional? Might some billionaire find the connection off-putting? Schlisser isn't concerned.
"You mean the other kind of super rich?" she asked. "What kind is that? The kind that accidentally became super rich, but is really low-key?"
This article originally appeared in The New York Times.
---
'Succession': What are your series finale predictions?