Real Estate News
Mass. home prices hit new highs in September
Sales of single-family homes dropped to a 13-year low.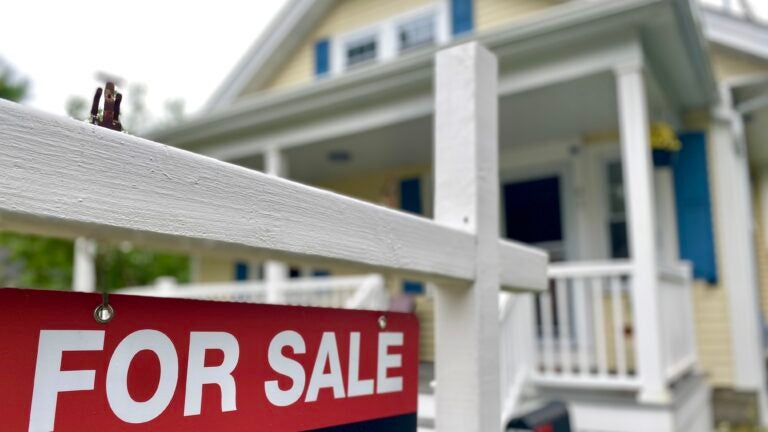 Like a determined lumberjack, home prices in Massachusetts just keep on climbing.
The median sales prices for single-family homes and condos in the state hit record highs for September, according to a report The Warren Group, a data analytics firm, released today.
Meanwhile, sales in both markets plummeted — more so in the single-family category, which hit a 13-year low.
The median sales price for a single-family home reached $565,000 in September, a 2.7% increase compared with the same point last year. Sales are off 26.5% year over year and nearly 25% year to date, reflecting a years-long trend that is keeping homeowners from listing and shoppers in a fetal position biting their nails down to the quick.
"There are still a number of hurdles for prospective home buyers in Massachusetts, and this is reflected in our sales data," said Cassidy Norton, associate publisher and media relations director of The Warren Group. "Low inventory, record high prices, and rising interest rates have made it progressively more difficult for buyers to purchase homes — regardless of where they're looking."
In the condo market — viewed by many as an easier way to join the homeownership ranks — the median sales price hit a new monthly high of $500,000, an 8.7% increase since September 2022. Sales are down 12.5% year over year and a whopping 20.7% this year so far.
"Condos offer a blend of community and convenience, making them a compelling choice for those who want the benefits of amenities and a maintenance-free lifestyle," Norton said. "However, with median prices following trends similar to single-family homes, the affordability of condos is becoming untenable to many buyers who desire the perks of owning a condo."
The Massachusetts Association of Realtors offered a more optimistic outlook for buyers in its monthly report, slated for release today.
"Though ongoing variables such as interest rates and inflation continue to impact the market, it's still a good time for buyers and sellers alike to be active," said David McCarthy, association president and a realtor at Keller Williams. "In several areas across the state, we're seeing an increase in home inspections and subsequent renegotiations, indicating buyers are bringing more negotiating power to the table."
County home sales
Summer is certainly over on the Cape and Islands. Sales of single-family homes dropped 44.4% in Nantucket County and 31.6% in Barnstable County in September, according to the Warren Group report. (Dukes County broke even with 22 home sales apiece in September 2022 and 2023.)
The news wasn't much better farther inland. Sales were down 31.3% in Middlesex County, 21.3% in Worcester County, and 20.8% in Suffolk County — home to Boston, Revere, Chelsea, and Winthrop.
In the condo market, Dukes County saw six sales in September when last September it had none. Franklin County broke even with six sales last September and last month. Norfolk County experienced only a negligible decrease (1.1%), but sales of condos in Suffolk County fell 10.3% year over year. In good news for buyers, the media sales price for a condo in Suffolk County increased by only 0.8%. Take the wins where you can, I guess.
Check out The Warren Group's county-by-county breakdown.
Greater Boston home sales
The Warren Group's Greater Boston analysis, which includes all 139 communities within Interstate 495, found a roughly 30% drop in single-family sales in September and a 9.7% dip in condo purchases. The median sales prices for single-family homes and condos were $705,000 and $579,950, respectively. Buyers spent 3.3% more for a single-family home and 6.9% more on a condo in September than they did in September 2022.
Take just a peek … Framingham saw a 5.1% increase in the median sales price for a single-family home and a roughly 29% drop in sales. Up in Danvers on the North Shore, sales were down 52%, and the median sales price was 6.6% lower in last month than it was in September 2022.
Downtown Boston broke even on the number of condo sales (113 in September 2022 and 2023), but the median sales price dipped 9.9%, which may reflect traction in the push to bring more lower-cost homes to market.
But we all know that a data drilldown into a single month does not a trend make.
How did your community fare last month? View The Warren Group's town-by-town breakdown.
Address newsletter
Get the latest news on renting, buying, selling, home design, and more.