Real Estate News
Massachusetts has 4 of the most expensive ZIP codes in the U.S.
California led the way with 61, followed by New York. Which Massachusetts locale fell out of the top 100 this year?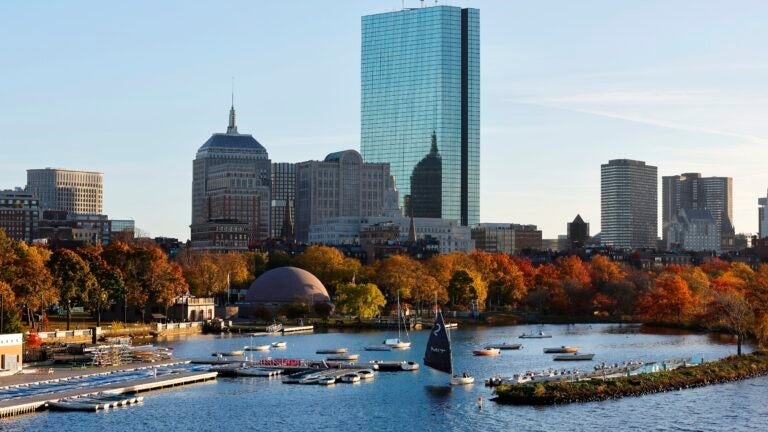 Four Massachusetts ZIP codes, one more than last year, made RealtyHop's list of the most expensive communities in the nation.
Back Bay's 02199 was the highest-ranking Massachusetts locale on the list, coming in at No. 17 with a median list price of $3,700,000. That reflects a slide from fourth place in last year's tally. One other Boston neighborhood made the top 100: Beacon Hill's 02108 ZIP code came in 91st, with a median list price of $2,099,000. In 2022, it ranked 52nd.
Researchers at the online real estate marketplace said luxury ZIP codes were likely affected by market uncertainty. Fifty-three ZIP codes now have a median price point of at least $2,500,000, compared with 61 in 2022, according to the report, released Nov. 9. "The median price point out of the 100 most expensive ZIP codes was $2,597,500, $152,000 lower than last year."
The other Massachusetts locales in the top 100 were Wellesley's 02481, which ranked 77th with a median list price of $2,225,000, and Newton's 02468 (Waban), which followed right behind it at 78th and a median price of $2,199,054.
The Hyannis Port section of Barnstable (02647) ranked 50th on the 2022 list, but fell out of the top 100 this year. But what about Martha's Vineyard and Nantucket? The median list price was $1,950,000. based on RealtyHop data, so it did not make the top 10, and Nantucket did not have enough inventory to be statistically representative, a spokesperson for the online platform said.
RealtyHop compiled its report by looking at more than 3 million for-sale listings drawn from its database between Jan. 1 and Oct. 15. The report excluded land sales.
In no surprise, California led the way with 61 ZIP codes. For the fourth year in a row, Atherton, Calif., (94027) in Silicon Valley topped the tally, with a median list price of $7,950,000.
New York was second, with 18. New Jersey and Massachusetts tied for third with four. The most expensive ZIP codes were concentrated in 12 states.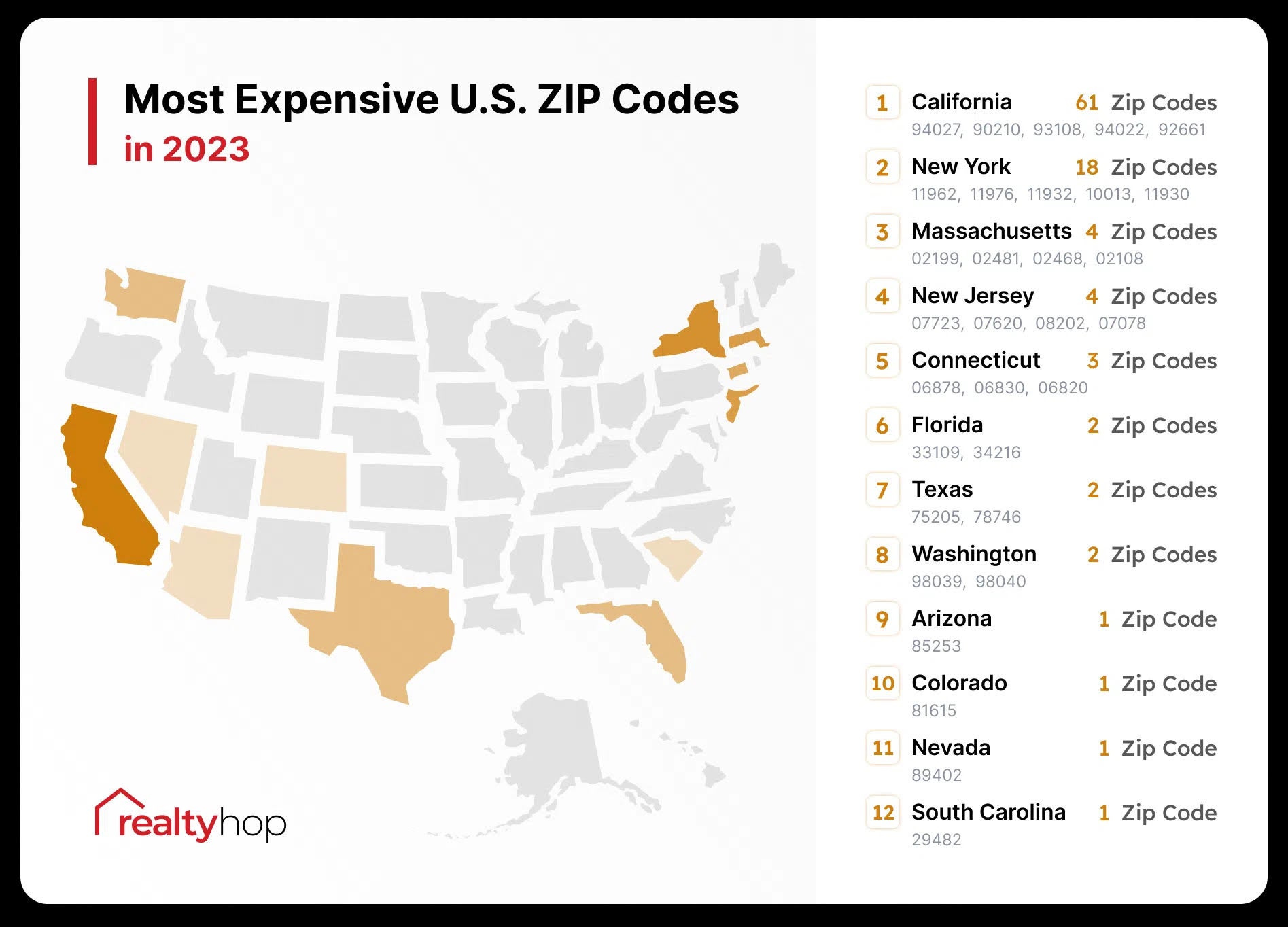 Los Angeles has the highest number of expensive ZIP codes per city, with seven, followed by Newport Beach, Va., with six, and New York City with five.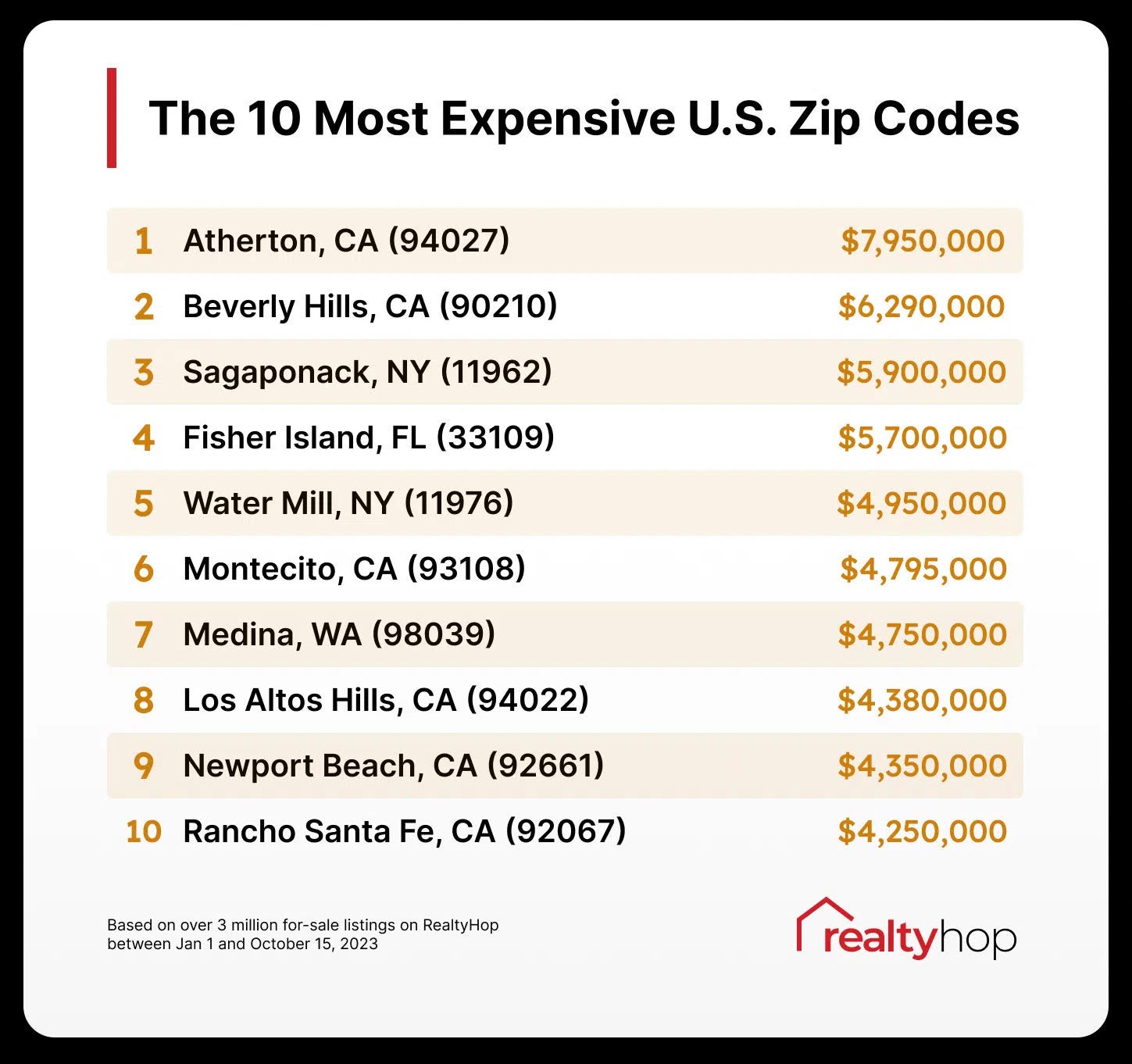 PropertyShark, also an online real estate marketplace, put out its list of the most expensive ZIP codes on Nov. 8. Nine New England locations made the tally:
While RealtyHop looked at list prices, PropertyShark based its on residential sales that closed between Jan. 1 and Oct. 23, covering condos and co-ops, as well as single- and two-family homes.
Although Boston's Back Bay remained the state's most exclusive area, the pricey ZIP code's median sale price stood at $2,800,000, as opposed to the record-setting 2021 median of $5,500,000. The slowdown in home sales was also apparent in other areas in the state: The 02535 ZIP on Martha's Vineyard saw its median sale price fall by 15% year-over-year.
Address newsletter
Get the latest news on buying, selling, renting, home design, and more.