Real Estate News
For an NBA star, a dream house became a nightmare
Shai Gilgeous-Alexander of the Oklahoma City Thunder wants out of the sale amid threats, including one pledging to burn the home down, lawsuit says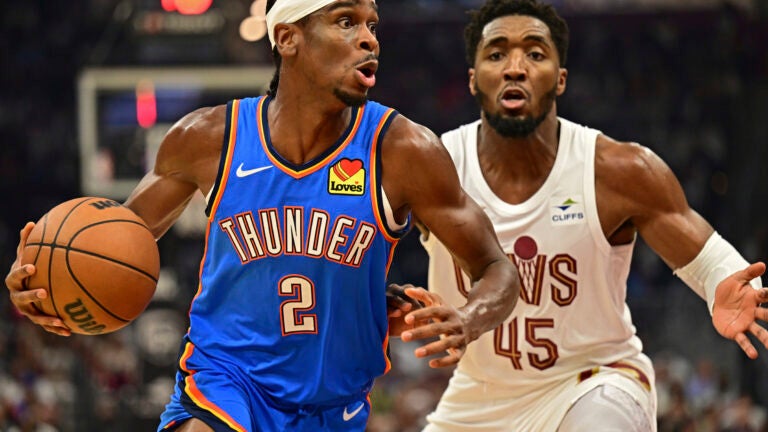 The six-bedroom, 10,000-square-foot house on Lake Ontario that Shai Gilgeous-Alexander, a star player with the Oklahoma City Thunder, bought for just over 8.4 million Canadian dollars ($6.1 million U.S.) should have been a dream home.
But in May, two days after Gilgeous-Alexander, 25, moved into the house, near Toronto, with his partner, it became a nightmare, according to a lawsuit seeking to nullify the sale. A menacing visitor appeared looking for a previous occupant. The couple left the next day and haven't returned.
The young NBA player's house, described in the real estate listing as an "elegant, resort-like estate," had been the home of Aiden Pleterski, a self-styled "crypto king" who declared bankruptcy in 2022 while owing just under CA$13 million to more than 150 investment clients.
Court records show that the home received a steady stream of angry visitors seeking to talk to Pleterski while he was living there and after he moved out.
Last December, court documents show, Pleterski was kidnapped by one of his aggrieved investors and four other men, then beaten and tortured over three days.
Testimony in the bankruptcy case reveals that Pleterski had a security guard to ward off angry investors and was eventually moved out of the house for his own safety. Another resident also fled, fearing for his safety after angry visitors continued to turn up every day.
A holding company Gilgeous-Alexander owned is now asking a court to reverse the purchase of the Burlington, Ontario, house because the seller did not disclose its link to Pleterski and the home's potential security threat.
Citing the kidnapping, the holding company, in its filing, said the people who had been showing up at the upscale home "were not making idle threats.''
The property's former owner, the head of a Toronto real estate company with holdings that include apartments, retirement homes, and hotels, hid the information about alarming visitors from potential buyers because "any purchaser who could afford to spend in excess of $8 million on a luxury home would value privacy and would also in any case want no part of a property that had a history of threatening visits to the past two occupants."
Through his lawyer, Gilgeous-Alexander declined to comment.
The Halton Regional Police, which has authority over Burlington, declined to provide any more information, and a spokesperson refused to say whether Pleterski was the target of a criminal investigation.
The home that Gilgeous-Alexander bought was located between Toronto, where he was born, and Hamilton, Ontario, where he was raised. It came fully furnished and included a gym, three-car garage, and a home theater. The bedrooms, reached by elevator, offered sweeping lake views, including the property's private dock.
In his lawsuit, Gilgeous-Alexander said that two days after he moved in, a man appeared demanding to see someone he had never heard of — Pleterski. Rather than leave when told that no one by that name was there, the uninvited visitor looked around the property and then sat in his car in the driveway.
Gilgeous-Alexander's partner, Hailey Summers, called the nonemergency number for police and was told that the agency "had received several reports about threats to the property, including that there was a threat to burn the home down," the lawsuit said.
In spring 2021, Pleterski agreed to lease-to-own the Burlington house from a company controlled by Ray Gupta, who also controls the Sunray Group real estate holding company in Toronto.
But when Pleterski's trading business began collapsing, he stopped making his monthly CA$45,000 rent payments and moved to a hotel owned by Sunray, where he wasn't charged rent.
In a response to Gilgeous-Alexander's complaint, Gupta's company downplayed the frequency and potential danger brought by the uninvited visitors and argued that it had no obligation to disclose the persistence of the unwelcome guests.
"Notwithstanding the fact that Aiden was abducted, any visit to the Property by an individual inquiring about its former occupant would be viewed as an entirely normal occurrence," it said.
But during a sworn interview for Pleterski's bankruptcy case, Sandeep Gupta, Ray's son, who handled all the dealings with Pleterski, painted a different picture.
"People were coming up to the house every single day, looking for Aiden," Sandeep Gupta said.
He said the unwanted visits continued when a Sunray employee moved in to keep the furnished home occupied, and the employee asked for a security guard. "His wife refused to stay there," Gupta said. "It was a very bad situation."
This article originally appeared in The New York Times.
Address newsletter
Get the latest news on buying, selling, renting, home design, and more.