Real Estate News
Home prices soar as sales continue high-stakes drop-off
"The number of homes sold was the lowest it's been in 11 years."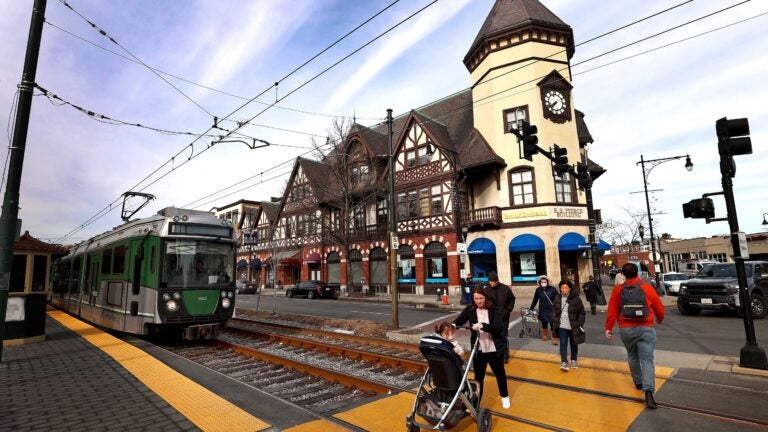 The median sale price for a single-family home jumped 10.6% from October 2022 to October 2023 in Massachusetts, according to a report The Warren Group released Monday.
That sales price, $575,140, was a record high for the month, the data analytics firm said. Meanwhile, the number of sales continued its monthly plummet, dropping nearly 17% year over year.
"Home sale prices in October climbed to the highest they've ever been during this time of year," Cassidy Norton, associate publisher and media relations director of The Warren Group, said in a press release. "However, the number of homes sold was the lowest it's been in 11 years. Inventory is far below historical norms, and limited choices make it more difficult to find a home.
"Record high prices paired with rising interest rates make the task of buying a home that much more formidable," Norton said.
Many sellers are reluctant to put their properties on the market for fear they won't find a home elsewhere or will have to trade having no mortgage or a low-rate one for a loan charging rates in the 7s.
The news wasn't much better for buyers looking to capture the American dream of homeownership by buying a lesser priced condominium. The condo market broke the price record, too. The median sale price of $500,000 reflects a 4.4% increase over October 2022 in a market that saw a 9.4% drop in sales.
"Condos previously offered a more affordable purchase option; arguably, at just $75,000 less than a single-family home, those times are over," Norton said.
Greater Boston home sales
Zeroing in on the 139 towns located within Interstate 495, the price tags are staggering, which comes as no surprise, given the home-buyer desire not to have a two-hour commute into Boston.
The median sale prices for single-family homes and condos were $714,950 and $575,000, respectively. How does this compare with last October? These prices show buyers paying 3.6% more for a condo and 10% more for a single-family home.
Sales were down in both categories: 9.3% for condos and 16.7% for single-family homes.
Home sales by county
Sales typically aren't robust in October on the Cape and Islands, but it's surprising to see that fall malaise commonwealth-wide. Sales of single-family homes were mostly down, and prices were up in all 14 counties in October:
COUNTY
Median Sales Price
% change
year over year
Number of Sales
% change
year over year
Barnstable
$720,000
7.6%
285
1.4
Berkshire
$350,000
3.6%
123
-1.6%
Bristol
$480,000
7.7%
276
-21.6%
Dukes
$1,775,000
13.1%
18
-18.2%
Essex
$700,000
16.7%
372
-17.9%
Franklin
$316,000
7.3%
43
-25.9%
Hampden
$306,000
7.8%
313
-14%
Hampshire
$400,000
7.7%
77
-31.3%
Middlesex
$749,900
9.5%
665
-14.5%
Nantucket
$2,800,000
1.7%
15
-31.8%
Norfolk
$688,000
9.2%
361
-14.5%
Plymouth
$565,000
9.7%
340
-23.3%
Suffolk
$729,500
12.2%
78
-26.4%
Worcester
$450,000
9.8%
549
-20.4%
Source: The Warren Group
The news was better for condo sales in Massachusetts:
COUNTY
Median Sales Price
% change
year over year
Number of Sales
% change
year over year
Barnstable
$440,000
-6.8%
92
-4.2%
Berkshire
$330,000
-17%
20
25%
Bristol
$310,000
-7.5%
67
6.3%
Dukes
n/a
n/a
0
-100%
Essex
$415,000
-6.2%
203
18%
Franklin
$300,000
23.2%
3
-62.5%
Hampden
$233,000
11%
31
-48.3%
Hampshire
$305,000
1.3%
24
-11.1%
Middlesex
$630,000
10.5%
451
0.2%
Nantucket
$965,000
-1%
1
-50%
Norfolk
$515,000
4%
173
-16.8%
Plymouth
$420,000
-4.5%
82
-17.2%
Suffolk
$710,000
13.6%
278
-21.2%
Worcester
$357,500
8.3%
137
-18%
Source: The Warren Group
See the full county-by-county breakdown.
Homes sales by community
Sales were down in most Massachusetts cities and towns, with exceptions in small far-flung communities like Blandford and Ashburnham, where the sale of a handful of homes can skew the numbers.
The town of Grafton saw a 87.5% increase in home sales, which may reflect the introduction of a new housing development in this town or an influx of buyers looking in Worcester County to escape higher home prices within the Interstate 495 belt.
Boston saw a 16% year-over-year escalation in condo prices, with a median sale price of $1,050,000, and the number of sales went unchanged compared with October 2022.
In Brookline, sales were down roughly 51%, but condo prices were up a whopping 31.2% year over year to a median price of $1,092,500.
Check out The Warren Group's town-by-town breakdown.
Newsletter Signup
Stay up to date on all the latest news from Boston.com