Real Estate
Are gas fireplaces a health hazard?
As the debate about gas stoves rages on and temperatures plummet, experts weigh in on that cozy appliance in your living room.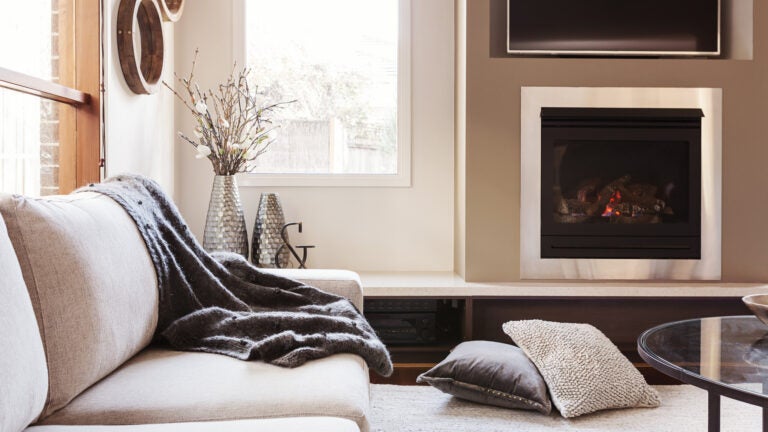 The gas stove debate has broader implications.
Referring to a study published in late December 2022 that said gas stoves are associated with an increased risk of asthma in children and are present in 35 percent of American households, a U.S. Consumer Product Safety Commissioner told Bloomberg News last month that the stoves are a "hidden hazard" and "products that can't be made safe can be banned." Those remarks quickly sparked a politicized debate that rages on.
The hazard isn't limited to gas stoves, though. Any gas-burning appliance such as unvented fireplaces, poorly vented or unvented gas clothes dryers, and malfunctioning heating equipment and water heaters can all introduce dangerous combustion into a home.
According to the Environmental Protection Agency, emissions from natural gas-burning appliances include nitrogen oxides, carbon monoxide, carbon dioxide, methane, nitrous oxide, volatile organic compounds, and small amounts of sulfur dioxide, as well as particulate matter.
Gary Adamkiewicz, associate professor of environmental health and exposure disparities at Harvard University's T.H. Chan School of Public Health said it's best for people to minimize their exposure.
"The first step is to look at your gas stove as something that produces air pollution," Adamkiewicz said. "You can reduce your exposure" by boosting the air exchange between indoors and outdoors.
For gas stoves, that means turning on the range hood fan when the stove is in use. Fans that exhaust to the exterior are best, but the ones that recirculate the air through a filter can remove particulates and grease. Opening a window in the kitchen when the stove is being used is also helpful.
A spokesperson for the American Gas Association responded to questions from Boston.com with an excerpt from their website recommending the use of range hood fans while cooking with both gas and electric stoves.
Adamkiewicz said he hasn't studied unvented gas fireplaces or the "heat saver'" devices on some clothes dryer exhausts, but stressed limiting people's exposure to the products of combustion from appliances that burn natural gas.
"I would not be diverting any exhaust from a gas-burning device indoors," he said.
While there is reason for concern about the effect of gas stoves on indoor air, he said, no one should panic about them.
"This is something to take measured action against," he said. "No one should feel like gas stoves are an immediate risk to their health. There are ways of reducing your exposure."
Address newsletter
Get the latest news on buying, selling, renting, home design, and more.