Real Estate
Where would your favorite TV characters live in Greater Boston?
Writer Megan Johnson, a human Google on pop culture and all things Boston, weighs in.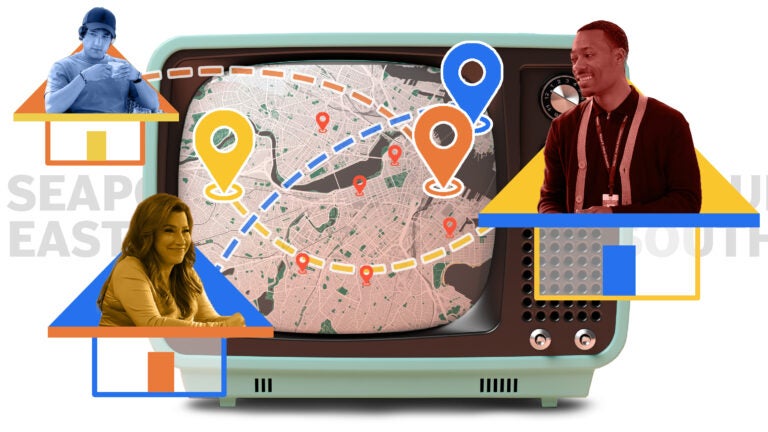 They may exist only on our TV screens, but several of television's standout characters would be right at home around Boston. From the small screen all the way to the Hub, here's a look at which Boston neighborhood (and more) each of these characters I imagine would call home. (Please take our survey at the end of the story.)
South Boston
A recent Stanford grad, Albie would head to South Boston, filled with twenty-somethings armed with their dad's credit cards. He spends weekends waiting in line at Stats and Publico, unless he really wants to let loose and dance in the basement at Capo. He prides himself on being very respectful on Tinder.
Seaport District
A quiet tech bro flush with cash, Ethan rented in the Seaport because his coworkers told him that's just what rich people do. Naturally, his wife, Harper, hates it, but she does enjoy mocking the herds of tech bros in fleece vests on her walk home from work over the Moakley Bridge at night.
Somerville
The standout TV character of 2022 would live in Somerville, close to the Medford line. He occasionally stops by Sligo to smoke a Parliament outside with old friends and hasn't set foot in Assembly Row, despite driving by every day. Mostly he's mad his rent will increase thanks to the Green Line Extension.
Dorchester
A rising sous chef overflowing with talent, Sydney lives with her father while she works to pay off her debts. We imagine her in a close-knit part of Dorchester, which is based on her reality: The actress, Ayo Edebiri, is a Dorchester native and Boston Latin grad.
Seaport
The biotech tycoon/criminal lives in a tower cascading over the harbor in Boston's shiniest neighborhood: the Seaport District. The Siberian husky she bought as Theranos collapsed loves her building's dog spa. Her unit is equipped with a top-of-the-line sound system, perfect for dancing to Lil Wayne's "How to Love."
Back Bay
The Waystar Royco founder joins the rest of Boston's billionaires in Back Bay. While he owns several units of new construction in Raffles and One Dalton, he's partial to the classic town houses on Beacon and on Marlborough. Just an FYI: Servants use the back entrance.
Somerville
Ava would hang her hat in Somerville's Union Square. (She considers Davis too gentrified.) When she's not dating the men and women she meets around town, Ava buys local veggies from Neighborhood Produce and gets her caffeine jolt at Diesel Cafe, you know, since they're unionized.
East Boston
Forget South Philly — Melissa Schemmenti is meant to be in Eastie's close-knit Orient Heights. The accomplished Italian cook knows everyone on her block, which is handy since she always "has a guy" to take care of things. Just don't start an argument with her on East Boston Open Discussion.
Brighton
The first-grade teacher would be right at home in Brighton, which is filled with single, young professionals. The health nut would work up a sweat at Commonwealth Sports Club and refuel with protein bowls at Energize before heading home to his Cleveland Circle apartment. It's a shame he hates pizza since Pino's is right on Beacon.
Roxbury
You can almost imagine the woke-til-it-hurts history teacher strolling through Roxbury's Fort Hill carrying a copy of "White Fragility." When he's not thirsting for retweets from Rachel Maddow, he's lecturing locals about his time with Teachers Without Borders in Zimbabwe.
Cambridge
The main character of your mom's favorite show would head to Cambridge to be surrounded by fellow former child prodigies at MIT and Harvard. His East Coast journey would undoubtedly lead him to an apartment building outside Central Square, where he would mansplain science to hapless customers while in line at Hmart. The railroad aficionado's first stop in town would be to the Boston University Bridge, which is one of the few places in the world where a boat can sail under a train traveling under a car driven under an airplane.
Roxbury
A stylish Harlem professor, Camille witnesses her neighborhood's gentrification. (She wonders whether she'll see the day when Sephora is turned back into a jazz club.) We imagine her in Roxbury, the epicenter of Boston's Black culture in the mid-20th century, which is seeing its own transformation.
Downtown Crossing
There is no better place to find gratuitous wealth of ambiguous origin like Delvey's than the massive residential towers in Downtown Crossing. Delvey would choose the neighborhood, which she probably refers to as "Midtown," because of her refusal to climb stairs in 4-inch heels and her need for a 24/7 concierge to yell at.
"Only Murders in the Building"
Beacon Hill
What better place for a comedy about two septuagenarians and their youthful neighbor than Beacon Hill, where college students and wealthy retirees coexist? We imagine the group lives on the Flat of the Hill, solving mysteries inside a pricey building on Lime or Brimmer streets.
South End
A sea of $1,200 strollers at the South End playgrounds provides the clientele social climber Rachel Fleishman wants her kids to climb the jungle gym with. What better way to secure their spots at elite private schools than networking over canned wine at Ringgold Park on Friday nights?
West Roxbury
There's no better place to find high-level city employees who need to live within city limits than the suburban spread of West Roxbury. We imagine Police Commissioner Frank Reagan cruising down VFW Parkway faster than the phone calls come in for Friday night pizzas at Comella's.
Jamaica Plain
The teenage soccer star-turned-politician, who is campaigning for state Senate, is the ultimate power lesbian. She would call a ritzy part of JP home, like Moss Hill, but she loves to spend her downtime jogging in the Arboretum and visiting her beach cottage in Truro.
Where would your favorite TV show characters live in Boston?
Send comments to [email protected]. Follow Megan Johnson on Twitter @megansarahj and Address @globehomes.