Real Estate
All together now: Multiple generations can live together in harmony
'What's different is COVID-19. It required so many emerging adults to go home, including my own kids.'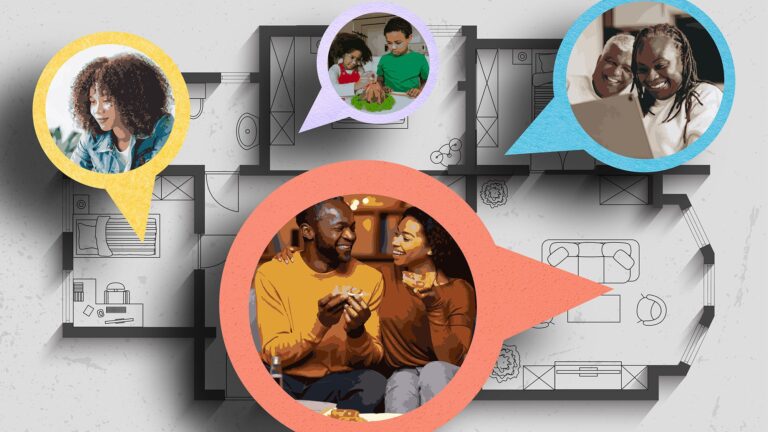 Picture it: You've just poured a glass of wine and are about to snuggle up with "The Last of Us" when the front door opens. It's your twenty-something child — or your eighty-something mother — wondering what's for dinner. You'd love to tell them to go home, except you can't: They are home. They live with you.
This scenario is increasingly likely. In July 2022, half of adults ages 18 to 29 were living with one or both of their parents, according to Pew Research Center. In 2022, multigenerational families represented 14 percent of home buyers, according to the National Association of Realtors. Here's how to make it work for you.
Abandon the stigma. More than a third of Americans say that more young adults living with their parents is bad for society, according to Pew, but sometimes it's necessary.
Clark University cultural psychologist Jeffrey Arnett coined the term "emerging adulthood" in 2000, referring to the developmental period for young adults between 18 and 29. While the stereotype of snack-guzzling post-grads moving into mom's basement has been parodied for years, the circumstances have changed. In 2000, just 38 percent of young adults lived at home.
Now, "What's different is COVID-19. It required so many emerging adults to go home, including my own kids," Arnett said. (They all took turns making dinner every week.)
Moreover, the mental health crisis wrought by the pandemic upended many young adults' trajectories. In the past, a move home due to job stress or relationship woes might have been embarrassing. Now, we're more comfortable talking about mental health, Arnett said.
Think of the financial (and emotional) payoff. Intergenerational families don't just consist of young adult kids and their middle-aged parents. Sometimes, middle-aged parents are rooming with their own mom or dad. It makes sense: The average annual cost of a private nursing home room in the Boston area is $172,828, according to the American Council on Aging; the median single-family home price in the region is $740,000, according to the Greater Boston Association of Realtors. Sometimes, it makes financial sense to move in together, whether an elderly parent can't afford care or a younger child can't afford their first property.
"In-law suites are coming back, whereas before, they were a hard sell … especially with kids not being able to afford [a home]. The parent can become a co-signer on the purchase. They've become a little bit more desired," said Bea Murphy, an agent with Lamacchia Realty in Braintree.
Consider Hull's Robin Flint, 64. The piano technician lives with her 86-year-old mother, Pearl Flint, who was diagnosed with Alzheimer's in 2020. It's an arrangement Robin said is far less expensive than a nursing home — and, in some ways, more gratifying. She and her husband consider themselves "care partners" to her mom, and she said it's a privilege to be there for her.
"It's not for everybody. I don't think anybody should feel guilty if they need to help their parent establish a different living situation than in their own home," Robin said. "But, if it is for you, the reward is just amazing. To be able to be of service to somebody that you know and that you love: What could be better?"
Elena Ghanotakis's family moved in with her elderly parents in Arlington while renovating a home in Somerville. The arrangement was financially helpful, but more than that, her kids got to spend time with their grandfather before he died in October 2021.
"It gave them a lifetime bond," Ghanotakis said. "My 8-year-old would sit with my father, playing math games and drawing. I was able to take some of the burden off my mother, and it showed [my kids] that older people are part of your life and not thrown aside."
Don't micromanage. Linda Murphy bought a larger ranch-style home in Salem to accommodate her multigenerational household after having lived in an Everett two-family with her 81-year-old mom on one floor and she and her husband on the other.
"I got tired of running up and down the stairs," Murphy said. (She's not alone: 21 percent of buyers cited "health or caretaking of aging parents" as a reason for buying a new home, according to 2022 data from the National Association of Realtors.)
Turned out, Murphy really needed the space: In addition to her mom, Murphy's daughter ended up moving in after a relationship fizzled, and her son and his fiancée are saving money for a wedding and joined the crew. (Yes, lots of their stuff is in storage.)
Murphy has three bedrooms: one for her and her husband, one for her mom, one for her daughter. Her son and his fiancée live in an in-law suite. Despite the closeness, Murphy tries to keep her maternal impulses in check by letting everyone have their own space, and she advises others in her situation to do the same.
"I try not to say to them: 'OK, I've made dinner. You all have to stay here. I figure: You know what? They're all adults. They can do what they want. I try to cook buffet-style. I don't force anyone to sit at the table," she said. "I try to be as helpful as I can without being intrusive."
This isn't always easy: Parental urges run deep, even for her elderly mom.
"My mother will still say to the kids sometimes: 'Where are you going? It's 10 o'clock at night!' And I'll be like: 'Mom. They're 30. Leave them alone,' " she said.
Consider finances first. Combining finances with family is notoriously tricky. If you envision a long-term multigenerational arrangement — as opposed to a quick breakup recovery — talk to a professional. Murphy's family splits all expenses into sixths, but it isn't always this clear-cut.
Ken Simmons, an estate planning attorney in Woburn, sometimes sees clients who put money into an adult child's home for an in-law apartment. This money functions as a gift, which is nice for the adult child but doesn't give the elderly parent equity. (It can also make other siblings envious.)
"The alternative is: You could contribute funds and take an ownership piece of the property in some capacity, reflective of the value. Or is it a loan that you've made, that we maybe forgive over time, in reflection of the care that's being provided and the support that [the children] have given?" Simmons said.
Things get complicated if a parent becomes part-owner of an adult child's property and then requires nursing home care, in which case the home's value could become a liability.
"One situation that we sometimes like to see is if the child can put their own money into the home, and the parent moves in and they're almost a tenant, but the parent hasn't parted with any of their own assets. They just pay X per month," he said.
This worked out for Melrose's Sarah Hoff, whose 82-year-old father moved into her three-bedroom home to be closer to her mother, who resides at a skilled-living facility in Revere. It's a cozy arrangement: Hoff has 4-year-old twins. They share a bedroom, she and her husband share a room, and her dad has a small bedroom. Hoff's husband, an architect, is drawing up expansion plans to make the situation sustainable longer term, but contractors are expensive. Right now, her dad is living there for peanuts (literally).
"They have this little ritual — I don't even know how this started — but before they go to bed or before they brush their teeth, [my kids] go into his room, and he gives them a little handful of peanuts," Hoff said. "It's really meaningful for us. I had children a bit later, and my dad is 82. Hopefully, these memories are being cemented for them."
Remember: Everything is temporary. If you do long to make coffee naked or regain full command of your bathroom, take heart: Very few living arrangements are permanent.
"Here's my advice: Enjoy it while it lasts, because it's not going to last," said Arnett, who has studied emerging adults for 20-plus years and, again, has two of his own.
What he says next is as true for aging parents as it is for adult kids.
"When they leave for the last time, you'll miss them."
Address newsletter
Get the latest news on buying, selling, renting, home design, and more.