Real Estate
Allston's post office could come back under a proposal to reshape its former Harvard Ave. site
The neighborhood's post office closed in 2019.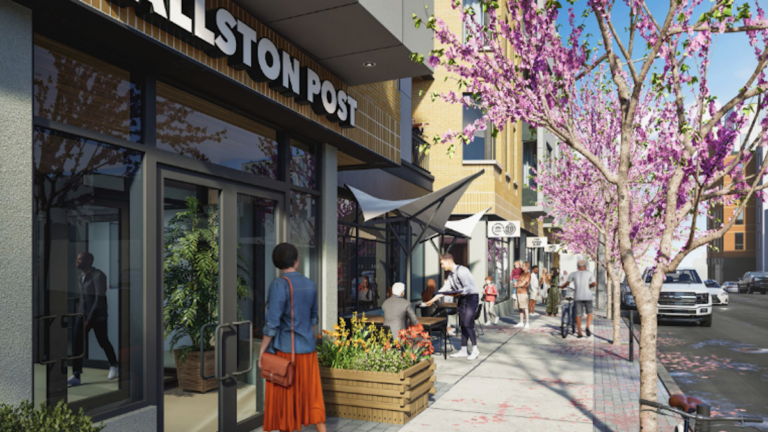 Allston could get its shuttered Harvard Avenue post office back, albeit in an entirely new building, if developers are able to see through plans for a 170-residential unit, multi-use complex at its former site.
Plans filed with the Boston Planning and Development Agency last week show Eden Properties is proposing a new retail branch of the U.S. Post Office at 25-39 Harvard Ave. as part of its larger, six-story project dubbed "Allston Post." The vision touts the potential for a 144,000-square-foot apartment building and about 5,000 square feet of ground floor retail and restaurant space.
The USPS said in late 2019 it would temporarily suspend operating its post office at that same site due to needed structural repairs, but the location never reopened. Customers have since been redirected to the Brighton branch near Oak Square.
In filings, Eden Properties said it has since bought the property and is working with local elected officials, community members, and the USPS to possibly re-establish the Allston post office branch.
The USPS did not immediately return a request for comment on Friday. But, according to the plans from the developer, a formal process for reopening a branch is underway, as the agency completed the first step of soliciting community feedback in January.
The proposed project, if approved, would span four parcels, totaling 1.12 acres.
"The Project will transform over an acre of vacant and underutilized parcels currently containing surface parking lots and vacant, one-story, commercial and industrial buildings, which have historically been operated for auto-dependent uses, into a new, primarily residential building that will bring
new housing opportunities to help address the housing supply shortage facing the City of Boston, including affordable housing units," the developer wrote in the plans filed with the BPDA.
Of the 170 units — which would range from studios up to three-bedroom apartments — approximately 25 would be designated affordable and "targeted to households with varying levels of incomes," developers wrote. That number exceeds the amount required by the city for a project of this size.
The project, within walking distance to the MBTA Green Line and bus connections, would also include 58 parking spaces and enough bicycle storage to accommodate one bike per unit.
The BPDA is accepting public comments on the proposal through April 14. A virtual public meeting is scheduled for 6 p.m. on April 4.
Newsletter Signup
Stay up to date on all the latest news from Boston.com