Real Estate
Accidental deaths from falls at home are on the rise
In 2021, roughly 29,100 people died after falling in their residences. That's up more than 25% from 2017. Here's how you can protect yourself.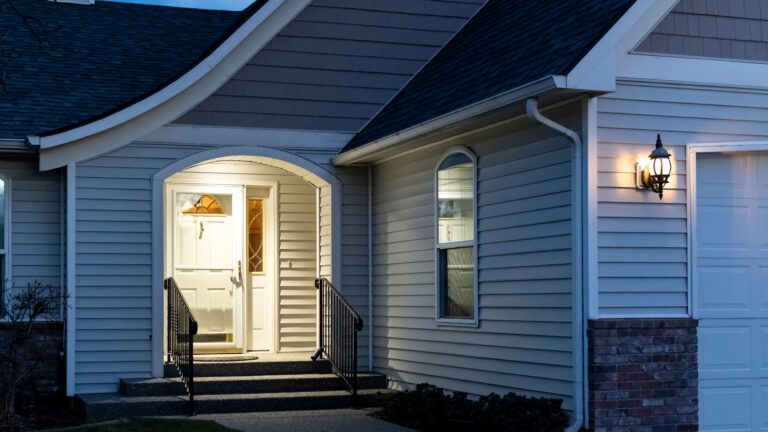 Accidental deaths resulting from injuries in the home have risen sharply in recent years, according to the National Safety Council In 1987, there were 21,400 accidental deaths in US homes. In 2000, there were 29,200. In 2021, there were 128,200.
Sixty-five percent of those 2021 accidental home deaths were classified as poisonings, and many of those were opioid overdoses, according to Kenneth Kolosh, the NSC's statistics manager.
"The two areas of growth for home deaths are poisonings, which include drug overdoses, and the drug deaths are primarily opioids," he said. "The second driver is older adults having a fall, which has also been skyrocketing." Falls were responsible for 23 percent of accidental home deaths in 2021.
He said the data on where injuries take place are limited, so the NSC numbers are estimates based on information from multiple sources. No other cause of death (such as drowning, choking, suffocation, or fire) accounted for more than 3 percent of accidental deaths in the home.
In 2021, roughly 29,100 people died from falls in their homes. The NSC estimated that 20,850 of them were age 75 or older and that 4,660 were ages 65 to 74. And the issue is growing even more acute: The number of deaths attributed to falls rose more than 25 percent from 2017 to 2021, according to the NSC.
According to the Centers for Disease Control and Prevention, 3 million older adults are treated in hospital emergency departments for fall injuries, and every 20 minutes, an older adult dies from a fall.
Kolosh said homes aren't becoming more dangerous; people are living longer and staying in them longer. The most common place for older adults to fall is on the stairs.
"Homes pose a particular danger because one is often alone in one's own home," he said. "People need to anticipate the what-if scenario if a mishap occurs while the individual is alone. How can that person contact someone for help? Is a smart watch a good option for that individual? Or is there some other electronic device that might be able to provide assistance or alert a loved one if something goes awry?"
Kolosh said railings on stairs and porches are essential, and grab bars in the bathroom are also very helpful. The best way to keep yourself safe at home, he said, is to think ahead and assess your environment before something goes wrong.
Úna Barrett is a gerontologist and co-owner of Positive Living Solutions. She helps older adults and their family members identify and address safety concerns based on the resident's health and conditions in the home.
"It starts with the entry to the home," she said. "If there are stairs, there should be a steady handrail there and lights with sensors that come on when you walk near them. In fact, the bulbs throughout the home should be the highest wattage recommended for the fixture."
She recommends putting non-slip materials on interior stair treads to improve traction. She said chairs with arms in the living and dining room make them easier to get in and out of. Toilets with higher seats make them easier to access. Ideally, a curbless walk-in shower is best for older adults, she said, but they can be expensive to install.
"Unfortunately, most homes aren't designed with aging in mind," she said. "Most homes in the Northeast were designed for raising families without thinking about aging in the future. Older people are staying in their homes longer, and they can be made much safer most of the time without spending a lot of money."
Jan Mutchler is the director of the Gerontology Institute at the University of Massachusetts Boston. She said senior centers in some communities will tour an older person's home, pointing out safety hazards and suggesting improvements. She said the fire department in some communities will do this as well.
Once the home is as safe as it can be, Mutchler said, it's crucial for elderly people to avoid being isolated.
"Ideally, people would know their neighbors so they have people they can call if they need help if something were to happen," she said. "And they should know what kind of services are available in their community. … And a lot of those services — like Meals on Wheels — are things that you can find out about or access through your community senior center as well."
In a perfect world, she said, people start thinking about and addressing these issues before they arise. There's a big difference between installing grab bars in the shower before you feel unsteady and having them installed after you've fallen and injured yourself.
"Falls can be really problematic," she said. "It can lead to serious things like having to go to rehab or broken bones. And it can become a cyclical thing where you've damaged something and then you're at a higher risk for falls again."
There are many interventions that can make life easier, safer, and more independent for older people, Multcher said. It's a matter of assessing their abilities and needs and adapting the environment to meet them.
"It's very important to be able to discuss these things with a family member who might be helpful, and for older people to look and think ahead," she said. "Begin planning before things become critical."
For more information:
Jim Morrison can be reached at [email protected]. Follow us on Twitter @GlobeHomes. Subscribe to our newsletter at Boston.com/address-newsletter.