Real Estate
The Mass. housing market is still brutal. But there's a glimmer of good news.
Home prices didn't climb at a breakneck speed in Greater Boston last month, and more listings are on the market than at this time last year.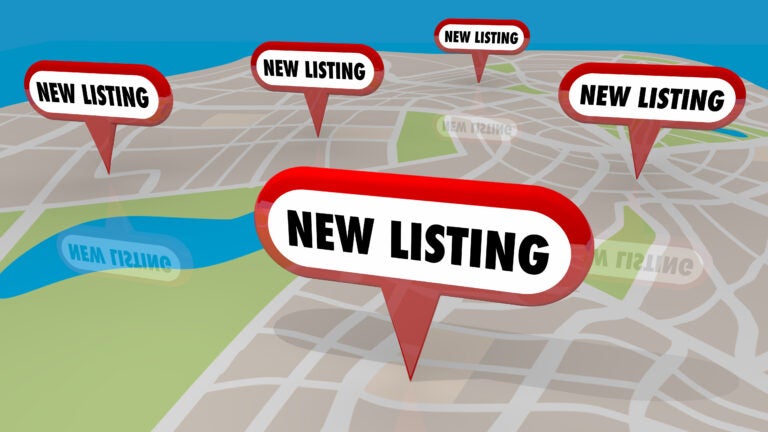 At first glance, the local housing market reports that came out this week reminded us of those Bugs Bunny cartoons in which we see a light at the end of the tunnel and it turns out to be a train bearing down on Wile E. Coyote.
Home prices are still going up in Massachusetts. Mortgage rates are high. Many sellers are sitting on the sidelines. Sales have plummeted, at least locally.
Home sales surged in 2020 and 2021 as a result of historically low mortgage rates, according to Rocket Mortgage. Since then, home sales have plummeted due to high interest rates and low incentive to sell, The Boston Globe has reported. Sellers have been hesitant to put their homes on the market because they are concerned about finding a home.
As it turns out, however, that light at the end of the tunnel is a ray of hope.
More listings
Home price gains are cooling off. The average interest rate on the long-term, fixed-rate mortgage didn't go up last week. And, importantly, the number of active listings for condos and single-family homes is up year-over-year in Greater Boston, the Greater Boston Association of Realtors (GBAR) reported Tuesday.
More listings mean more opportunities for those buyers braving the hunt.
Alison Socha, GBAR president and an agent with Leading Edge Real Estate in Melrose, is hopeful as well. She said the market is waiting for "The Azalea Effect" to kick in: when sellers come out in droves to list when their properties have that spring curb appeal.
"Everyone is itching to get back," Socha told Boston.com. "There are lots of opportunities out there for buyers to take advantage of the fact that there are a few more listings on the market."
In its February report, the Massachusetts Association of Realtors (MAR) shared that sales of existing homes (meaning ones that no longer have that new-home smell) in the Commonwealth declined for the 12th month in a row. New listings and new-home sales were lower this January than in January 2021 or 2022, but association president David McCarthy said those numbers need to be viewed in perspective: as COVID-driven sales when people clamored for more space to wait out the pandemic.
"We had such a significant volume of sales in 2021 that it appears like the market is soft when it's not," McCarthy said. "It's a very positive movement from the market standpoint."
GBAR released a report Tuesday that showed a 29.5% year-over-year increase in single-family home listings overall in February but a 24.3% decrease in listings added that month. In the condo market, the number of active listings was up 6.1%, but the number of new listings for February was down 25.5%.
While the 30-year mortgage rate remains extremely high, it slid back last week to 6.60% from 6.73% — a win in the books of many home buyers, who watched it hover at 7% for weeks.
Despite low affordability, this recent drop is pulling some buyers "off the sidelines," McCarthy told Boston.com. "The lack of inventory is keeping prices increasing. Interest rates have been fluctuating … and when they come down a little bit, we see an increase in buyer activity."
Home prices: A mixed bag
Prices are still going up in Massachusetts, but not at the same dizzying pace, at least in the condo market, according to a report The Warren Group, a data analytics firm, published Wednesday:
Home type
Median sales price
feb. 2023
Median sales price
Feb. 2022
Median sales price Feb. 2021
% Change
2021-2022
% change
2022-2023
Single-family
$498,369
$470,000
$446,000
5.4%
6.0%
Condo
$460,000
$440,000
$400,000
5.3%
4.5%
Source: The Warren Group
In Greater Boston, however, the median sales price in both the single-family and condo markets dropped year-over-year in February.
home type
Median sales price
feb. 2023
Median sales price
Feb. 2022
Median sales price Feb. 2021
% Change
2021-2022
% change
2022-2023
Single-family
$700,000
$757,500
$646,800
16.7%
-7.6%
Condo
$635,000
$655,000
$595,000
9.2%
-3.1%
Source: Greater Boston Association of Realtors
"Sales fell on an annual and monthly basis in February, but demand has
rebounded since January when a temporary easing of interest rates and further softening in median sales prices began drawing buyers back into the market," GBAR said in a news release.
Looking at the county numbers, sales were down for single-family homes everywhere except in Norfolk County. The median home price was up everywhere but in Hampshire, Norfolk, and Middlesex counties, according to The Warren Group.
cOUNTY
mEDIAN HOME PRICE
% CHANGE
FROM fEB. 2022
%CHANGE IN SALES
FROM FEB. 2022
Barnstable
$599,900
8.7%
-17.2%
Berkshire
$300,000
20.0%
-40.2%
Bristol
$429,000
7.3%
-20.7%
Dukes
$1,322,500
60.4%
-14.3%
Essex
$560,000
1.8%
-18.3%
Franklin
$330,000
22.2%
-59.5%
Hampden
$269,000
3.5%
-20.2%
Hampshire
$340,250
-2.1%
-33.3%
Middlesex
$648,900
-0.9%
-24.7%
Nantucket
$3,525,000
32.8%
-25.0%
Norfolk
$596,250
-3.8%
3.9%
Plymouth
$498,737
2.2%
-22.8%
Suffolk
$650,000
0.4%
-30.8%
Worcester
$390,000
8.0%
-25.8%
Massachusetts
$498,369
6.0%
-21.5%
Source: The Warren Group
The news on condo prices and sales were mixed.
cOUNTY
mEDIAN HOME PRICE
% CHANGE
FROM fEB. 2022
%CHANGE IN SALES
FROM FEB. 2022
Barnstable
$392,500
-5.1%
-27.6%
Berkshire
$650,000
179.0%
-56.3%
Bristol
$323,750
-1.3%
-40.8%
Dukes
$226,750*
—
0%
Essex
$408,500
1.8%
-21.8%
Franklin
$0*
-100.0%
-100.0%
Hampden
$199,950
9.9%
-20.9%
Hampshire
$216,650
-10.3%
8.3%
Middlesex
$488,900
-10.3%
-9.6%
Nantucket
$349,133
-70.3%
100.0%
Norfolk
$530,000
7.3%
-39.6%
Plymouth
$377,000
-4.5%
-28.0%
Suffolk
$632,500
-6.4%
-29.1%
Worcester
$319,900
-6.4%
-29.5%
Massachusetts
$460,000
6.0%
-25.5%
Source: The Warren Group
(*) Based on zero sales or only a few
A snapshot of the town-by-town numbers by The Warren Group found that sales of single-family homes were down nearly 68% in Framingham but prices were up 8.8% to a median of $587,500. In Needham, prices rose 9.1% year over year in February (the median was $1.2 million), and sales were up 111%. In Plymouth, the news was not rosy; sales were down 42.9% and prices slipped 4.9% to a median of $477,500.
In the condo market, Boston's prices shot up 15.5% year over year to a median of $1.12 million, but sales were down 40.2% compared with February 2021. In Quincy, the median sales price slipped 4.7% to $405,000, and sales were down 52%. In Malden, the median sales price fell nearly 15%, but sales were up almost 67%.
One caveat: One bad month does not reflect a pattern, and February is typically a slow month for sales.
The national outlook
In the United States, existing-home sales snapped a 12-month decline, rising 14.5% in February, the largest monthly increase since July 2020.
"This reflects a mix bag of seasonal factors and unusually high mortgage rate volatility," said Orphe Divounguy, senior economist at Zillow. "Buyers are out in force, but sellers — unwilling to trade a low mortgage rate for today's higher rate — are staying on the sidelines, and that means inventory remains lower than normal for this time of year.
"While large swings in mortgage rates continue to challenge potential buyers and potential sellers, spring home buying season started early this year with motivated buyers wanting to take advantage of even the smallest improvements in housing affordability. There are fewer home buyers than there were in the past two years, but the lack of inventory means buyers are still facing stiff competition."
This spring
Today's competitive housing market means houses spend less time on the market than they would at an "even market" baseline of 180 days, said McCarthy of the Massachusetts Association of Realtors.
"Thirty or 40 days on the market, that's nothing," he said. "We have not seen 180 in Greater Boston or in Massachusetts in years."
"The median sale price for single-family homes continued its upward climb in February as inventory struggled to keep up with demand," said Tim Warren, CEO of The Warren Group. "The Massachusetts Association of Realtors reported that inventory of single-family homes for sale was down 50 percent in January. New listings and pending sales were down as well. February was the eighth month in a row where the number of homes sold declined while the median price continued to rise. It is a familiar trend, one that is likely to continue unless sellers flood the spring market with new homes."
This fast-paced average makes life difficult for buyers and easier for sellers. Home prices are still increasing due to a lack of inventory, McCarthy said, and high interest and mortgage rates make it even harder for buyers to find homes they can afford.
McCarthy cited a 4% price increase in the typical single-family home sales price and a 2.3% increase in the cost of a condo in February. While prices are still climbing statewide, MAR reported that buyer demand is decreasing, which will slow the future increase in home prices.
Housing markets will continue to be competitive, McCarthy said, but these relative changes should not go unnoticed just because they don't seem significant.
Address newsletter
Get the latest news on buying, selling, renting, home design, and more.