Real Estate
Mayor Wu is pushing back on the 'slippery slope' argument against rent control
Mayor Michelle Wu said her rent control proposal is specific for a reason: to avoid the concerns her critics are now raising.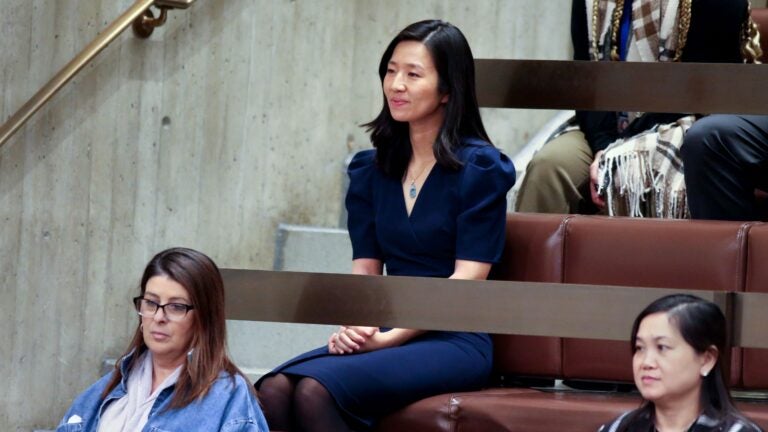 Many of Boston's landlords fear if Mayor Michelle Wu's rent control plan makes it past state lawmakers, the policy could be a "slippery slope" to further restrictions beyond Wu's proposed 10 percent rent hike cap.
The argument is actually one Wu tried to fend off when her administration crafted the specifics and finer details of her home rule petition, now before the Legislature, she said Monday.
"If you want to stand on the side of being able to implement 50%, 40% rent increases on residents, I just don't hear that argument from anyone. [The argument] is much more about, 'Oh we have fear of what this may lead to' or 'We don't believe that this is what you actually intend to do,'" Wu said about her critics on WBUR's "Radio Boston." "There's a reason why we were specific in putting this proposal forward."
The mayor's defense comes a day after a Boston Globe report suggested Wu's actual policy is not what's worrying landlords the most when it comes to rent control.
Many of the mayor's critics are concerned about what could come after if the state is to re-open the door to regulating rents.
"Landlords are going to get crushed," Douglas Quattrochi, executive director of MassLandlords, an advocacy group that represents property owners, told the Globe. "And when you crush landlords, all you're doing is making our housing issues worse."
Wu has long said her policy is aimed at blocking the city's most drastic year-over-year increases. The policy, if passed, would tie rent increases to the Consumer Price Index plus 6% or a maximum of 10%, whichever of the two figures is lower in a given year.
Additionally, since Wu's policy would be enacted through a home rule petition if signed into law, any changes made to that cap would have to receive a second round of approval from the Legislature.
Landlords who spoke with the Globe acknowledged it is rare they raise rents by as much as what Wu's plan would allow. City data also showed median gross rents rose by an average of 4.1 percent a year between 2010 and 2020, even as housing costs skyrocketed, according to the Globe.
But property owners remain worried Wu's plan would only be the first step in bringing in even more red tape down the line.
Appearing on WBUR Monday, Wu said her plan was specifically created to be as precise as possible, in an attempt to quell those anticipated concerns.
"Many home rule petitions, because it requires such an elaborate, long process, ask for a range or ask for more flexibility so you don't have to go back," Wu said. "We chose to be completely precise about what we were asking for."
How exactly the home rule petition will play out at the State House, however, remains to be seen.
Last week, House Speaker Ron Mariano expressed skepticism about the proposal, while Senate President Karen Spilka has not made her view on the matter clear yet, according to Axios.
Asked about what the she could do if the Legislature doesn't act on the home rule petition, Wu said the city's approach has always been to "take every possible step."
If officials don't want to support Wu's plan, they should bring other solutions to the table, Wu said.
"You don't have to agree with the details or you may not think that this move or that move is aligned with any particular ideology or vision. But taken together, we need an all-hands-on-deck approach to housing and bringing prices down," Wu said.
"If other people have a better solution, put it forward," she added. "I am eager and ready to talk about and analyze and partner on anything else. But it cannot be this or nothing. Let's talk about this or something else — this or your solution. Our residents can't afford for nothing to happen."
Listen to Mayor Michelle Wu on WBUR:
Newsletter Signup
Stay up to date on all the latest news from Boston.com