Real Estate
HGTV's 'Houses With History' returns for second season in Massachusetts
New season debuts with renovation of Fairhaven home.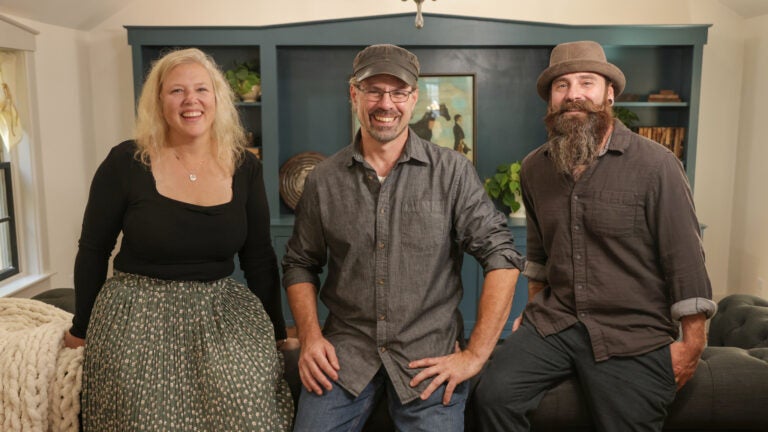 HGTV's Houses With History returns this weekend for a second series highlighting the ups and downs of renovating old houses. Once again, the series highlights homes on the Massachusetts coast, where many of the oldest properties in the United States still stand, though many need tender, loving care.
The team in charge of that is the show's host: Mike Lemieux, master carpenter Rich Soares, and designer Jen MacDonald, all of Plympton-based Full Circle Homes.
Charged with the task of turning old houses into livable and modern homes, the show adds an extra layer as the trio explores the history behind the walls. The premiere episode features the renovation of what might be the sole remnant of an 85-room Gilded Age mansion built in 1895 in Fairhaven for Henry Huttleston Rogers.
Rogers was a multimillionaire executive at Standard Oil and a close associate of company owner John D. Rockefeller.
"Rogers was the wealthiest man that almost nobody has heard of," Lemieux said. "I would argue that John D. Rockefeller would not have been so successful without Henry as his right-hand man. He did a lot for Fairhaven, too."
The three unite in praise of Rogers's achievements in this charming coastal town along Buzzards Bay: He built the library, a school, and added a municipal lighting system, they all warmly chime in. Rogers was also Helen Keller's benefactor and paid for her schooling, Lemieux added.
Among many distinguished guests, author Mark Twain was a frequent visitor at the house.
"He might have visited a little too often," Lemieux said. "Henry's wife objected to his smoking cigars in the house. And she complained he stole a ham!"
After Rogers's death in 1909, the estate was pretty much sold off piecemeal, and the house was demolished. The gardener relocated the cedar-shingled potting shed to its current location.
"It was a 3,600-square-foot potting shed. Imagine that," Soares said.
Off camera, Full Circle Homes does it all: new homes, older ones, and additions to tie old and new together. Much of the appeal of old houses is craftsmanship rarely seen in the post-1970s throw-it-up-as-quickly-as-possible development scene. The other lure is the history America's oldest homes retain within those walls — not only are homes being saved, but human stories too.
"It's all about the story. Some historic homes are a vital part of the community and its story as well," Lemieux said.
The challenges — "There were many," said MacDonald — are usually balanced by the delights. "It has stunning stained-glass windows," she added of the potting shed.
What makes the show really tick is the camaraderie between the three hosts, all Massachusetts natives and longtime friends: MacDonald and Lemieux have known each other since childhood and are married; Soares and Lemieux were college roommates.
The bond seemed to impress a visiting producer who was scouting properties to feature in another show.
"Initially, one of our houses was to be featured in a show, but once the producer visited our shop, he changed his mind," MacDonald said. "He said, you need your own show."
Houses with History premieres Saturday, April 8, at 9 p.m. EST on HGTV. hgtv.com/shows/houses-with-history
Address newsletter
Get the latest news on buying, selling, renting, home design, and more.